Image: Georgia O'Keeffe, Hibiscus with Plumeria (1939). Courtesy of the Smithsonian American Art Museum, © 2018 Georgia O'Keeffe Museum/Artists Rights Society (ARS), New York.
Georgia O'Keeffe (1887-1986) was an American artist from the state of Wisconsin who specialised in depictions of enlarged flowers, skyscrapers and landscapes. She has been recognised at the "Mother of American modernism".
O'Keeffe studied art in both New York and Chicago before taking on commercial work and teaching positions in order to sustain herself. Her work took her across the United States and she lived in several different cities, taking art classes during the summer months and seeking to find her own personal style. Around 1912, whilst at the University of Virginia, she was introduced to the work of Arthur Wesley Dow, who focused on capturing the essence and feeling of an object, rather than the exact image of the item or scene. This had a huge influence on O'Keeffe's work and she began to experiment with abstraction, attempting to capture the world of her sensations and feelings in visual images.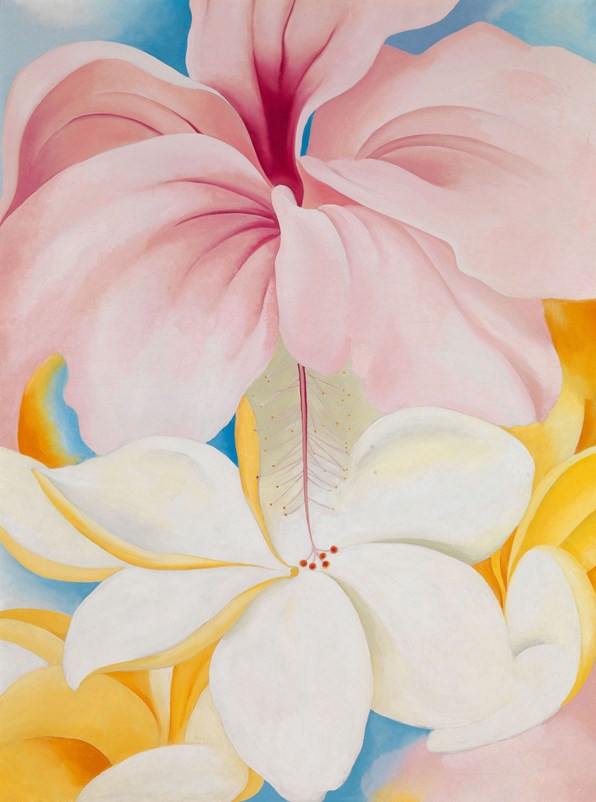 Georgia O'Keeffe, Hibiscus with Plumeria (1939). Courtesy of the Smithsonian American Art Museum, © 2018 Georgia O'Keeffe Museum/Artists Rights Society (ARS), New York.
In 1916, one of O'Keeffe's teachers showed her work to the New York art dealer Alfred Stieglitz who was immediately impressed. He stated that he found them to be the "purest, finest, sincerest things that had entered [his gallery] in a long while."
In 1917 Stieglitz held an exhibition of O'Keeffe's work at his gallery, 291. In 1918 she moved to New York and began to work full time as an artist. Whilst in New York, O'Keeffe was introduced to a number of leading modernists from the era. She began to focus on creating simplified images of the natural world. Her images spoke as much about what was absent and what was missing as they did about what was captured and depicted. O'Keeffe's work shows the influence of the photographic image, with close ups and the ability to crop an image to focus on what is important to the painting.
She married Stieglitz in 1924, the same year he divorced his previous wife. Their relationship was not always a happy one. Stieglitz had an affair with Dorothy Norman in 1928 and O'Keefe was hospitalised and treated for depression at around the same time. The following year she began to spend her summers in New Mexico, where she found great inspiration from the natural landscapes. In 1933 she was hospitalised following a nervous breakdown. When released, she began to spend increasing amounts of time in New Mexico, living in a house on a property called Ghost Ranch and inviting her friends to come and visit. In 1945 she bought and renovated a hacienda in the area.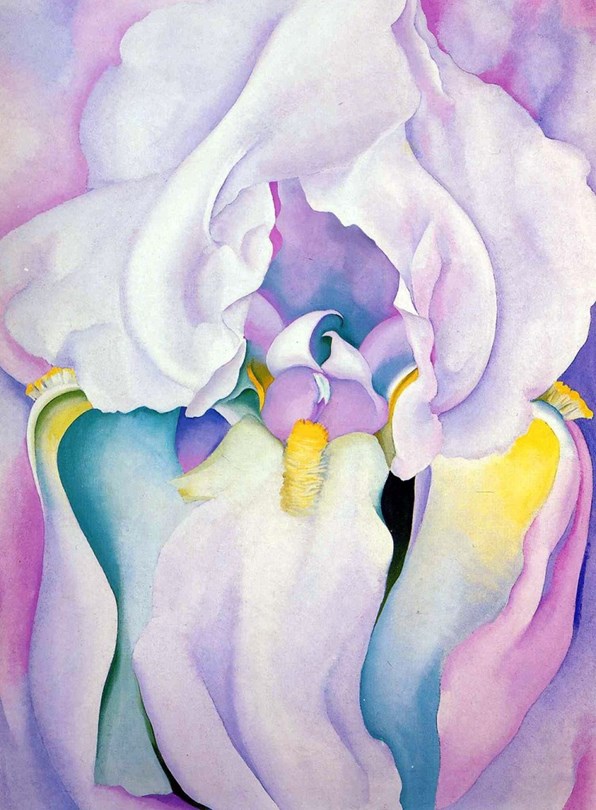 Light of Iris, 1924, one of Georgia O'Keeffe's constant preoccupations over a span of two decades
Stieglitz died of a cerebral thrombosis in 1946 and O'Keeffe returned to New York to settle his estate, before returning permanently to her properties in New Mexico.
Her work attracted considerable commercial success during her lifetime and posthumously. In 2014 her painting Jimsyn Weed sold for $44,405,000 at auction, breaking all previous records for work by female artists. The Georgia O'Keeffe Museum was established in Santa Fe in 1997, 11 years after the artist's death.
Many of O'Keeffe's works featured images of flowers. Over the course of her career she created somewhere around 200 images of flowers. In O'Keeffe's Red Cannapainting series, she focuses on close up images of the interior view of flowers. Many speculated that these images referenced female genitals and sexuality, an idea that seemed to be fuelled by controversial images that O'Keeffe's husband had taken of her and displayed publicly. This seemed to give fuel to the idea that O'Keeffe was an artist with a tendency towards overt sexuality, although this was an idea that she herself denied, claiming that her works were not intended to reference female sexual identity.  Notably, it was largely male critics who expounded the view that her work contained sexual references.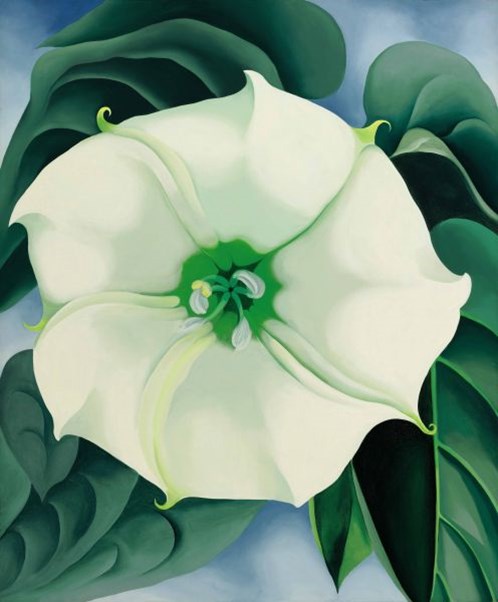 Georgia O'Keeffe, Jimson Weed/White Flower No. 1 (1932). Sold for $44,405,000 at Sotheby's American Art sale on November 20, 2014. (Sotheby's New York)
However, in many of her works, O'Keeffe did focus specifically on the internal view of the plants and flowers she depicted, including the stamens and reproductive areas. This has led some modern day critics to contest that despite the artists protestations, there does seem to be a reference to reproduction and sexuality within the work.
O'Keeffe herself often commented that the colour and form of the flowers was more important than the subject matter, suggesting that she was interested in the natural form and capturing its beauty.
Several feminist critics have praised O'Keeffe's work as capturing feminist themes far ahead of their time. Certainly, in the era in which she was working, O'Keeffe was in a male-dominated world and was repeatedly reminded of her gender and otherness as she moved through the art world.
Flowers are often symbolically associated with femininity and softness, love and sexuality. Many of O'Keeffe's images contain several flowers on one large canvas. In this way she seems to capture something of the beauty and vastness of nature.
It is hard to say exactly what O'Keeffe intended to symbolise with her flower paintings. They are the most iconic image within her works and the subject matter she will be most remembered for, but whether she intended to evoke symbolic images of sexuality or not is hard to say.