Image: Velázquez, Las Meninas 1656, fragment
In 1819 one of today's greatest art museums opened its doors to the public. Celebrating its bicentennial is more than rejoicing over the existence of an art institution filled with masterpieces. It's also a chance to recall the role XIX century thinkers bestowed upon art in fulfilling the project of Enlightenment. 
Walking into the last rooms of El Prado's current exhibition Museo del Prado 1819-2019. A place of memory, the visitor gets a glimpse of the Spanish museum's strong footprint in art history. On the walls hang works by Picasso, Pollock, Manet, Motherwell, and Equipo Crónica inspired in the museum's paintings and its most renowned artists.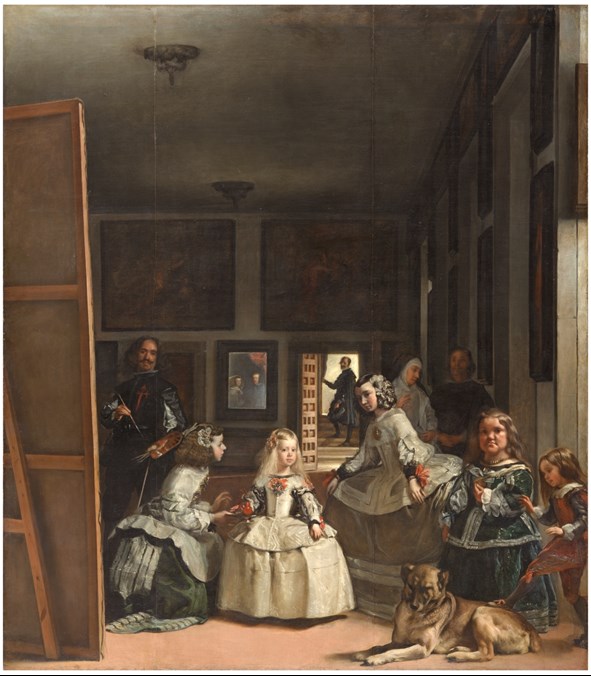 Velázquez, Las Meninas 1656

Since its inauguration on November 19, 1819 El Prado has been one of art's Meccas. Many of history's most renowned painters pilgrimed to its doors, aiming to deepen their knowledge of their craft and perfect their skills by contemplating and copying the masterpieces of the all-time great.
"The museum owns several paintings for which one could easily make the case that they are the greatest painting in the world," once said Frederik Ilchman, Chair of European Art at Boston's Fine Arts Museum. Among them are Velázquez' Las Meninas (1656), Dürer's Self-portrait (1498), Bosch's Garden of Earthly Delights (1490-1500), Van der Weyden's Descent from the Cross (before 1443), Fra Angelico's Annunciation (1425-1426), Brueghel's Triumph of Death (1562-1563), Tintoretto's Christ Washing the Disciples' Feet (1548-1549), and Goya's The Third of May 1808 (1814).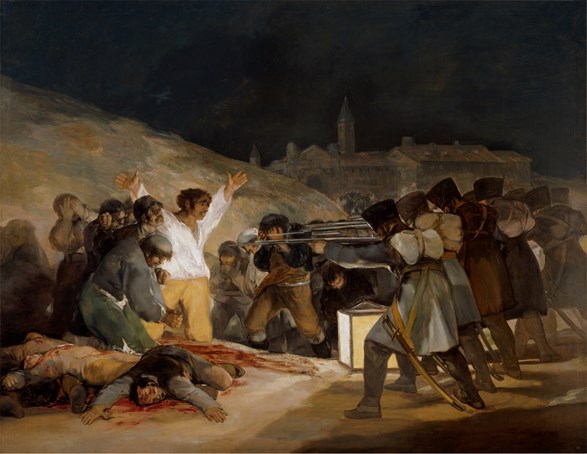 Goya The Third of May 1808 (1814)
El Prado was born out of the magnificent art collection of Spain's monarchy, which throughout the XVI century was the most powerful family in the world.
Driven by their love of art and their desire to showcase their strength the Hapsburgs, and later the Bourbons, collected art and funded artists for centuries. Titian, Velázquez, Rubens, and Goya were among their court painters.
As other European private art collections like the Louvre became public, King Ferdinand VII -advised by his wife María Isabel de Braganza- opened the doors to his own.
Society's shift towards the public was brought about by men and women's awakening democratic impulse.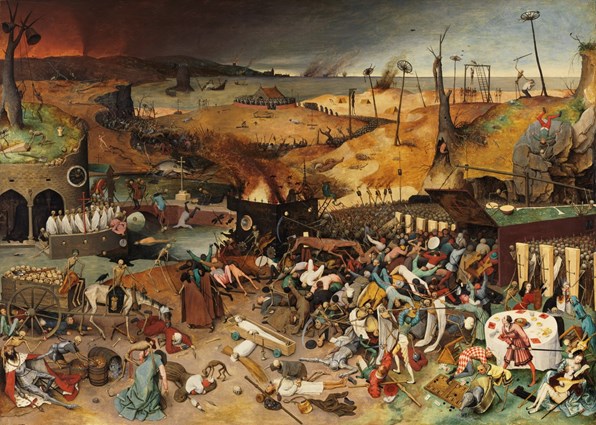 Brueghel Triumph of Death (1562-1563)
The Enlightenment's thinkers promoted the idea that all people were created equal. To make this conviction real, knowledge needed to be accessible to all. Education became pivotal in the development of a modern society made up of individuals capable of following Kant's categorical imperative, and of thinking for themselves.  
Creating museums like El Prado gave the arts a role to play in bringing forth an Enlightened society.
This faith in art's power to shape our soul came from the Ancient Greeks' belief in beauty and good's intrinsic bond. As manifestations of harmony, they cannot exist without each other. Thus, the arts have both moral and aesthetic value.
According to Plato's philosophy, contemplating beauty and learning to appreciate its symmetry teaches men and women to develop and control their soul's virtues and impulses.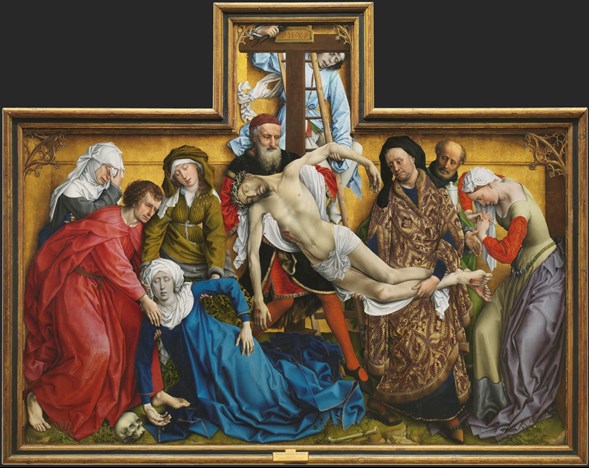 Van der Weyden Descent from the Cross (before 1443)
Today the XVIII and early XIX century's project of an Enlightened society is seen as a utopia. Yet within the halls of El Prado one of its core elements still seems tangible: looking at artworks that exemplify the height of what an artist can achieve, one's faith in humanity's ability to go one step beyond its limit, is partially restored.