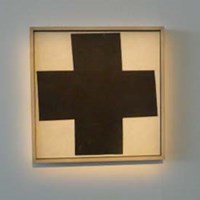 Article date: Tuesday, March 6, 2018
Symbolism in Art: Malevich's Black Cross
A Russian painter and Philosopher, Malevich is credited as the founder of the Suprematist movement, an avant-garde movement that has had a significant and lasting impact on modern art.
---
Article date: Wednesday, February 14, 2018
Symbolism in Art: Anish Kapoor – Mirrors
Mirrors have always taken a prominent and symbolic role in myth and fairytale. Narcissus fell in love with his own reflection in the mirror of a still lake, whilst the wicked stepmother would ask her mirror to flatter her with her famous line 'mirror, mirror on the wall…"
---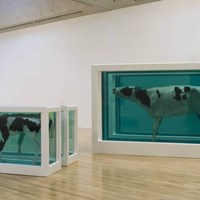 Article date: Thursday, February 1, 2018
Symbolism in Art: The Cow
Damien Hirst is a central figure in contemporary art. One of the wealthiest living artists, his work divides opinions and he has become synonymous with shock value an displays of dead or decaying animal corpses.
---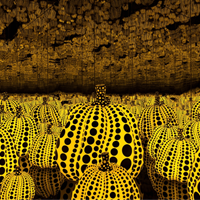 Article date: Friday, January 5, 2018
Symbolism in Art: The Pumpkin
"I would confront the spirit of the pumpkin, forgetting everything else and concentrating my mind entirely on the form before me…I spent as much as a month facing a single pumpkin." Yayoi Kusama.
---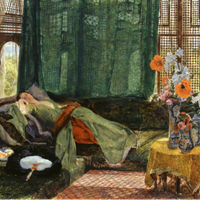 Article date: Friday, December 22, 2017
Symbolism: The Colour Green
English orientalist painter John Frederick Lewis (1805-1876) developed a fascination with the Near East and took pains to represent the sights and the people he encountered in the region in an honest and positive light.
---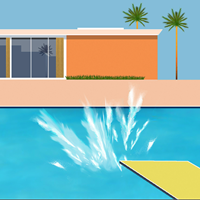 Article date: Sunday, November 26, 2017
Symbolism in Art: Water
English artist David Hockney is known as an important contributor to the pop art movement and is perhaps best recognised for his striking representation of Californian life and architecture in the 1960s.
---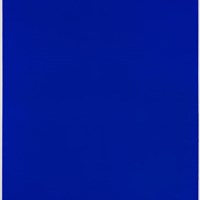 Article date: Tuesday, October 17, 2017
Symbolism in Art: Yves Klein's Blue
In 1947 Klein and two of his friends decided to play a game in which they divided up the world between them. One young man decided to take the animal kingdom, and one the province of the plants. Klein opted for the mineral realm, gazing up to the sky and proclaiming, "the blue sky is my first artwork".
---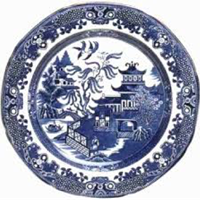 Article date: Friday, September 22, 2017
Symbolism in Art: The Blue Willow
The Blue Willow (or The Willow Pattern) represents a Chinese garden with a large pavilion and a bridge on which three figures are seen. In the upper left corner two flying birds and a distant island with trees and pavilions are depicted. The legend associated with it goes as follows. A rich and powerful mandarin lived in a big house and worked as a customs officer for the Emperor.
---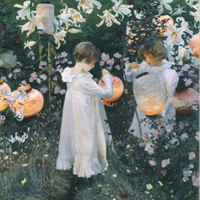 Article date: Monday, September 18, 2017
Symbolism in Art: Carnation, Lily, Lily, Rose by John Singer Sargent
The lily is one of the most potently symbolic flowers. Often associated with humility, devotion, purity and innocence, they are often presented at weddings and christenings, evoking chastity, femininity and fragility.
---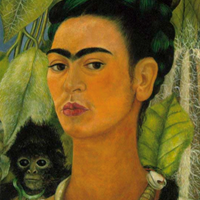 Article date: Monday, September 4, 2017
Symbolism in Art: Frida Kahlo – Self Portrait with Monkey
"I paint myself because I'm so often alone and because I am the subject I know best," Frida Kahlo. Born and raised in Mexico to a German father and a Pacific Islander mother, Frida Kahlo (1907-1954) has become known for her self-portraiture and her unique painting style. Combining elements of traditional Mexican folk art, she studies every detail of her physique and transcends normalised structures of beauty.