Humm takes us through the decline of humanity, brought to the brink by greed, untrammelled ambition and desire – as narrated by Faust's successor, Dr Goodfellow (Berkoff), CEO of the world'sbiggest tech company Winestone. Through the final testament of Goodfellow, we witness the dying hours of humanity before it is extinguished by the technology Faust has unleashed upon the world.
For Humm, Faust provides a dazzling and uniquely rich canvas on which to explore our contemporary obsession with youth, sex and love, as well as infinite scope for the complexity of his rich artistic visionto run with. Of Goethe's Faust he comments:
It's the most important piece of literature in German culture. It is relevant to our society because the pact with the devil is something we are constantly pursuing,.... Goethe's story is quite bonkers, complex and multi-layered, so it is an amazing source for inspiration and creativity.
Creating a feature artfilm is a very unique undertaking. With cinematic wide angle takes, strong art visuals, dance and an almost operatic theatricality, The Last Faust is darkly poetic tightrope of contradictions; at once expansive and claustrophobic, painterly - but with a muscular narrative, tragic - whilst catching us off guard with moments of comedy. The Last Faust is Humm's bold vision of amoving work of art, created to make accessible one of the great eternal stories to new audiences.
Whilst the influences for Humm are many and varied, ranging from German Expressionism to The Rocky Horror Picture Show, the initial inspiration came from seeing an exhibition of Salvador Dali's work illustrating key scenes from Dante's Inferno. Humm says 'I thought I could do for Goethe what Dali does for Dante'.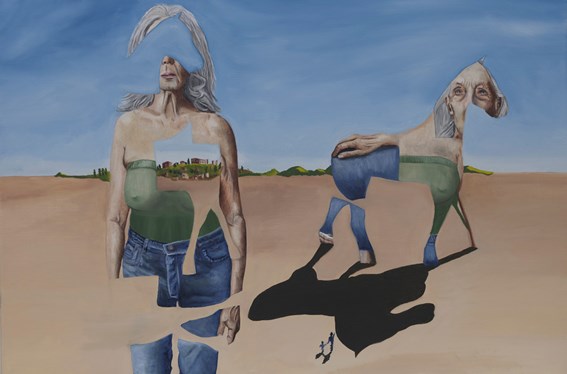 Philipp Humm, Trojan Horse, (2019) oil on canvas 92x61cm