[ENTER], [HOME], [CONTROL] and [SPACE]: one click of a keyboard command and portentous decisions are made, helping to change the world! – or filling it with more data garbage ... It is several years now since standard computer commands made their way into our everyday lives, giving us the impression of calm efficiency whenever we send or process information. That impression extends even to a feeling that we are shaping reality – on-line or off-line, by virtual or by material means. Progressive digitalisation would have us believe that today's world is simple; mastery a matter of executing a keystroke. Sadly, the opposite is true. Away from the keyboard, from commands and screens, the world is in fact becoming extremely complicated. Alienation of the individual is of increasing concern and is given voice in ever more crises and flash points. The resulting experience of reality is one of turmoil and upheaval – a situation at 'breaking point'. At the coming 7. Triennial of Photography Hamburg 2018 the camera lens has been tasked with apprehending and reflecting the breaking point as a concept.
"The discourse is all about radical change, the crisis, the critical juncture: we cannot open a paper, watch a film or even go to work without encountering these terms, either directly or indirectly. We are confronted by global change on social, economic, ecological, biological, technological and demographic levels. In the end it affects us all," writes Krzysztof Candrowicz, artistic director of this year's Triennial of Photography Hamburg. He goes on, "Communities are undergoing change faster than we can comprehend. Technology continues relentlessly to reformulate society, and so-called 'global culture' peddled by a global market and disseminated by social media is a virtual collective illusion. There is an urgent need to define, to understand and to control this new reality. The speed and extent of changes, as humans perceive them, are simply overwhelming."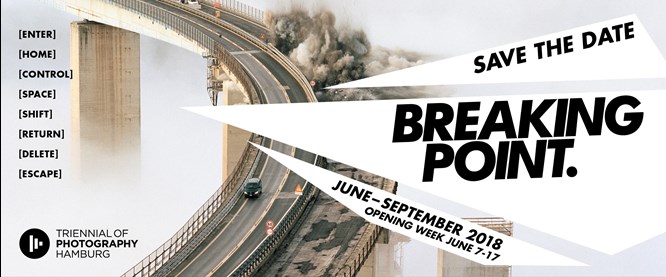 How does photography approach this 'distorted reality' of life? How do today's images reflect the situation – by providing a 1:1 representation, or by fading it out at the edges? Can we say that photography suggests solutions? The concept of this year's Triennial makes pointed use of computer commands and digital dashboards as levers of reality. Tying in with the symbolism and visuals of the keyboard, such 'functions' highlight the difference between the terminology and categories by which we administer the world and the places where the true balance of power is revealed. In this regard, the bracketed titles above all suggest the role of modern photography as both filter and catalyst. Can images themselves function as triggers, given the possibility of infinite multiplication, 'viral' distribution and subsequent imprinting on the collective consciousness? What role can they play and how does the single photograph survive amongst a flood of images, where economy of attention is paramount?
On 7 June 2018 the 7. Triennial of Photography Hamburg 2018 will be opened according to the motto BREAKING POINT. SEARCHING FOR CHANGE.More information is here.