Image: Eroded Brillo Boxes, 2019 © Daniel Arsham / Sotheby's
Daniel Arsham and The Andy Warhol Museum are pleased to partner on the release of Arsham's interpretation of Andy Warhol's famous 1964 work, Brillo Box, which will be released for sale on the artist's Instagram the week of July 13, 2020. Many artists have been influenced by Andy Warhol's legacy, and Arsham's work reinterprets Warhol's legacy and his appropriation of contemporary pop-cultural icons as representations of the every day. A portion of the sale of Arsham's edition, ERODED BRILLO BOX, will go to support programs and exhibitions at The Warhol. A talk between The Warhol and Arsham is scheduled for Wednesday, July 15, 2020 at 11 a.m. EDT time on the artist's Instagram.

The ERODED BRILLO BOX is an imagined sculpture found in a future archaeological dig site using Warhol's iconic 1964 Brillo Box as its inspiration. In collaboration with The Andy Warhol Museum, Arsham has been granted access to the museum's archives. The passing of time has transformed the object from its original materials into a sculpture inspired by the original Arsham work (ERODED BRILLO BOXES, 2019) made of quartz crystal and other calcified geological materials.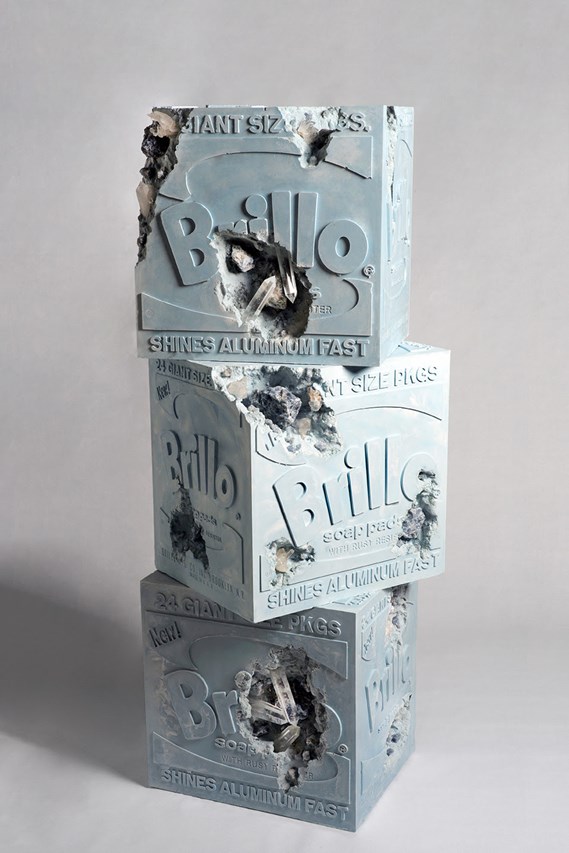 Eroded Brillo Boxes, 2019 © Daniel Arsham / Sotheby's

Believing that art should be an everyday experience for everyone, Arsham's multidisciplinary creative practice is also a testament to his commitment to bringing art to a broad audience. ERODED BRILLO BOX, which is an edition of 500 pieces, maintains the artistic and aesthetic essence of the original Arsham work while making it more accessible to art lovers and fans. Each edition is 24.5 cm in height and weighs 7 kg. ERODED BRILLO BOX comes in an Arsham studio designed housing with die-cut foam, sealing label, and a pair of white art handling gloves. Each ERODED BRILLO BOX includes an Arsham Editions holographic label verifying its edition number and authenticity.

Commenting on the release, Arsham says, "Having the opportunity to work within the history and lineage that Andy placed on these everyday stereotypical objects and blending this with my own artistic language has been an interesting conceptual exercise. Andy and I share the message of art in the everyday and this edition perfectly encapsulates this idea."

The original ERODED BRILLO BOXES, 2019 (130.5 x 44.5 x 44.5 cm) were created to commemorate the 25th anniversary of The Andy Warhol Museum.
Regarded as a groundbreaking work redefining art and pop culture, Andy Warhol's Brillo Box reflects an era of rising consumerism and challenges people to view everyday objects from new perspectives. "Working is bad, but making money is art and working is art and good business is the best art, "said Warhol on being good in business.

Warhol's works and relationship with pop culture have surely influenced Arsham and inspired him to continue to push boundaries and explore the relationships between art, culture and life. In addition to turning objects from everyday experiences into pieces of art, Arsham's artistic practice incorporates his understanding of time and makes people meditate on the transient nature of being and the meaning of objects.