Image: Statue of Peter Paul Rubens, 1846, Bronze, Groenplaats, Antwerp
By Dirk Rochtus
It's not sheer chance that great historical art centers such as Venice, Amsterdam and New York all became important commercial centers at around the same time.
That is also part of Antwerp's story. Antwerp is world renowned for its diamonds, its port, its fashion mecca as well as its international art center. In 1600 its Golden Age came to an end and a young Rubens walked through its streets.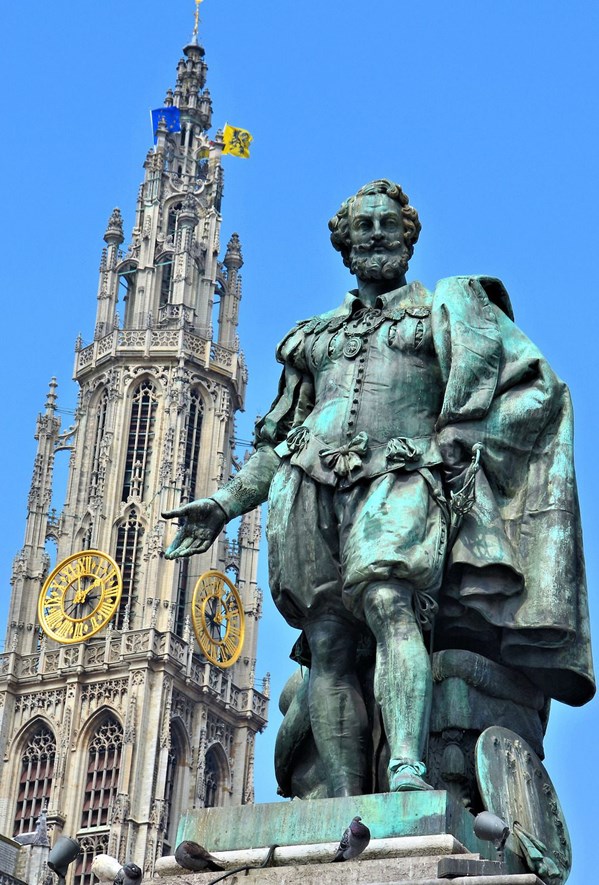 Statue of Peter Paul Rubens, 1846, Bronze, Groenplaats, Antwerp
In one of Rubens' most famous bronze statues, hundreds of clay lumps are united, giving shape to that profound idea: artists are authentic and heroic, as well as enterprising. It should be no surprise that nowadays Antwerp's focus is on new and interesting ways of displaying monuments and art pieces in its many public spaces.
The arrival of the digitalized world leaves us with quite some challenges to handle.
Today, mass digitization, smart data processingand virtual reality are fundamentally altering the field of cultural heritage, as well as scientific research, the tourism industry, public services and culture and creative-led urban development.  
Antwerp harbors a long-lasting dream of assuming a leading role in these rapidly developing ICT transformations. Since its 16th century Golden Age, when the city turned into the commercial and information gateway of Western Europe, the city has boasted the ambition of being an economic and cultural world leader. For instance, it took a leading role in the rapidly developing cultural industry of book printing. Spared any large-scale destruction over the years, the extended archives of the city, breathtaking museums, libraries and historical cityscapes document every piece of this magnificent past. So how can these items become more accessible for a digital age?
There is no escaping the fact that we live in a world where the public are increasingly interested in digital interactivity, and so it seems that it won't take long before the era of silent and still city statues, those that refer to a popular hero or those that simply represent silent witness to a wealthy past, will come to an end.
We will no longer laconically walk past these monuments, having no idea why they were created.
Instead, the hope is that the public will be invited in, to stand still and interact with the speaking statues, ambassadors of an entire district and neighborhood and filled with local information. The city statues must become open and exciting characters with charged sockets that people can plug into whenever they are in need of inspiration or knowledge. The options to make this happen with the range of technology available today really are exciting. Another achievement for Antwerp and its citizens to be proud of.