From the 1880s onwards, aesthetics underwent a profound change. A radical renaissance of the imaginary, enriched by an extraordinary dissemination of scientific knowledge, enhanced creative potential in all spheres of art. At the end of the century in France, this movement converged towards Art Nouveau in a creative spirit that enlivened the work of the workshops.
Far from being simply the reflection of a history of forms written elsewhere, jewelry was fully engaged in a fascination with nature and its phenomena. Free from practical considerations, the only constraint being that associated with working with metals and stones, precious objects lent themselves admirably to all sorts of experiments, allowing the most varied combinations and the most evocative fantasies. Artists such as René Lalique, Georges Fouquet, Élisabeth Bonté, Victor Prouvé, Jean Dampt, Jules Desbois, Edward Colonna and Eugène Grasset then took possession of an art form for which the primary source of invention was its materials.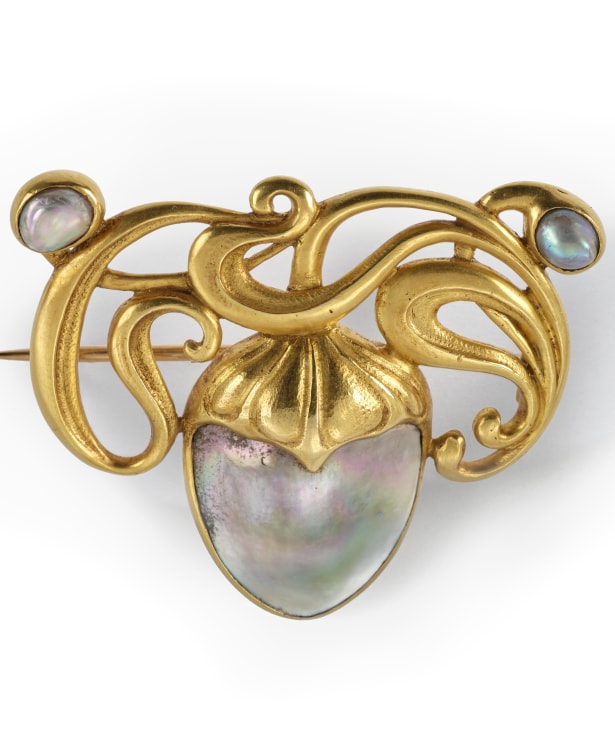 Brooch circa 1900, Edward Colonna c Musée des Arts Décoratifs
From a technical point of view, it is mainly characterized by its subtle combination of stones, metals and materials of different value, based on a conviction that the beauty of a piece of jewelry lies in its artistic design rather than the cost of its components. The latter, ductile, colorful and shimmering, form feminine silhouettes, foliage and flowers, insects and enchanting arabesques. Brooches, combs, pendants and rings borrow the flowing curves of the natural world, in a bewildering diversity of themes often viewed through the prism of dreamlike fantasy.
Although, in the early 1910s, artists opt for an esthetics more inspired by geometry, Art Nouveau ultimately developed a rich legacy: its decompartmentalization of the arts, contact with the sciences and assimilation of a living visual culture would ultimately modernize the art of jewelry. 
Image on top : Georges Fouquet, Pendant "Nymphe des mers", Gold, opal mosaic, enamel and diamonds, H. 6 cm, W. 5,7 cm, L. 7,1 cm, About 1900-1905. Tokyo, Albion Art Collection, Tsuneharu Doi © Albion Art Institute, @ADAGP, Paris, 2023