Michael Snow is broadly considered one of the most significant experimental filmmakers. Among his renowned films, Wavelength and La Région Centrale are two of the best-known, the former being recognized as a landmark in avant-garde cinema. Snow's immersion in the arts also includes painting, sculpture and his background as a professional jazz musician. His art addresses perception through diverse mediums, employing an exploratory approach to represent his subject matter. Snow's upcoming show Closed Circuit at the Guggenheim Museum Bilbao will exhibit a range of works from different periods in his five-decade career. ArtDependence spoke with Snow to understand the nuances of his filmmaking, the course of his body of work and what lies ahead in his future endeavors.
ArtDependence Magazine: How do you define the interplay between perception and visual representation?  How does your work in distinct mediums realize these concepts differently?
Michael Snow: I try to make the work a guide to perceiving it.  Perception of the work is the on-lookers department.  Perhaps there is "visual representation" in those of my sculpture that seek to direct the viewer's seeing of, or through, the object, for example Scope (1967) or Transformer (1982).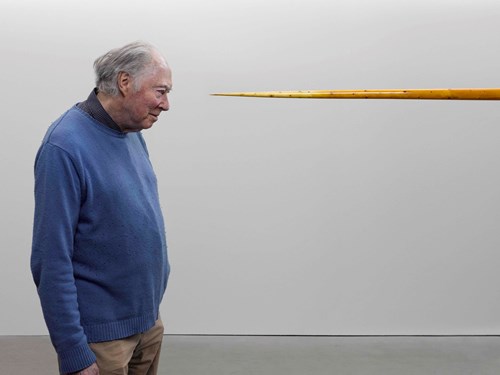 Transformer, 1982. Wood, varnish, rope, cardboard, height adjustable x 193.0 x 4.7 inches tapering to a point. Michael Snow pictured with Transformer. Photograph by Craig Boyko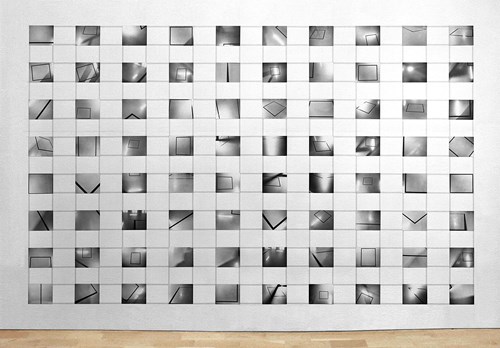 8 x 10, 1969. 80 laminated black-and-white photographs, on adhesive tape grid 8.0 x 10.0 inches (each photograph). Art Gallery of Ontario, Toronto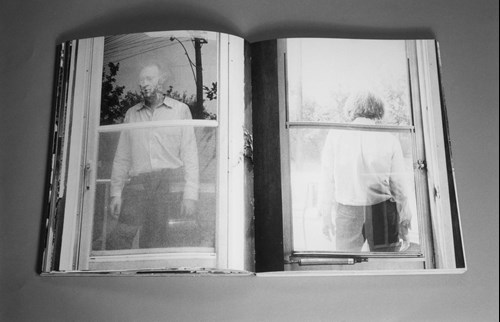 Cover To Cover, 1975. Bookwork, 22.5 x 17.7 x 2 cm (320 pages), 8.875 x 7 x 0.75 inches (320 pages). Published by the Press of the Nova Scotia College of Art and Design, Halifax / New York University Press, New York. Courtesy of Michael Snow
AD: You have said: "My paintings are done by a filmmaker, sculpture by a musician, films by a painter [...] sometimes they all work together." How does the variation in perspective allow more objectivity and more interesting alchemy in the resultant art?
MS: I have had problems with that quote ever since I said it (in 1967) because I am, in practice, kind of a purist relative to individual mediums.  The main qualities of a medium and its "matter" have been my stimulus: light and duration for film and video, the "objectness" of a work of sculpture.  But, painters have made great sculpture (Picasso, Matisse) and often uncalled-for uses of a medium extend the definition of that medium.
AD: What will you exhibit in Closed Circuit, upcoming at the Guggenheim Museum Bilbao? Conceptually and technically, how do each of your works lead into the next?  
MS: The Guggenheim exhibition will have two moving image works: The Corner of Braque and Picasso Streets (2009) which projects "live" video from the exterior of the building on a wall, which is constructed by me for each presentation of the piece.  I make a wall of white rectangular boxes (sometimes reused museum plinths) that when the live image from the exterior is projected on, is distorted according to the arrangement of the boxes.  Another video projection work, Observer (1974) images the viewer, him/herself, as a 2 dimensionalized image.  There will also be Sight (1968) which is a two-sided sculpture (it has a "front" and a "back") with an aperture that integrates what is seen through it as part of each opposing surface.  There will be a "barrier" work entitled Site (1969/2017), which asks the spectator to stand in a particular place. In each of these works, the live viewing experience is an integral part of the work itself.
AD: You are known to celebrate novelty in your film-making process, rendering each work its own in both process and form.  After 50+ years and dozens of films, how do you continue to find what is new in your art?
MS: Thank you for the implication that I can still make something new.  Relative to that, I recently had a profound surprise. Though I have made work (films and installations) that organize the nature and placement of sound, I was honored to recently be commissioned to compose a new 30-minute piece for the 70-member Winnipeg Symphony Orchestra.  The composition "Prophecy," was premiered on January 27th during the Winnipeg Symphony Orchestra's New Music Festival.  Hearing it was thrilling and it seemed to be liked.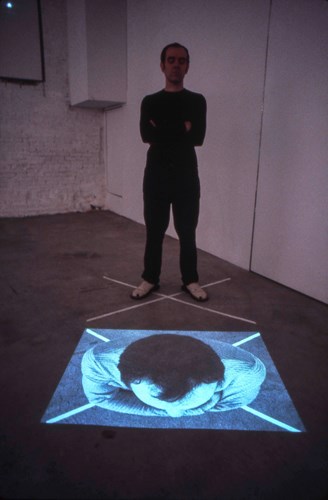 Observer, 1974. Video camera, video projection, adhesive tape, 31.5 x 39.4 inches. Courtesy of Michael Snow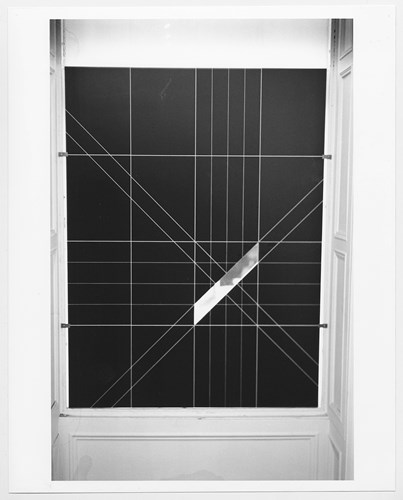 Sight, 1968. Aluminum, plastic, 56.0 x 42.0 x 0.8 inches. Collection of the Vancouver Art Gallery, Vancouver. Courtesy of Michael Snow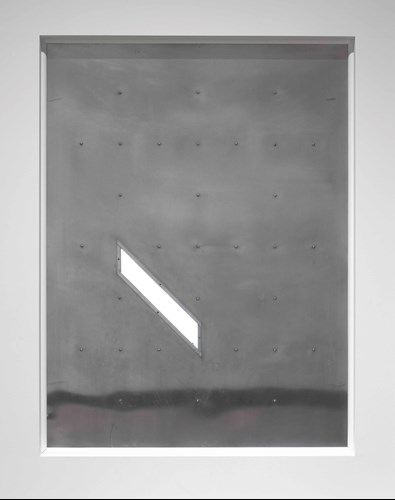 Sight, 1968. Aluminum, plastic, 56.0 x 42.0 x 0.8 inches. Collection of the Vancouver Art Gallery, Vancouver. Courtesy of Michael Snow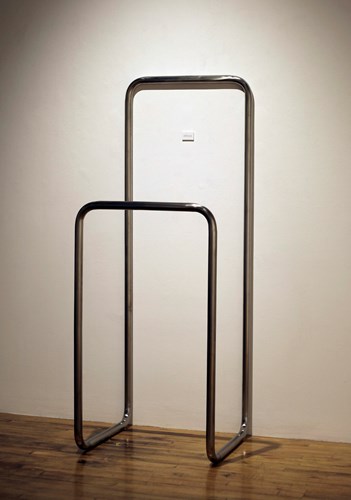 Site, 1969/2016. Stainless steel, text card, 68 x 28 x 28 inches. Courtesy of Michael Snow
AD: You said in Artforum in 1971, "I do not have a system, I am a system."  Was the system that characterized you then the same system as the one that represents you today?
MS: Much of my current time is involved with very welcome retrospectives.  My "system" is now 89 years old and it seems to function very well but it does not produce as much that is "new" as in the past. A major project that I am working on now will eventually be a 300-page book of 650 family photographs, the oldest of which is from the mid-1850s. There are some beautiful photos.
AD: The free improvisation and instinctive "presence" of music has influenced your love and practice of the form, but this spontaneity does not extend to other mediums of your work.  Within the planning of your films, is there some element of the unexpected that guides your work?
MS: Yes, I am very involved in free improvisation music but have not, or do not, make images or objects that "way". Chance has often been involved in the process of making the films.  In making Wavelength (1967), I shot some parts on unpredictable film stocks.  The film To Lavoisier, Who Died in the Reign of Terror (1991) used many outdated or mysterious film stocks coupled with chance methods of film processing.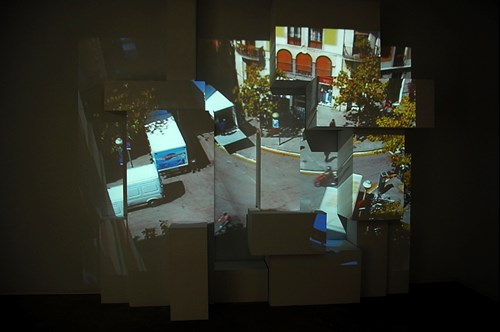 The Corner of Braque and Picasso Streets, 2009. Closed circuit video camera, video projection, plinths. Variable dimensions, site specific arrangement of wall screen structure composed by the artist for each installation. Courtesy of Michael Snow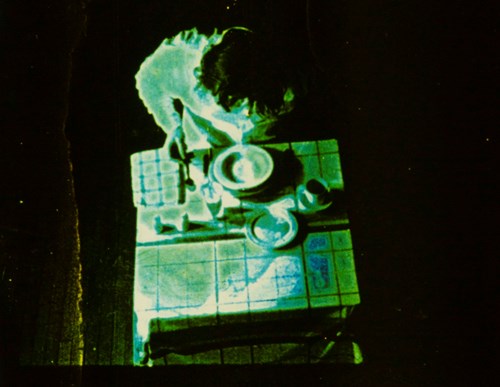 To Lavoisier, Who Died in the Reign of Terror  [Film Still], 1991. 16mm film, 53 minutes, colour, sound. Courtesy of Michael Snow
AD: You have said, "I make up the rules of a game and I play it. If I seem to be losing, I change the rules." How does the approach in life apply to your creation of art?
MS: I said that ("I make up the rules of the game...") referring to making art works (not living) and I still work that way.
AD: The objective behind your experimentation in film was not shock value, but rather to make a contribution to the medium.  In reflection on your body of work, what do you feel is the most significant contribution you have made as an artist?
MS: Trying to answer that question brings up the medium differences.  I am proud of the book Cover To Cover (1975), the sculpture The Audience (1989), the sound film Rameau's Nephew by Diderot (Thanx to Dennis Young) by Wilma Schoen (1974), the photo-work 8 x 10 (1969). There are certainly others but these, I think are significant contributions.