Image: Hague Yang, courtesy to Fondazione Furla
A leading artist of her generation, Haegue Yang (b. 1971, Seoul) is celebrated for her prolific and diverse work that evokes historical and contemporary narratives of migration, displacement and cross-cultural translation. Haegue Yang: Emergence, the first North American survey of the artist's oeuvre, will open at the Art Gallery of Ontario (AGO) on April 30, 2020.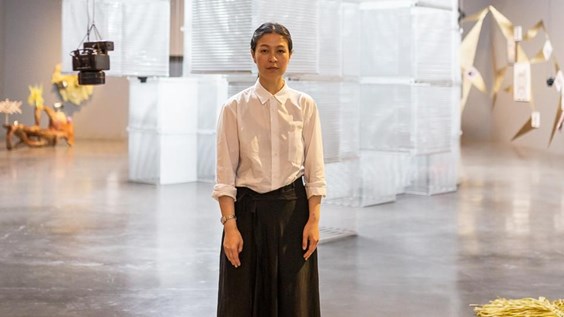 Hague Yang, courtesy to Fondazione Furla
Yang is primarily known for her extraordinary transformations of everyday domestic materials—such as venetian blinds, light bulbs, drying racks, knitting yarn and bells—into deeply allegorical, meticulously constructed installations and sculptures. Over 70 of the artist's critically acclaimed installations, performative sculptures and graphic murals from the past 25 years will be included in the exhibition that will occupy Level 5 of the Vivian and David Campbell Centre for Contemporary Art, as well as other spaces in the museum.
Haegue Yang: Emergence is curated by Adelina Vlas, the AGO's Associate Curator of Contemporary Art. "The exhibition explores the scientific notion of emergence in reference to the existence or formation of collective behaviours–what a community can accomplish that individuals cannot alone," says Vlas. "This concept suggests the possibility of transformation through coming together, a concept highly relevant in today's fractured societies. When applied to the context of a survey show, emergence points to a unified reading of the artist's extraordinarily diverse practice over two decades."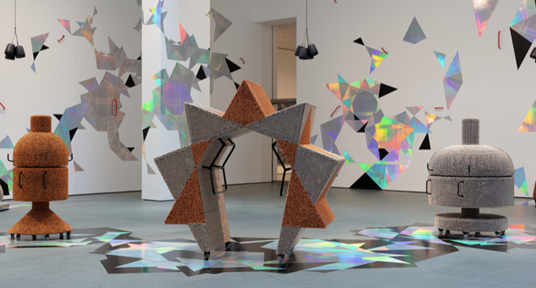 Image courtesy to MoMA
The AGO has commissioned two new installations for the exhibition: a large-scale venetian blind work in the Joey and Toby Tanenbaum Sculpture Atrium and a mural-like wallpaper at the AGO's South Entrance. An outsider searching for her own possible reading of the AGO's Collections, Yang's choice of the AGO Atrium as a site for a new work is inspired by the evidence of multiple layers of architectural history.
Movement is a primary motif of Haegue Yang: Emergence and stems from Yang's preoccupations with physical, social and emotional movement informed by her own diasporic experience. The sensorial richness of individual lived experience also provides the point of departure for her works in which intangible elements (light, sound, air, heat and scent) are combined with moving components to stimulate our multiple senses. It is this porous and fragmentary aspect of Yang's practice that allows for an idea of community to emerge, one that is inclusive of interpersonal differences and individuals' own movement through the world. According to the artist, "Acknowledging the absence of commonness among us could be the very tie that bonds us. This can provide a ground for our differences to co-exist."
Haegue Yang: Emergence includes a full spectrum of the artist's installations, sculptures and two-dimensional works. Among them is the reconstruction of the Anthology of Haegue Archives (1998), the artist's attempt at self-historicization through the presentation of a group of early works in a museological display case.  Also included is the groundbreaking series of sculptures Non-Indépliables (2006-2010) where drying racks wrapped in fabric, yarn and light fixtures take on anthropomorphic qualities. Yang's interests in domestic spaces as sites of reflection and planning of life are fully manifested in Sallim (2009), a critically acclaimed sculptural environment based on the artist's Berlin kitchen at the time. The selection also includes Boxing Ballet (2013-2015), a theatrical staging of human-sized figures covered in brass bells. Their engagement with the gallery space as a box informs its title while challenging museum display conventions. Yang's interest in movement is further emphasized in the series Sol LeWitt Vehicles (2018),  and these moveable sculptures on casters will be activated throughout the run of the exhibition. They will be presented against the wall mural Eclectic Totemic (2013), which references the diversity of sources and influences that have shaped Yang's work.
The exhibition is accompanied by a parallel presentation of Yang's video essays on the 4th floor of the AGO's Contemporary Tower, and a one-time staging of The Malady of Death (2008-ongoing), a conceptual commitment of the artist to the identically titled novella by Marguerite Duras in Jackman Hall in late September (exact dates to be announced shortly).