The Henry Moore Foundation has shown its on-going commitment to the future of sculpture with the announcement of a £100,000 unrestricted grant, which will be awarded directly to 50 artists across the UK.
The grant aims to alleviate some of the financial pressures faced by artists amid the country's mounting cost of living crisis and the funding cuts that have been taken place in the arts and culture sector.
The 50 artists were nominated by a panel of 25 prominent figures, that represented each region in the UK and Northern Ireland. It included Zoé Whitley, Director of Chisenhale Gallery in London, Saad Eddine Said, Artistic Director and CEO of New Art Exchange in Nottingham and Xiaowen Zhu, Director of ESEA Contemporary in Manchester and amongst other leading cultural voices.
The grant recipients include a wide range of artists, in all stages of their careers, working across different themes and practices, such Nottingham and London based artist Michael Forbes, who uses sculpture, installation, photography and digital media to explore topics such as contemporary racial politics, history and migration. Alongside his artistic practice, he has curated several exhibitions and supports artists in their professional development. Interdisciplinary artist Dinu Li was born in Hong Kong and lives and works in Cornwall. His practice examines the manifestation of culture in the everyday, working with moving image, photography and sculptural assemblage. Saelia Aparicio, who graduated from the RCA in Sculpture in 2015, creates sculptures, videos and installations and was responsible for the 2023 programme of Open School East, a free art school in Margate.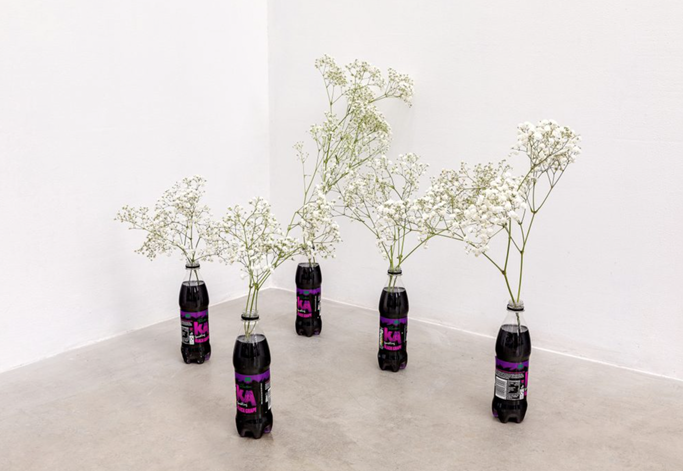 Adam Farah-Saad, BENT ROAD MONUMENTATIONS (NW DESPERATIONS MIX), 2020 (Photo © Romain Darnaud)
This award will help to support artists to continue their valuable work, following a difficult period where many affected by the cancellation and postponement of exhibitions and a halt on new commissions due to lack of funding, as well as feeling the additional impact of the cost of living crisis. The fund is unrestricted, allowing artists the flexibility to use the money however they need to, whether that's paying studio rent, buying materials, or reimbursing the funds for work lost.
Artist Adam Farah-Saad / free.yard on receiving the award said, "The awarding of this grant allows me to take a deep breath and exhale, relieving some of the everyday burden of asking, how am I going to keep on pushing through as someone who has chosen to prioritise the creative part of my being in a society which often makes you question if that was the right thing to do in life".
Godfrey Worsdale, Director of the Henry Moore Foundation, comments, "This is an incredibly difficult moment for the arts and especially so for many artists. Henry Moore himself benefitted from an ex-serviceman's grant after he fought in the First World War , which enabled him to study sculpture at Leeds College of Art. With this in mind and the challenging outlook for 2023, the Foundation wanted to offer timely support and give artists across the country some much-needed assistance."
Henry Moore's appreciation of the support he received stayed with him throughout his life and was instrumental in his decision to establish his Foundation to give support back to the study and future development of the visual arts and sculpture, in particular. One of the first of its kind, the Henry Moore Foundation was created by the artist and his family in 1977 to encourage public appreciation of the visual arts. Today it supports innovative sculpture projects around the world, devises an imaginative programme of exhibitions and research, and preserves the legacy of Moore himself: widely recognised as one of the great sculptors of the 20th century.
To date the Foundation has been able to award over £37 million to support exhibitions, publications, commissions and acquisitions. It has also provided support for academic research, particularly at Post-Doctoral level. The consequences of this support have had an impact on the careers of thousands of artists, both in the UK and around the world.