Image: John Christakos
The Walker Art Center announced the appointment of John Christakos as President of the Board of Trustees. Christakos began his two-year term as President on September 18. The board also appointed Vice-President Patrick Peyton, The Peyton Group, Treasurer John P. Whaley, Arts Advocate, and Secretary Teresa Rasmussen, Thrivent Financial.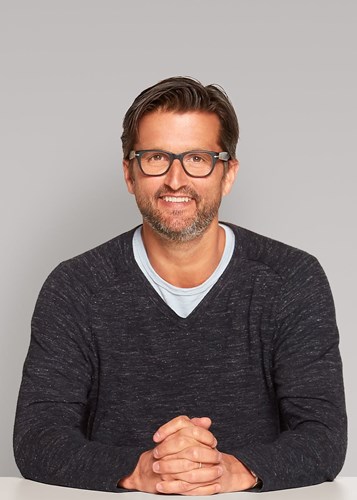 John Christakos
Outgoing Board President Monica Nassif comments, "John's commitment to the arts, entrepreneurial spirit, and success in business will be wonderful assets to his Walker board leadership."
Christakos adds "I am honored to serve in this role for the Walker Art Center and am excited to have Patrick, John and Terry as partners on the Board leadership team."
John Christakos cofounded Blu Dot in 1996, a design studio and manufacturer of modern furnishings, serving as CEO since its inception. Blu Dot's work has received numerous national and international design awards.  In 2018, Blu Dot was the recipient of the prestigious National Design Award for Product Design given annually by the Cooper-Hewitt National Design Museum.  Blu Dot's work has been exhibited at the Museum of Modern Art, the Cooper Hewitt, Walker Art Center and Centre Pompidou.
Prior to Blu Dot, Christakos was Consulting Director of Core Group in Minneapolis, where he advised consumer product companies in marketing strategy and branding. He began his career as a consultant with Bain & Company in their Boston office. He serves on the International Contemporary Furniture Fair (ICFF) Advisory Board. Christakos previously served on the Boards of Midway Contemporary Art; the College of Visual Arts, St. Paul; and the Courage Center Foundation.
Vice-President
Patrick Peyton, The Peyton Group
Patrick Peyton is the Founder and Chief Executive Officer of The Peyton Group, a family office and private investment company. He is also Chairman of The Peyton Family Foundation. Peyton was Chairman, CEO and an owner of Despatch Industries for 18 years until it was sold in 2011. For the last 30 years, Peyton has been an investment wealth manager and CEO of global companies with operations in Europe and Asia. He was CFO for the Getty Family and responsible for leading the Getty's publishing interests in NYC and London. He was also a member of the Washington DC office of Arthur Andersen. Peyton currently serves on the boards and advisory boards of both for-profit and not-for-profit organizations.
Treasurer
John P. Whaley, Arts Advocate
John Whaley retired from Norwest Equity Partners—a private equity investment firm based in Minneapolis—in 2016, where he served as Managing Administrative Partner. With nearly four decades of private equity investment experience, Whaley worked with many portfolio companies over the years, in multiple industries. He is presently focused on board level activity in emerging ventures, private companies and non-profit organizations. He currently serves on the board of directors of the Greater Twin Cities United Way and on the Advisory Board of the Holmes Center for Entrepreneurship at the Carlson School of Management at the University of Minnesota and previously served on the board of the Minnesota Orchestral Association.  He is also a director of several entrepreneurial companies.
Secretary
Teresa Rasmussen, Thrivent Financial
Teresa J. Rasmussen is President of Thrivent Financial for Lutherans, the country's largest fraternal benefit society. Formerly she served as Senior Vice President, General Counsel and Secretary, leading more than 230 professionals in the corporate risk management and external affairs departments, which included legal and compliance, corporate governance, business risk management, government affairs, Lutheran church and community relations and communications. Before joining Thrivent in 2005, Rasmussen served in progressively responsible legal positions with American Express and Ameriprise Financial.