Image: Kati Horna, Pedro Friedeberg disfrazado de Cebra, 1968
Kati Horna recorded as a photographer, numerous major historic events in the twentieth century. For her, being a photographer was a way of contributing to her political ideals while at the same time being able to lead an independent life as a woman. After major retrospective exhibitions in Mexico City, Madrid and Paris, this will be the first retrospective with works from Horna's entire oeuvre in the Netherlands.
It was in October 1939 that the steamer De Grasse left the port of Le Havre, on its way to New York. The group of migrants on board had Mexico as their final destination. Since the outbreak of the Spanish Civil War in 1936, the Mexican government had supported the Spanish Republic and had welcomed a stream of newcomers. The 27-year-old photographer Kati Horna (Budapest, 1912 – Mexico City, 2000) was one of the migrants on board. In Mexico she was granted citizenship and she would stay there for the rest of her life. Horna's flight to Mexico was one of the many journeys she made in her life. These had a major influence on her work.
Kati Horna was born in 1912 as Katalin Deutsch Blau in the then politically troubled Budapest. The violence, injustice and fear she was confronted with in her youth formed her as a photographer. Her stay in Berlin in 1931 was also a defining factor. Not only because of the threat of Hitler's rule, but also because of her introduction to well-known Hungarian photographers such as Robert Capa (with whom she formed a lifelong friendship), László Moholy-Nagy and Simon Guttman. Eventually the rising threat of the Nazis became too severe; she left Berlin and went back to Budapest. She was privately trained by the then famous photographer József Pécsi who had her experiment with collages and photomontages. This early work by Horna was clearly influenced by the avant-garde movements of the 1930s.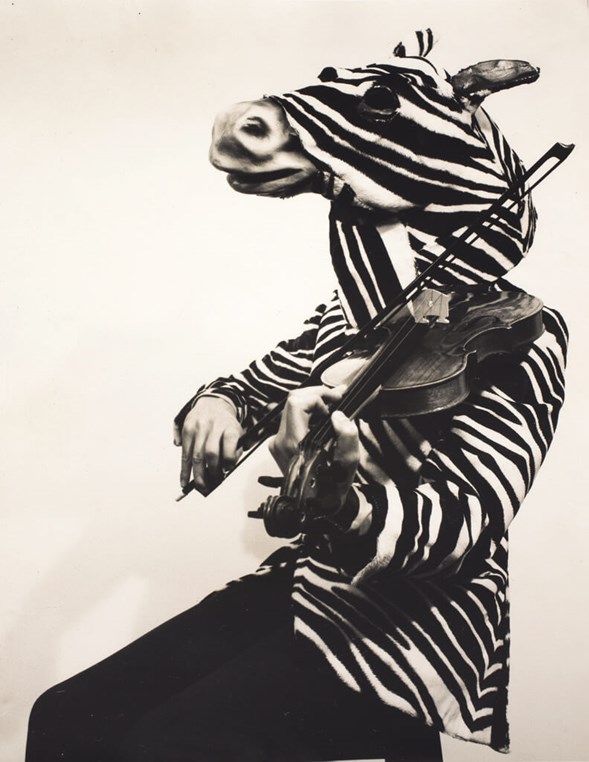 Kati Horna, Pedro Friedeberg disfrazado de Cebra, 1968
The regime of the fascist Hungarian dictator Miklós Horthy forced Horna to leave for Paris in 1933. Here, she continued to develop herself as a photographer, photographing the streets and cafés with her unique sense of irony and poetry. The birthplace of surrealism intensified her preference for poetic and staged images. It was only a few years later, however, that Horna gained great fame as a photographer through a propaganda commission from the Spanish Republican government. Between 1937 and 1939, she photographed the Spanish Civil War. As one of the few women on the front, she portrayed the Republican troops fighting against the dictator Franco. She was particularly fascinated by the consequences of the war on daily life, especially that of women and children. During this period Horna became editor of the Spanish magazine Umbral, where she met her future husband José Horna. Together with him she left for Paris after the civil war had ended. Here, Kati Horna started to photograph masks and dolls, which would remain recurring elements in her work.