Lebanese-born, Paris-based architect Lina Ghotmeh, has been selected to conceive the 22nd Pavilion. Ghotmeh's Pavilion will be unveiled at Serpentine South in June 2023 with Goldman Sachs supporting the annual project for the 9th consecutive year.
This pioneering and prestigious commission, which began in 2000 with Dame Zaha Hadid, has presented the first completed UK structures by some of the biggest names and emerging talents in international architecture. The Pavilion has evolved over the years as a participatory public and artistic platform for the Serpentine's innovative, experimental, interdisciplinary, community and family programmes.
Ghotmeh leads her practice Lina Ghotmeh — Architecture in Paris, France, where she develops projects at the crossroads of architecture, art and design, on a global scale. Considerate of social conditions, environments and materials, her practice takes an in-depth 360 approach to its projects including research on location history, typology of the place, materials, resources, users' habits etc. The architect's designs are developed thorough historical research which emerge as interventions that enliven memories.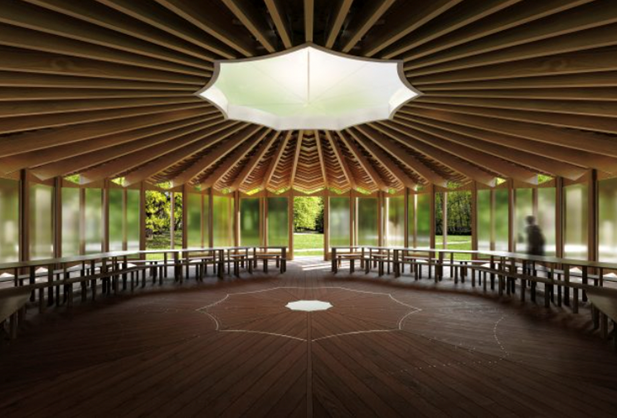 Serpentine Pavilion 2023 designed by Lina Ghotmeh — Architecture Design render, interior view Photo © Lina Ghotmeh — Architecture Courtesy: Serpentine
The 22nd Pavilion will continue this ongoing practice of 'Archaeology of the future', by exploring notions of memory, space and landscape through the architect's own personal methodology. Next year's Pavilion will be titled À table, the French call to sit down together at a table and will allude to a sense of unity with the form of its structure and an organic design of a table as well as seating formation inviting human interactions. Inspired by nature and echoing the grounds and canopies of the trees and its surroundings, the idea of togetherness and community will take centre stage in Ghotmeh's structural architecture.
Lina Ghotmeh, Architect said: "À table is an invitation to dwell together, in the same space and around the same table. It is an encouragement to enter into a dialogue, to convene and to think about how we could reinstate and re-establish our relationship to nature and the Earth. The Earth that embraces us is our first source of sustenance; without it, we living beings, could not survive. Rethinking what and how much we eat – how we 'consume' and how we weave our relationships to one another and the living world – moves us towards a more sustainable, ecosystemic communion with the Earth. Our 'cuisine' grounds us home; it reminds us how linked we are to the climates in which we grew up. As a Mediterranean woman, born and raised in Beirut, and living in Paris, I feel a deep belonging to our ground, to what it contains, and to what it embraces: from the buried yet weathering archaeologies of past civilisations to the embedded living world that spurs green life to sprout from every crack in the streets. In my practice as an architect, I excavate to design (and learn) from the traces of the past and I listen to the voices of my ancestors as well as those of our living world. These voices vividly resonate with future structures as ways to influence and challenge tomorrow's architecture..."
Bettina Korek, Chief Executive, and Hans Ulrich Obrist, Artistic Director, said: "We are thrilled to present Lina Ghotmeh's first structure in the UK here at Serpentine next summer. Her design for À table draws on natural elements that reflect its surroundings in Kensington Gardens and expands on our mission of creating connections between architecture and society by promoting unity and togetherness in its form and function. We are endlessly grateful to our loyal partners and supporters, for making Ghotmeh's brilliant concept for a Pavilion built from stateof-the-art sustainable materials into an inspiring reality, for the people of London and for our visitors from around the world to enjoy all summer. As Etel Adnan once told us, The world needs togetherness, not separation. Love, not suspicion. A common future, not isolation."
Throughout the Summer, the Serpentine Pavilion 2023 will become a platform for Serpentine's programme which will feature Park Nights, the interdisciplinary platform for live encounters in music, poetry, spoken words, and dance, running alongside Serpentine's Education and Civic activations.
This year's Pavilion selection was made by Serpentine Artistic Director Hans Ulrich Obrist, CEO Bettina Korek, Director of Construction and Special Projects Julie Burnell, Director of Curatorial Affairs and Public Practice Yesomi Umolu, and Curator at Large Natalia Grabowska together with advisors Sir David Adjaye OM OBE and David Glover. In 2022, Sir Adjaye was appointed to the Order of Merit, selected by Her Majesty the Queen, in recognition of distinguished service in the armed forces, science, art, literature, or for the promotion of culture.