The Metropolitan Museum of Art announced yesterday that Max Hollein has been elected its next Director. Mr. Hollein currently leads the Fine Arts Museums of San Francisco. After beginning his career at the Guggenheim Museum, New York, he was Director and CEO of three of Germany's most prestigious art institutions, including the Städel Museum, Frankfurt. An accomplished curator and museum leader, Mr. Hollein has demonstrated exceptional skill at building collections, diversifying audiences, and broadening institutional development. He was elected at a meeting of the Board of Trustees today and will assume the directorship of The Metropolitan Museum of Art in the summer of 2018.

"The Board of Trustees is delighted to announce the appointment of Max Hollein as the tenth Director of The Metropolitan Museum of Art," said Daniel Brodsky, Chairman of the Board of Trustees. 

Hollein's appointment follows a yearlong search led by the Museum's Search Committee, which was co-chaired by Candace Beinecke and Richard Chilton. The search began with the development of a job description informed by the participation of more than 400 staff, trustees, and supporters. The committee then received approximately 100 nominations, comprising a broad and diverse pool, and met more than 25 times before and during the interview process.
Mr. Hollein will be responsible for the artistic vision and leadership of the Museum and its encyclopedic collection of nearly 2 million objects spanning 5,000 years. The Director's responsibilities include oversight of the Museum's curatorial, conservation, and scientific research departments; its exhibition and acquisition activities; education and public outreach; and other mission-oriented areas, including the libraries, digital initiatives, publications, imaging, the registrar, and design.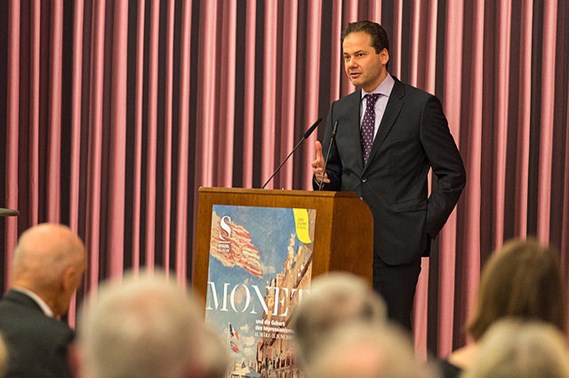 Max Hollein, Director of Schirn Kunsthalle, Städel Museum and Liebieghaus Skulpturensammlung, at the opening of the Monet exhibition in the Städel Museum in 2015. © Strandgut87