Through her research into Gloucester Road and the local area Monster Chetwynd became fascinated by the giant Amazonian waterlily. This plant was the inspiration behind gardener-turned-architect Joseph Paxton's pioneering design for the Crystal Palace, the building which housed the Great Exhibition. Paxton based the structure on the waterlily's elaborate network of ribbed veins, creating a modular, kit-form design which paved the way for successive public buildings and revolutionised architecture. Revenue from tickets to the Great Exhibition provided capital for the construction of the museums situated along Exhibition Road, these new developments created a cultural destination known as 'Albertopolis'.
At Gloucester Road Tube station, Chetwynd creates a series of five 4-metre diameter disc-shaped sculptures along the length of a disused platform. Each sculpture is populated with creatures – beetles, dragonfly larvae, tadpoles and tortoises – that appear to be constructing sections of the Crystal Palace. They show the underwater life of the submerged lily pads, their spiny network of veins playing host to the industrious wildlife. Rather than stepping down into the tunnels of the London Underground it is as if the viewer has stepped beneath the surface of the water, into a subterranean simulation of the Amazon. A freestanding salamander, holding an Amazonian lily pad as a parasol, is an anthropomorphic addition to this scene of amphibian industry. The sculptures reference the commemorative coins, medallions and souvenirs that were created to commemorate the Great Exhibition, as well as the array of terracotta animal sculptures that decorate the exterior walls and vaulted galleries of the Natural History Museum.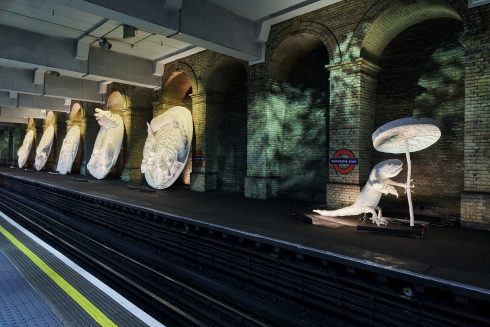 Monster Chetwynd, 'Pond Life: Albertopolis and the Lily', 2023. Gloucester Road station. Commissioned by Art on the Underground. Photo: GG Archard
A trailer for a new film by Monster Chetwynd, Who named the Lily? is also on view in the station. It celebrates and laments the complicated history of the Crystal Palace. Chetwynd plays the 'Fact Hungry Witch', who explores the story of the Amazonian waterlily, and reveals its links to engineering. Shot on 35mm film by artist-filmmaker Margaret Salmon at locations including Chatsworth House, The London Transport Museum and the Natural History Museum. It features a cast of performers, including the historian and broadcaster, Adam John Hart-Davis and a group of young people from FAT studio, a community-led initiative based at London's Old Kent Road. The artwork brings to light the politics of Paxton's developments in industry and architecture; however, the protagonist of this story is the waterlily – a catalyst for ground-breaking technological advancement.
Monster Chetwynd has also devised an interactive detective hunt, aimed at families at South Kensington, the 'Fact Hungry Witch' invites participants to find clues hidden in her seven poster artworks situated along the South Kensington pedestrian tunnel.
Chetwynd's commission for Art on the Underground builds on the artist's track record of creating public artworks that engage broad and varied audiences through evocative references and an uplifting, irreverent sense of fun.
Image on top : Monster Chetwynd, 'Pond Life: Albertopolis and the Lily', 2023. Gloucester Road station. Commissioned by Art on the Underground. Photo: GG Archard