Image courtesy to Andina.pe
A massive drawing has been found in the legendary Nazca Lines of Peru. With this recent discovery, the enigmatic markings etched into the Peruvian desert are attracting world attention once again.

According to the Ministry of Culture, the 37-meter-long figure depicts a feline and is situated in one of the slopes of the hill known as the Mirador Natural (a natural lookout point).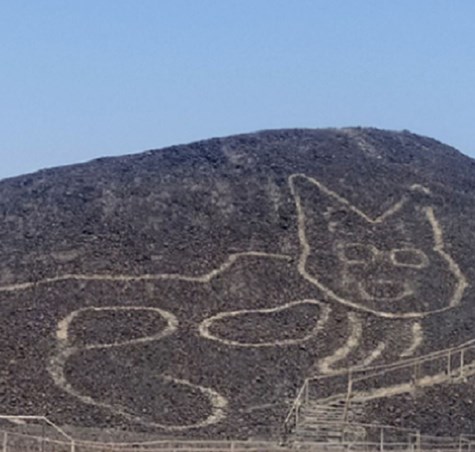 Image courtesy to Andina.pe

The surprising discovery was made when archaeologists and the technical staff of the Nazca-Palpa Management Plan —supported by the Ministry of Culture— conducted refurbishment works at the natural lookout in the Nazca Pampas.

The figure was barely visible and was about to disappear due to its location —on a fairly steep slope— and the effects of natural erosion. The cleaning and conservation of the geoglyph was carried out last week.

The drawing depicts the figure of a feline in profile, with the head turned towards the front. The lines are mostly well defined, and the image is formed by lines of variable width, which goes from 30 to 40 centimeters.

Experts claim that the figure's stylistic features date from the Late Paracas period. That is, it predates the famous geoglyphs in the Nazca Pampas, dating back 100 to 200 years before our era.

It is worth noting that representations of felines of this kind are common in the iconography of ceramics and textiles created by the Paracas people.

The Ministry Culture noted that this discovery shows, once again, the rich and varied cultural legacy of this site that has been on the UNESCO World Heritage List since 1994.