Image courtesy to gov.uk
Culture Minister Caroline Dinenage has placed a temporary export bar on two marble figures of Celtic Hounds carved during the Roman period. 
The figures, thought to have been completed in the 2nd century AD, are one of two surviving sets from the period and have been valued at £2,000,000 plus VAT. They are at risk of being lost abroad unless a UK buyer can be found.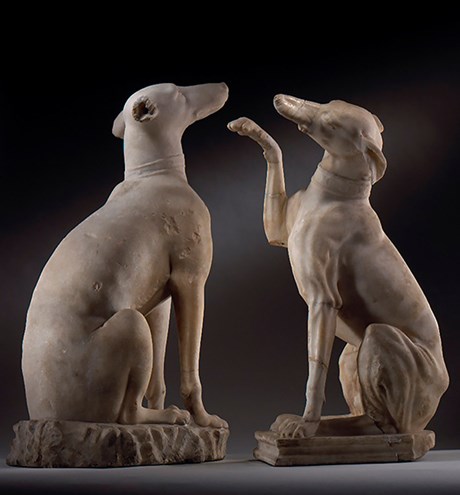 Image courtesy to gov.uk
The figures depict a male and female celtic hound and are made of white marble, possibly north Italian or Greek. The male hound is seated upright with his head tilted upwards, tail between his legs and wearing a studded collar. The female is seated and wearing a wide studded collar with her right foreleg raised. Parts of both figures bear signs of historic restoration in the 18th century. 
The figures are outstanding examples of ancient sculpture. The Committee noted the exceptional craftsmanship and remarkable, fine carving on the female figure. The inclusion of collars on both sculptures implies that they may have been household pets which offers a valuable insight into and understanding of the display of sculpture in antiquity, especially in Roman imperial villas. 
The figures were excavated from the villa of the Emperor Antoninus in 1795 - 1796 and became part of the collection of Thomas Hope, who formed one of the most renowned art and antiques collections in the country. 
RCEWA member Stuart Lochhead said:

Excavated from the villa of the Emperor Antoninus in 1795-6 this pair of hounds, naturalistically rendered in marble, were acquired soon after by the great neoclassical collector and decorator Thomas Hope who displayed them in his London home, partly open to the public, for almost 50 years.

The remarkable provenance and the fact there are only two other similar sets of hounds surviving from antiquity make these objects a fascinating and important view into the display and use of sculpture in antiquity and their subsequently profound influence on early 19th century British taste and cultural history. They are interwoven in so many ways to our cultural heritage that their export abroad would represent a great loss to the nation.

The RCEWA made its recommendation on the grounds of the figure's outstanding significance to the study of the history of collecting in the UK and their display and use in antiquity.

The decision on the export licence application for the figures will be deferred until 2 October 2020. This may be extended until 2 February 2021 if a serious intention to raise funds to purchase it is made at the recommended price of £2,000,000 plus VAT .