Image: Mel Ramos in his studio in 2012. Photo: Courtesy Crocker Art Museum 
Melvin Ramos,  The Sacramento-born Pop art painter Mel Ramos, known for appropriated cartoon imagery and randy depictions of nude women incongruously set among commercial icons, has died.  Mel Ramos was an American figurative painter, specializing most often in paintings of female nudes,  whose work incorporates elements of realist and abstract art.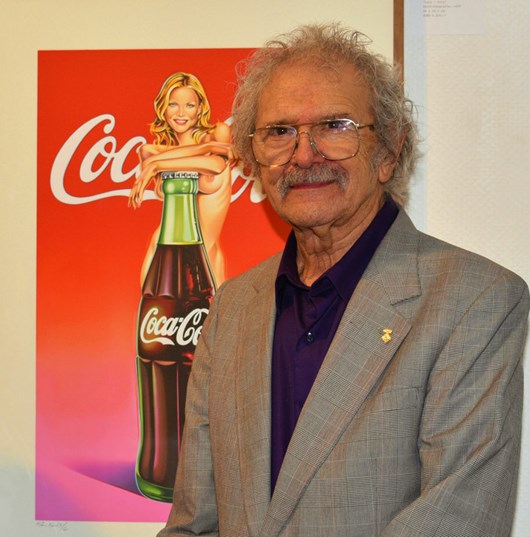 Mel Ramos in his studio in 2012. Photo: Courtesy Crocker Art Museum 
Born in Sacramento, California, to a first generation Portuguese-Azorean immigrant family, he gained his popularity as part of the Pop Art movement of the 1960s. Ramos is "best known for his paintings of superheroes and voluptuous female nudes emerging from cornstalks or Chiquita bananas, popping up from candy wrappers or lounging in martini glasses. He was also a university art professor. 
Ramos received his first important recognition in the early 1960s; since 1959 he has participated in more than 120 group shows. Along with Roy Lichtenstein and Andy Warhol,  he was one of the first artists to do paintings of images from comic books, and works of the three were exhibited together at the Los Angeles County Museum of Art  in 1963.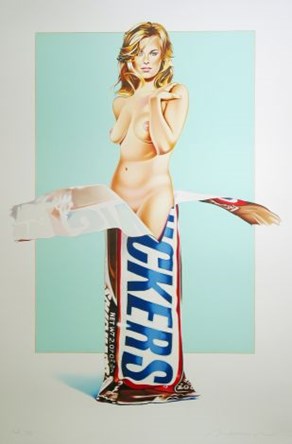 Candy II - Snickers, 2004
Along with Claes Oldenburg, James Rosenguist, Tom Wasselmann and Wayne Thiebaud, Ramos produced art works that celebrated aspects of popular culture as represented in mass media.
His paintings have been shown in major exhibitions of Pop art in the U.S. and in Europe, and reproduced in books, catalogs, and periodicals throughout the world. 
Ramos died of heart failure on October 14, 2018 at Kaiser Hospital in Oakland, California