Preston H. Haskell III '60 has made a leadership gift in the Venture Forward campaign toward the creation of the new Princeton University Art Museum, to be recognized with the naming of a new education center in that facility. He is also making a gift of art that is one of the most significant gifts in the museum's history, including eight canonical abstract paintings from his private collection.
"Preston Haskell's leadership and generosity have helped make possible this bold effort to reimagine the Princeton University Art Museum and extend its impact on campus and beyond," said President Christopher L. Eisgruber '83. "With his marvelous gifts, Preston is making a historic addition to the Art Museum's collections and providing a vibrant forum in which they can be explored and studied. We are deeply grateful to Preston for his tremendous generosity to the Art Museum and for his decades-long commitment to the arts and humanities at Princeton."
Haskell's gift is one of several major alumni commitments that have enabled the construction of the new Princeton University Art Museum, located at the heart of the Princeton campus on the site of the previous museum, roughly doubling the space for the exhibition, conservation, study and interpretation of the Art Museum's collections. While the museum's expansive collections include over 114,000 works of art from cultures spanning the globe, no more than two percent of these could be on display at any time in the former building.
The new Princeton University Art Museum, designed by architect Sir David Adjaye of Adjaye Associates, in collaboration with executive architects Cooper Robertson, will occupy three stories, featuring nine primary interlocked pavilions containing many of the building's new galleries. Expansive galleries largely located on a single level will allow for fresh new inquiries, while six new object-study classrooms will support the scholarly needs of students and faculty and a host of social gathering spaces will position the facility as a new "town square" for campus and community. Construction on the Art Museum, which began in the summer of 2021, is expected to be complete by late 2024. Additional major gifts to the museum will be announced over the next year.
"Having a great art museum is important to the primary mission of the University, which is teaching, learning and research," said Haskell. "Without the great collection and the scholars, curators and researchers — both permanent and visiting — you couldn't have a great museum and you couldn't have a great educational experience. It's also the community museum, located in the central part of campus and open to the public. This gift was motivated by helping one of the finest art museums in the region move to the next level."
Haskell is an avid art collector whose primary interests are abstract expressionism, minimalism and pop art from the mid- to late-20th century, especially the 1940s to the 1970s. In 2003, he was listed in Art & Antiques magazine as one of the top 100 collectors in the United States. Over the years, he has loaned pieces of his collection for major exhibitions at Jacksonville's Cummer Museum of Art & Gardens, the Museum of Contemporary Art Jacksonville, Jacksonville University, the North Carolina Museum of Art, the Birmingham Museum of Art, the Gibbes Museum of Art in Charleston and the Tampa Museum of Art. He has also shared works of art with the Princeton University Art Museum for three exhibitions, including "Rothko to Richter: Mark-Making in Abstract Painting from the Collection of Preston H. Haskell" in 2014.
Haskell served on the Princeton University Art Museum's Advisory Council for 24 years and as its chair for four years (2010-14). He remains an honorary member. In 2010, he endowed the Haskell Curatorship of Modern and Contemporary Art at the Art Museum, a position currently filled by Mitra Abbaspour.
"I became interested in art through my first boss, Bob Jacobs, a collector who once gave me a Gabor Peterdi in lieu of a year-end bonus," Haskell said. "Early on, I focused on the American postwar abstract expressionism movement, works that are entirely nonobjective and highly spontaneous, colorful and emotional. I found myself passionately drawn to the energy, mystery and excitement of these works — a passion that is as difficult to rationalize as the art itself."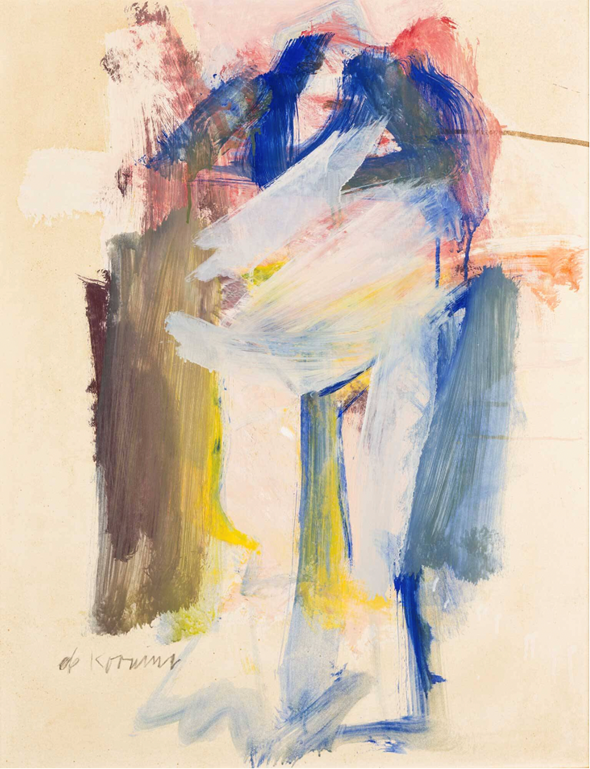 Willem de Kooning (1904–1997; born Rotterdam, Netherlands; died East Hampton, NY), Woman II, 1961. Oil on paper mounted on canvas, 73.7 x 57.1 cm. Promised gift of Preston H. Haskell, Class of 1960. © The Willem de Kooning Foundation / Artists Rights Society (ARS), New York. Photo by Douglas J. Eng
When the Art Museum reopens, it will include eight masterpieces of abstract painting from Haskell's collection, constituting one of the most significant gifts of art in the museum's history, including:
Willem de Kooning, Woman II, oil on paper mounted on canvas, 1961
Helen Frankenthaler, Belfry, acrylic on canvas, 1979
Hans Hofmann, The Chair, oil on panel, 1944
Hans Hofmann, Composition #3, oil on canvas, 1952
Joan Mitchell, Aires pour Marion, diptych, oil on canvas, 1975-76
Gerhard Richter, Abstract Painting (613-3), oil on canvas, 1986
Jean-Paul Riopelle, Terre Promise, oil on canvas, 1960
Mark Rothko, Untitled, oil on paper mounted on canvas, 1968
"Without Preston's steadfast volunteer leadership over many years, I doubt very much that the project of making a new Art Museum at Princeton would be becoming reality," said James Steward, the Nancy A. Nasher-David J. Haemisegger, Class of 1976, Director of the museum. "His early commitment of financial support led to many of the fundraising successes that have followed, and now Preston's commitment of art takes our collection of modern art to a new level."
Haskell is founder and chairman of the Haskell Company, an engineering, architectural and construction firm in Jacksonville, Florida, that he established in 1965. The company perfected and promoted integrated design-build project delivery in the United States, and Haskell spearheaded establishment of the influential Design-Build Institute of America. Today, the company employs more than 1,700 architecture, engineering, construction, design and consulting professionals on more than 100 active projects worldwide.
Haskell graduated from Princeton in 1960 with a degree in civil engineering and received an MBA from Harvard in 1962. In addition to his service on the Princeton University Art Museum's Advisory Council, which he joined in 1990, he served on the Princeton University Board of Trustees from 1996-2000 and 2002-2006.
Haskell is a generous philanthropist and supporter of the visual and performing arts, including the Jacksonville Symphony Orchestra and the Museum of Contemporary Art Jacksonville, where he was a former chairman of the board of trustees and now serves as trustee emeritus. He and his wife, Joan, established the Haskell Foundation in 2001, and it has supported religious institutions, arts, education, the environment and human services organizations throughout Florida.
"Princeton University has been enormously influential on my life," Haskell said. "It has enriched and bettered me via a splendid undergraduate experience; a lifetime of personal associations and friendships; service and gifts to the University; and the fun which has come to me from its multiple resources, numerous constituencies, and enjoyable events."
The Princeton University Art Museum's collections date to the 1750s, when the first works of art entered the collection of what was then the College of New Jersey, making it one of the oldest art collections in North America. In 2018, the University announced that Adjaye had been selected to design the new building, in collaboration with Cooper Robertson. The new building is rising on the site of the previous museum, and its design also will shape a new home for the University's Department of Art and Archaeology, while retaining Marquand Library. Together, the three units will continue to function as a dynamic center for research and teaching all but unique in higher education.
The Venture Forward campaign, which launched in October 2021, supports the University's strategic framework, and its fundraising and engagement initiatives are aligned with the key focus areas of that plan: college access and affordability, financial aid, data science, bioengineering, the environment, the humanities and other important areas of inquiry that characterize Princeton's commitment to the liberal arts.