Global conceptual artist Leandro Erlich wants his audience to do a double take - make that a triple take. An acclaimed master of illusory, large-scale installations, Erlich is currently presenting his largest solo exhibition to date, Seeing and Believing, featuring 40-plus works at the Mori Art Museum in Tokyo through April 1, 2018.   In this showcase, Erlich fervently questions our sense of reality and the familiar through structured chimera and altered detail. His pieces broadly employ fluid and unpredictable boundaries. By removing the limits we presume, his works destabilize our expectations and implicit certainties. Seeing and Believing canvases Erlich's extensive projects, inviting viewers to perceive and experience a version of reality that exists in spaces between what is visible and what is believed.
AD: Your international career as an artist has spanned more than 25 years.  Tell us about the development of your work.  
Leandro Erlich: My art has always incorporated a strong sense of intuition. At various points, I have used different life experiences and reflections to inform my work, so each piece has its own narrative and deals with certain themes. When I look at this body work together though, with the pieces side by side, I see that there is cohesion and a transcendence of concepts.
AD: What are the most central themes in your work? Do you primarily focus on questions surrounding perception and representation?
Leandro Erlich: The ideas I think about are often larger than my own intentions, frequently philosophical or existential in nature. The work becomes a vehicle to question or express these views, and hopefully the meaning of the art provides a form of answer.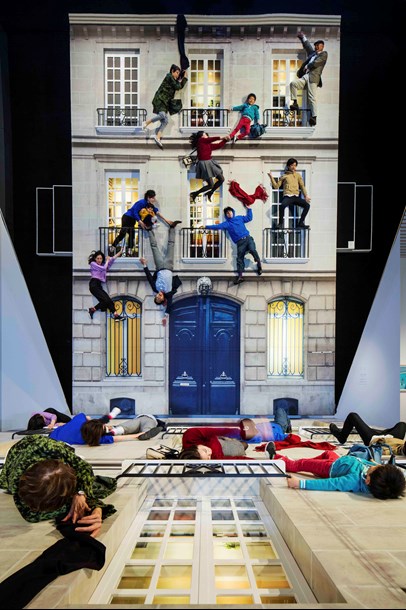 Leandro Erlich, Bâtiment (2004), Mori Art Museum, Tokyo, Japan, 2017.
Photo: © Hasegawa Kenta, courtesy : Mori Art Museum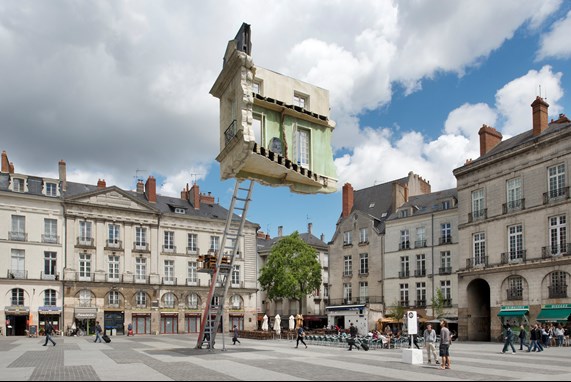 Leandro Erlich, Le Monte-meubles – l'ultime déménagement (2012), Place du Bouffay, Nantes, Le Voyage à Nantes , France,  2012. Photo :© Martin Argyroglo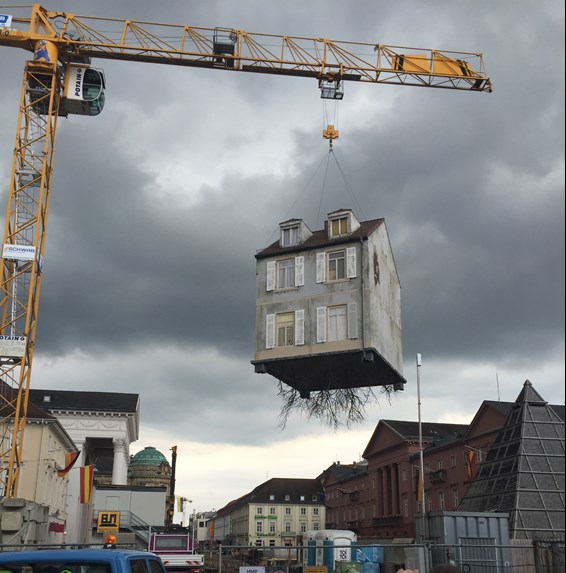 Leandro Erlich, Pulled by the Roots (2015), ZKM, Karlsruhe, Germany, 2015. Photo: © Leandro Erlich Studio
AD: What role should the audience experience of your work have in creating the meaning?  Is it important for the audience to physically interact with the pieces and in a sense, become part of the art?
Leandro Erlich: I like to distort the familiar in a way that anyone is able to relate to a work.  There is a certain playfulness in using a mirror for likeness, but it also hints the idea of being more metaphorical.  If you try to capture a reflection on water, you are trying to fix what is inherently variant. If you can't find your reflection in a mirror, the action itself challenges the empirical proof of your own existence.  By design, there is no complete work without the audience. In my work, the audience temporarily becomes an element of the work itself. Their individual participation and experience is a level of involvement that makes them essential to the process.  And of course, the ultimate meaning they create and assign is also imperative.
AD: You have been described as "an architect of the uncertain," that your work serves to remind us that "reality" does not necessarily mean what is visible.  How can we define reality more acutely?
Leandro Erlich: In all of my art and subject matter, reality reveals itself differently. What we see is continually a matter of perception, the strongest facet of reality. There is an implicit aspect to both the understanding and construction of what we see as "real." Every work is a reflection upon the architecture of that realism.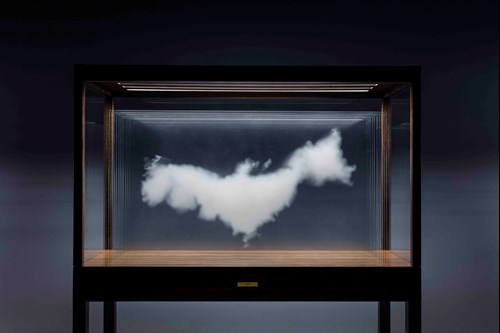 Leandro Erlich, Cloud (Japan) (2016), Mori Art Museum, Tokyo, Japan, 2017. Photo: © Hasegawa Kenta, courtesy : Mori Art Museum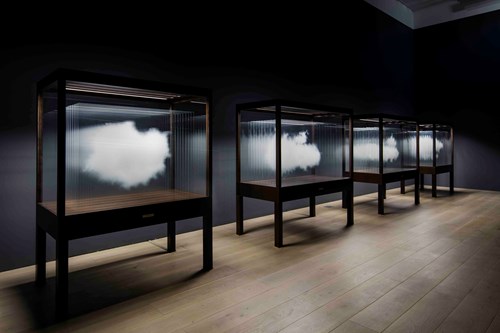 Leandro Erlich, Installation view of Clouds (2016), Mori Art Museum, Tokyo, Japan, 2017.
Photo: © Hasegawa Kenta, courtesy : Mori Art Museum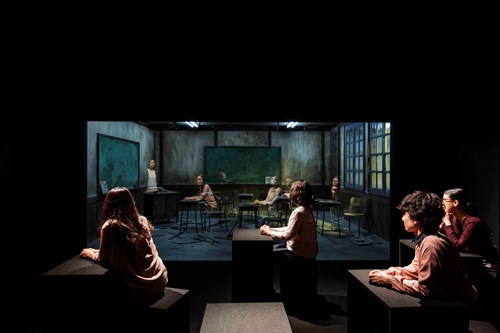 Leandro Erlich, The Classroom (2017), Mori Art Museum, Tokyo, Japan, 2017. Photo: © Hasegawa Kenta, courtesy : Mori Art Museum
AD: Tell us about your creative practice.  How do your ideas originate and what is the process for completing them in their often grand scale?
Leandro Erlich: I like to re-imagine or re-articulate things, combining elements differently to create a new narrative. I change objects to rework how they function and to experience another side of them. From the idea through its execution, I manage the thought within the framework of how it can best be realized.
AD: How have other artistic mediums impacted your work?  What other influences affect your art?
Leandro Erlich: There is the broader structure of art that my work belongs to - contemporary, conceptual art. It fits in this category, but not fully. There is an awareness that comes from a given time and experience, that gives context to a perspective. Right now, we feel a sense of global connectedness through technology and advancement. My art speaks to that but it cannot become so anchored in this moment that it becomes outmoded or inaccessible in the next. It is possible that my work will have new readings in the future and be perceived differently in a another time than it was created. But the important thing is that the concepts endure, that they remain universal and pertinent.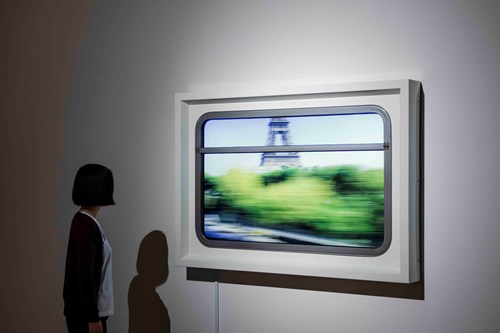 Leandro Erlich, Global Express (2011), Mori Art Museum, Tokyo, Japan, 2017. Photo: © Hasegawa Kenta, courtesy : Mori Art Museum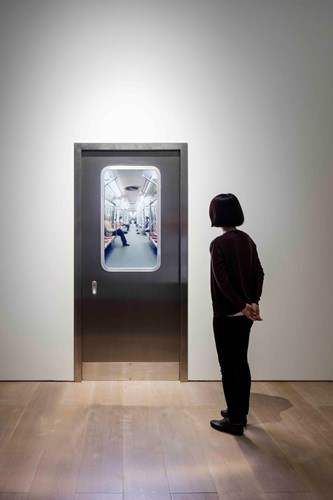 Leandro Erlich, Subway (2010), Mori Art Museum, Tokyo, Japan, 2017. Photo: © Hasegawa Kenta, courtesy : Mori Art Museum
AD: Seeing and Believing is an important achievement, a retrospective of your life's work to date.  What is next for you as an artist?
Leandro Erlich: Every time I finish a piece, I immediately think about what is next. Seeing 25 years of work collectively, I feel a sense of accomplishment but I also see this as only a partial statement of my art. There are new projects and directions ahead, new experiments and interpretations I have yet to reach. So I am quite glad to say, the adventure continues.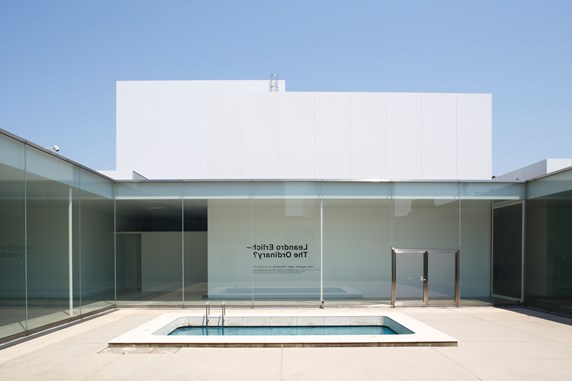 Exhibition: Leandro Erlich ―  The Ordinary?, May 3 – August 31, 2014. Organized by: 21st Century Museum of Contemporary Art, Kanazawa. Photo: Keizo Kioku, courtesy: 21st Century Museum of Contemporary Art, Kanazawa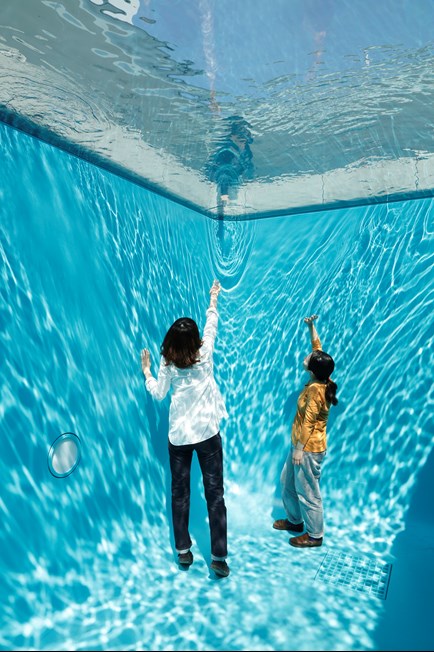 Exhibition: Leandro Erlich ―  The Ordinary?, May 3 – August 31, 2014. Organized by: 21st Century Museum of Contemporary Art, Kanazawa. Photo: Keizo Kioku, courtesy: 21st Century Museum of Contemporary Art, Kanazawa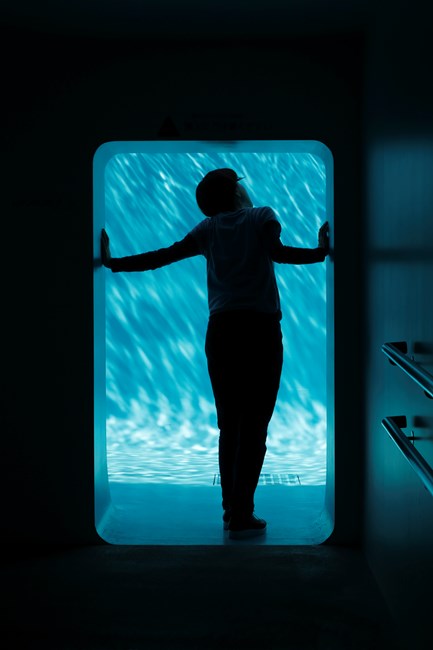 Exhibition: Leandro Erlich ―  The Ordinary?, May 3 – August 31, 2014. Organized by: 21st Century Museum of Contemporary Art, Kanazawa. Photo: Keizo Kioku, courtesy: 21st Century Museum of Contemporary Art, Kanazawa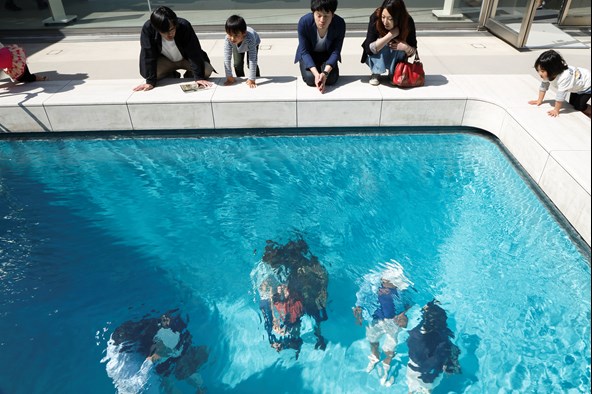 Exhibition: Leandro Erlich ―  The Ordinary?, May 3 – August 31, 2014. Organized by: 21st Century Museum of Contemporary Art, Kanazawa. Photo: Keizo Kioku, courtesy: 21st Century Museum of Contemporary Art, Kanazawa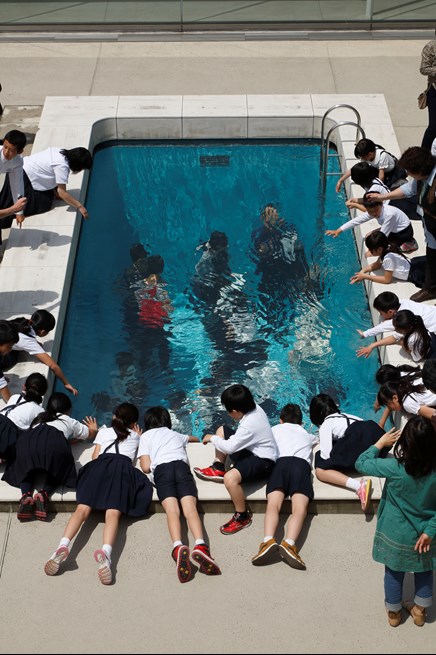 Exhibition: Leandro Erlich ―  The Ordinary?, May 3 – August 31, 2014. Organized by: 21st Century Museum of Contemporary Art, Kanazawa. Photo: Keizo Kioku, courtesy: 21st Century Museum of Contemporary Art, Kanazawa