Image: O2, 2018. 250cm x 122cm. Polished mirrored cage, neon lights, tropical plants, Cyril de Commarque
Saatchi Gallery aims to bring contemporary art to a wider audience by providing an innovative programme platform for emerging international and local artists. For this year's Artist-in-Residence, Cyril de Commarque and British artist Kate Daudy will respond to the key themes explored in Tutankhamun: Treasure of the Golden Pharaoh.
Artificialis, Cyril de Commarque
Artificialis takes as its starting point the Anthropocene era - the period when man first had an impact on Earth's geology and ecosystems - then looks towards the future, meditating on the effect technology and scientific advancement will have on humankind and the environment.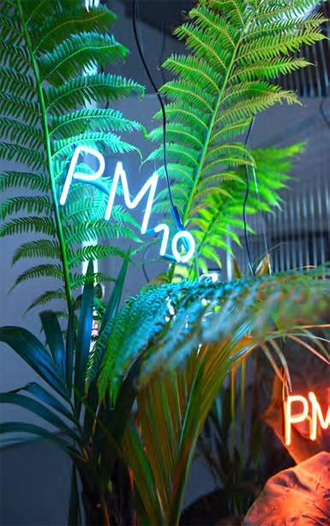 O2, 2018. 250cm x 122cm.
Polished mirrored cage, neon lights,
tropical plants, Cyril de Commarque
The artist invites the viewer to contemplate this new world, starting with the notion that Homo Sapiens will be superseded by a species of its own creation,Homo Artificialis. Rather than portray this in Utopian or Dystopian terms, Commarque interrogates his own feelings through a series of sculptural mise-en-scènes, each piece documenting the transition from one age to another.

Located on the Gallery's second floor, the installation includes four figurative pieces are made from the crudest form of plastic waste, and in sync with the show's themes have been created by the human hand with the assistance of robotic tools. The sculptures, which include two flower-shaped neons suspended from the ceiling, are standalone works however each is united by a common visual language. The atmosphere is heightened by a sound work created by the artist in collaboration with the composer Toni Castells.
It wasn't that at all, Kate Daudy
Daudy's multi-media exhibition, It Wasn't That At All, explores the common interests we share as human beings. With a celebrated ability to immerse herself in the subject, Daudy has produced an installation that draws on her own reflections on home and identity, closeness to nature, faith, science and human mortality.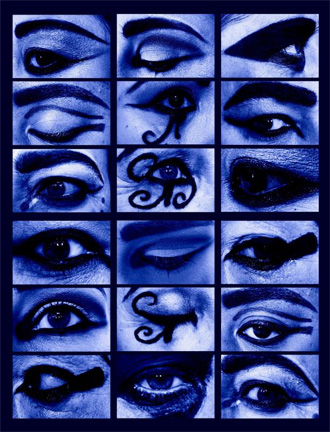 Video stills taken from the installation,
The Night of The Counting of Years, 2019

Over several months, Daudy has been researching Egyptology and engrossing herself in understanding the faith and traditions of Ancient Egypt. She has also been exploring contemporary surgery and ancient Egyptian medical beliefs and practices. Starting with a video wall of eyes staring out from phones and TV monitors, the multi-faceted installation immerses the viewer in a journey that explores themes common not just to the hastily buried 3,500 year old Tut, but to each of us today. Whatever our circumstances we will experience death, be forced to consider questions of family, home, identity, absence and loss. Our life is what our thoughts and actions make it.

Set in a motherboard of interconnected spaces will be Daudy's own temporary studio where she will welcome visitors to share books and ideas and participate in workshops. Together with a London-wide map of Egyptian reference points and specially commissioned podcasts, visitors are invited to consider what most matters to us and what always connects us, whether learning from the past or from one another now.

For It wasn't that at all, Daudy has programmed a dynamic programme of talks and podcasts with Oxford University scholars, Egyptologists, puppeteers, teams from Hammersmith Hospital and the Royal College of Surgeons, physicists, writers and DJs. A desire to make Ancient Egypt more broadly accessible comes across in Daudy's cross-disciplinary approach.