Francis was born to a prosperous silk merchant. He lived the typical life of a wealthy young man, but his disillusionment with the world around him grew. Events such as his traumatising experience of war, imprisonment, and an extended illness caused him to reassess his life. A mystical vision of Christ in the church of San Damiano and his encounter with a leper were life-changing moments. He renounced all his possessions, inheritance, and patrimony, and embraced the life of a penitent following in the footsteps of Christ, establishing the order of Friars Minor. In 1224 he received the stigmata (wounds that appear on a person's body in the same places as those made on Christ's body when he was crucified). these events contributed to the spread of his popularity as a preacher, peacemaker, a champion of the poor, early environmentalist, and social radical.
Francis's life and miracles lent itself to image making and was a great source of inspiration to artists. Apart from those of the New Testament, Francis is probably the most represented saint in the history of art and the popularity of the Franciscan movement grew hand in hand with the rapid spread of imagery - by some of the greatest artists - recounting his likeness and legend. Art historians have estimated that as many as 20,000 images of Francis, not even including those in illuminated manuscripts, might have been made just in the century after his death.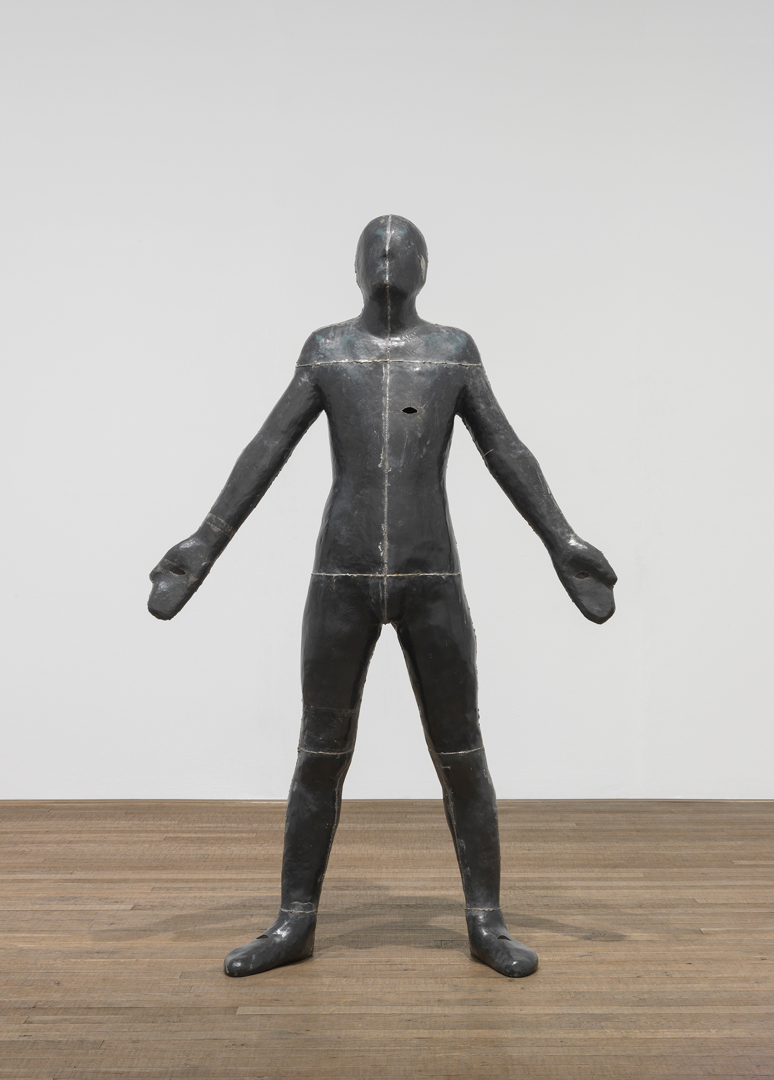 Image: Antony Gormley, 'Untitled (for Francis)', 1985, Lead, fibreglass and plaster, 190 × 117 × 29 cm, Tate (T05004) © Antony Gormley / photo © Tate
The first room of the exhibition introduces Francis through works such as Francisco de Zurbarán's Saint Francis in Meditation (1635‒9, the National Gallery), showing the saint in deep meditation in his patched habit, but also more contemporary evocations. Work such as Antony Gormley's 'Untitled (for Francis)', (1985, Tate) take on a more abstracted form, leaving only Francis's stigmata and gesture. Richard Long's 'River Avon Mud Crescent' (2023) turns the humblest of material - mud - into something spectacular and symbolically charged whilst his piece commissioned for the exhibition - 'A Walk for Saint Francis' - records a series of experiences and sights with words arranged in a simple circular pattern. In the second room, Sassetta's panels for the San Sepolcro Altarpiece (1437-44, the National Gallery) show one of the most celebrated 'visual biographies' of the saint, following in the footsteps of the early written biographies by Thomas of Celano and Saint Bonaventure.
As the popularity of the Franciscan movement grew, so did the numbers of Friars Minor, as Francis called his followers, who spread across Europe, establishing friaries, building ever-larger Franciscan churches and commissioning pictorial decoration that gave great prominence to their founder, instigating a flowering of artistic and architectural production in the critical period of artistic change leading up to the Renaissance. It is one of the paradoxes of Franciscan art that some of the most magnificent churches of the later Middle Ages, with their monuments, funerary chapels, altarpieces, and frescoes, were created by an order of mendicant friars, committed to poverty.
In the third room of the exhibition some of the very earliest works dedicated to Francis are gathered, such as a Vita-retable showing Saint Francis with posthumous miracles (about 1253, Museo del Tesoro della Basilica di San Francesco in Assisi), but also later works inspired by this early tradition, such as Sandro Botticelli's Saint Francis of Assisi with Angels (about 1475‒80, the National Gallery). The drawings by Matthew Paris in the 'Chronica maiora' (Parker Library, Corpus Christi, Cambridge) present some of the earliest English depictions of Saint Francis.
After the Council of Trent, held between 1545 and 1563, imagery of Francis blossomed with renewed intensity and he became one of the most frequently depicted saints, rivalling the ubiquity of his likeness in the 13th and 14th centuries. Paintings exploring Francis's mysticism in novel ways are included in room Four of the exhibition, including El Greco's 'Saint Francis Receiving the Stigmata' (1590‒5, National Gallery of Ireland), Bartolomé Esteban Murillo's 'Saint Francis embracing the Crucified Christ' (1668‒9, Museo de Bellas Artes, Sevilla), and Caravaggio's early masterpiece, 'Saint Francis of Assisi in Ecstasy' (about 1595, Wadsworth Atheneum, Hartford).
Francis believed that nature itself was the mirror of God. He called all creatures his 'brothers' and 'sisters', and even preached to the birds and supposedly persuaded a wolf in the Italian town of Gubbio to stop attacking the locals if they agreed to feed the animal. He saw God reflected in nature. In the hymn he composed - 'Canticle of the Sun' - he gives God thanks for Brother Sun, Sister Moon, Brother Wind, Water, Fire, and Earth. Many of the stories that surround the life of Francis relate that he had a great love for animals and the environment, and these stories provided tremendous sources of artistic inspiration. Some great examples are shown in Room Five of the exhibition, such as Giovanni Costa's 'Frate Francesco e Frate Sole' (1878‒86, The Castle Howard Collection), Andrea Büttner's 'Vogelpredigt' (Sermon to the Birds), (2010, Private collection) or Giuseppe Penone's 'Albero porta-credo/Door Tree-Cedar' (2012, Courtesy Giuseppe Penone, Turin and Gagosian).
By the time of his death in 1226 his followers were preaching his message all over Europe, and beyond. But Francis had already resigned the leadership of his order, dismayed by the increasingly worldly and materialistic turn it was taking as it became a pillar of the established Church. Francis's radical choices are explored in Room Six of the exhibition with objects such as the extraordinary relic of Francis's habit from Santa Croce, Florence, a series of lithographs by Arthur Boyd (1965, The British Museum), 'Sacco' (Sack) by Alberto Burri (1953, Fondazione Palazzo Albizzini, Collezione Burri, Città di Castello) and Fra Angelico's 'Saint Francis before the Sultan' (1429, Lindenau Museum Altenburg). In 1228, Francis was declared a saint by Pope Gregory IX.
A small section of the exhibition is dedicated to Saint Clare (16 July 1194–11 August 1253), one of the first followers of Francis. Following her death, the order she founded was renamed as the Order of Saint Clare, commonly referred to today as the Poor Clares. Works such as Giovanni di Paolo's 'Saint Clare Rescuing a Child Mauled by a Wolf' (1455‒60, The Museum of Fine Arts, Houston) and Josefa de Óbidos's 'Nativity Scene with Saint Francis and Saint Clare' (1647, Private Collection) will be on show.
Saint Francis of Assisi continues to be an attractive and inspirational figure for both Christians and non-Christians, for pacifists and environmentalists, for those who clamour for social justice, for utopians and revolutionaries, for animal lovers and for those who work for causes of human solidarity.
Dr Gabriele Finaldi, Director of the National Gallery, London, says: 'Francis's spiritual radicalism, his commitment to the poor and human solidarity, his love of God, nature and animals, which we might call embryonic environmentalism as well as his striving for peace between enemies and openness to dialogue with other religions, are themes that still resonate with us today and make him a figure of enormous relevance to our times. The history of the images of Saint Francis, is also the history of how Francis has been perceived over time; a variety of Francises have emerged across the centuries as different aspects of his persona have been emphasised, adopted, promoted, and inevitably also, appropriated and manipulated. This exhibition explores some aspects of this fascinating story.'
Joost Joustra, the Ahmanson Research Associate Curator in Art and Religion at the National Gallery, says: 'From his native Umbria, Saint Francis's image spread rapidly to become a global phenomenon. From the earliest written biographies by Thomas of Celano and Saint Bonaventure (13th century) and the first painted altarpieces and murals (notably those attributed to Giotto and his collaborators in the Upper Church of San Francesco at Assisi), Francis's life became both an example worthy of imitation, and to this day, a continuous source of artistic fascination.'
Title Image : Fransisco de Zubarán, Saint Francis in Meditation (1635-9)