"Well documented and known art is very hard to move once it has been stolen," said Supervisory Special Agent Tim Carpenter of the FBI's Art Crime Team. "Gallery owners are our first line of defense in identifying pieces of art that do not have the appropriate documentation and should be brought to the attention of law enforcement."
The Hellers, who bought the painting in the 1920s, have both passed away. The artwork, which shows Shakespeare's titular Othello holding a sword and looking at his bride, Desdemona, lying on a bed, was painted by Chagall when the Belarusian painter lived in Paris. In 1967, the Hellers' painting was on exhibit at the Kunsthaus Zurich in Geneva, Switzerland.
"They went on vacation back in 1988," Hess said. "They returned, and this work of art—along with several others—was missing."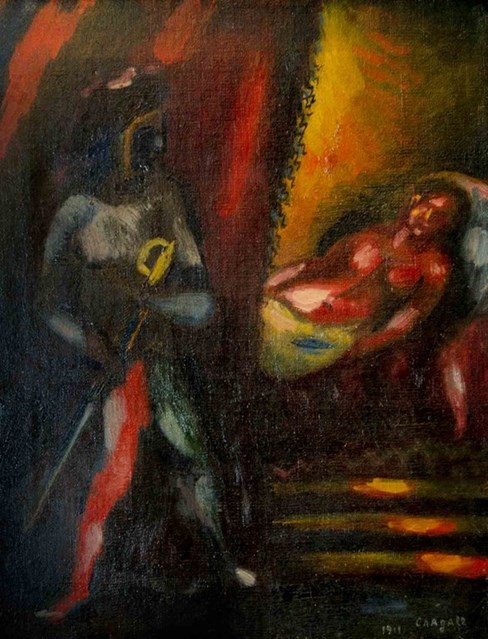 The painting, Othello and Desdemona, was recovered by the FBI in 2017, nearly 30 years after it was stolen in New York City in 1988.
The statute of limitations for the theft has expired, so no charges are pending against the individual who initially stole the painting, nor the individual who kept it. The Maryland man is not named in court filings. The suspected thief in the case was convicted in federal court and served time on charges related to selling stolen property, including art from other apartment buildings.
"The investigation into the other missing paintings continues," Hess said. The Chagall painting, which until recently was still stored in the makeshift wooden box, will be returned to the Hellers' estate, which plans to place it on auction. Proceeds will reimburse the insurance company that paid the theft claim years ago and be directed to several non-profit organizations supported by the estate, including an artists' colony in New Hampshire.
"As the FBI returns this painting to the estate of its proper owners, we do so with the purpose of preserving history," said Washington Field Office Assistant Director in Charge Nancy McNamara. "This piece of artwork is of significance not just for its monetary value, but for its place in the world of art and culture. The FBI continues to commit investigative resources to recover cultural property."
Image on top: Personnel from the FBI's Art Crime Team hold a framed work by Marc Chagall prior to its return to the owners' estate nearly 30 years after it was stolen.