"The Kunsthaus Zurich is on the lookout for two paintings from its Old Masters collection," the museum said in a statement on Tuesday.
Since the beginning of the year two of the museum's 700 works that had been sent for cleaning and restoration following a fire on August 2-3 had gone missing, it said.
As various searches have been unsuccessful and "the possibility of theft can no longer be ruled out", the museum filed an official complaint on January 13, 2022, and asked the police to investigate.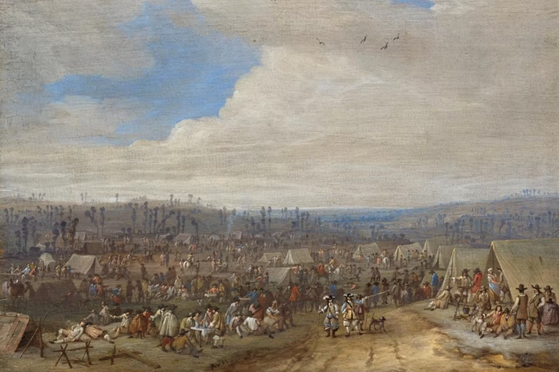 One of the two missing paintings: Soldaten im Lager [Soldiers at an encampment] by Robert van den Hoecke, painted in the mid-17th century. Kunsthaus Zurich
The two small paintings in question are Soldaten im Lager [Soldiers at an encampment] by Flemish painter Robert van den Hoecke, dated mid-17th century, and Narzissen und andere Blumen in Glasvase auf einer Marmorplatte [Daffodils and Other Flowers in a Glass Vase on a Marble Slab] by Dutch painter Dirck de Bray from 1673.
Both paintings are private permanent loans. They were painted on oak wood and are framed. The missing works have been recorded in the "Art Loss Register", the world's largest database for lost and stolen art. In parallel, the Kunsthaus is continuing its own investigations.
The Kunsthaus has been cleaning and restoring over 700 works after a fire broke out in the old section of the museum on August 2-3.