Before the celebrations of Chinese New Year 2023, Guangdong Museum of Art has declared the theme of the forthcoming triennial. Titled  SYMPHONY OF ALL THE CHANGES, the triennial is curated by Chief Curator WANG Shaoqiang(China) with WU Hongliang (China), Philip Dodd (UK), Thomas Eller (Germany), and JIANG Jun (China) and features work by 59 participating artists and artist collectives, hailing from China, Japan, Kazakhstan, Latvia, Poland, Portugal, New Zealand, South Korea, the United Kingdom and the United States.
"The theme of Guangzhou Triennial heralds the unveiling of a new and contemporary landscape of change within change. SYMPHONY OF ALL THE CHANGES focuses on connection and transformation, reflecting the end of an era and a new beginning for the museum as well as the impact of the unexpected public health crisis that has shattered our expectations of a continued trajectory of development resulting from globalisation. The Triennial is not only an opportunity to connect with an international perspective, it also offers a thoughtful and dynamic testament to the evolution and importance of Chinese contemporary art." - WANG Shaoqiang, Director of Guangdong Museum of Art, Chief curator of the Triennial.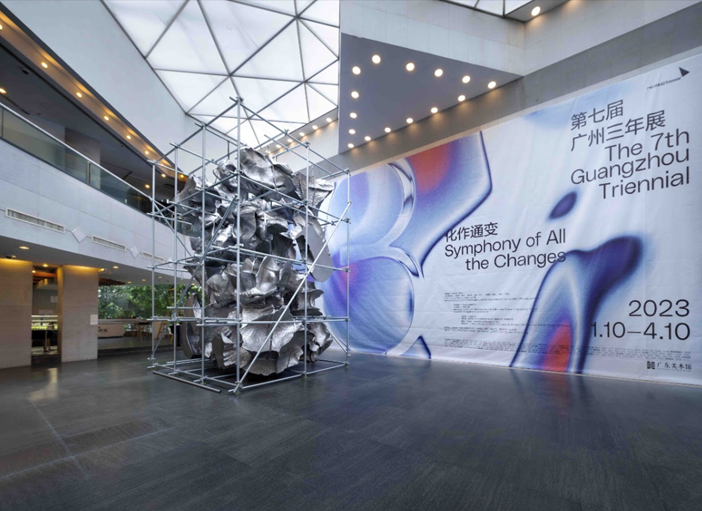 Highlights are: With the upcoming relocation of the Guangdong Museum of Art to Bai E Tan Greater Bay Art Centre, the seventh edition of the Guangzhou Triennial represents the conclusion of an important phase in the museum's history.
The Triennial is structured in four parts, each reflecting the curatorial perspective of a curator.
It features over a dozen commissioned new works, including The Building-1 by HUANG Yishang (China), Dikhen Dural by Małgorzata Mirga-Tas (Poland), Alba Redux (from the GFP Bunny series) by Eduardo Kac (USA), Apple of My Eye by Skuja Braden (Latvia/USA), Psychic Pusher by Francis Upritchard (New Zealand), Cong by Wang Lijun (China) and Dreamy Lisa Salon by WUTIAOREN (China).
Inspired by themes of connection and transformation and presented in the Guangdong Museum of Art, an Archival Exhibition also highlights major events in the development of Chinese contemporary art with historical archives from its collection.