A pioneering hallmark for bronze sculpture, 'Bronzechain' has launched by DACS, in partnership with Verisart, the blockchain certification platform for the arts. The first bronze works to be hallmarked are by sculptor Maurice Blik, whose solo exhibition took place at Bowman Sculpture, London (13 April – 4 May 2018).
As a revolutionary step for the art world, collectors and bronze foundries, Bronzechain combines the use of a hallmark stamp with innovative blockchain technology by creating a digital certificate registered by the artist and foundry to validate the authenticity of the artwork in perpetuity.
Whilst gold and silver hallmarks have been utilized for hundreds of years, the former of which was first proposed in the 1300's, Bronzechain is unprecedented and forges a radical convergence of old and new technologies.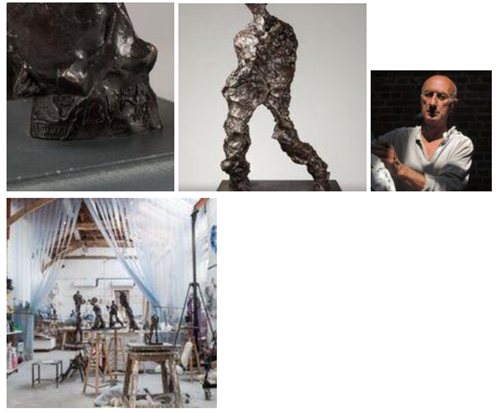 Listening & Stamp, Dancing, Maurice Blik, Studio.
To address the increasing number of bronze sculpture forgeries and fake works in circulation, damaging collectors' confidence and the reputation and skill of the trade, Maurice Blik proposed this concept to DACS, seeking their support. Set up by artists, for artists, and as a leading not-for-profit organization with 30 years' experience in protecting artists' rights and creating innovative services that enhance artists' ability to sustain their practices, DACS is excited to develop and introduce this solution called Bronzechain.
The Bronzechain stamp will be licensed by DACS to approved bronze art foundries. Each bronze produced will be stamped with the Bronzechain hallmark in the wax before casting and a digital certificate of authenticity recorded by the DACS copyright licensing service and certified on Verisart. The digital certificate of each work will then be generated and certified by Verisart, the world's leading platform to certify and verify artworks and collectibles on the blockchain.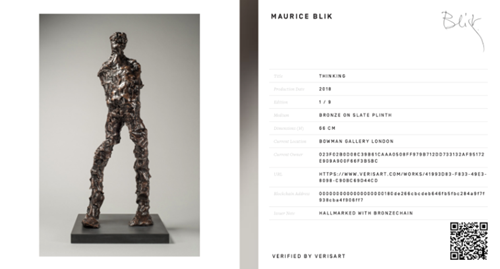 By storing and securing data using cryptography, the blockchain certificate reinforces the physical hallmark by recording technical data specific to each artwork including dimensions, location of hallmark and edition number. As a result, the handling of bronzes will be significantly more secure and transparent.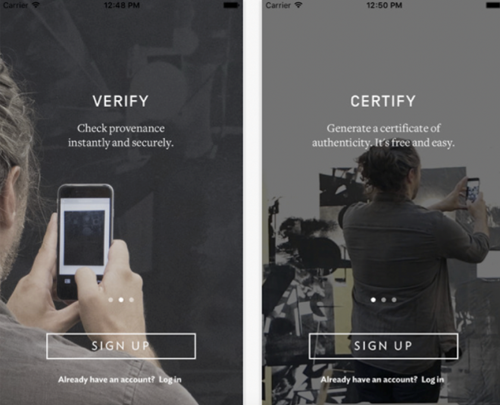 Maurice Blik, British sculptor and Bronzechain advocate, said: "With this hallmark, people can be assured that they are getting genuine bronze and are not fooled into buying sculpture described as 'resin bronze', 'cold cast bronze' or 'bonded bronze', believing it to be bronze which it's not, it's plastic."
Mark Waugh, Business Development Director at DACS, said: "We are proud to support the innovative ideas of artists who help us find real solutions that enhance and protect the financial landscape for artists. Bronzechain is a nuanced and intuitive solution that elegantly combines blockchain technology with art world sensibilities to build confidence in the art market through provenance data."
Robert Norton, Founder and CEO at Verisart, said: "We're delighted to partner with DACS to bring to market a new standard for the certification of bronze sculptures to protect artists' rights and reduce the scope for fraudulent activity and forgery."