EVB: Who are you and why do you do what you do?
FB: I am the co-founder of Feral Horses, the online trading platform where people can invest in shares of artworks. Before Feral Horses, I completed a BA in Project Management at the University of Greenwich, where I met the other co-founders of the company, and I also completed an MA in Big Data at King's College London. I co-founded Feral Horses because I wanted to democratize the art industry and make the overall art market more accessible to the crowds.

EVB: What is your goal with your platform and how will you disrupt the market?
The ultimate goal of the platform is to try to democratize the art market as much as possible. I often use this word, "democratize" because traditionally speaking, the art industry has always been out of reach for the crowds with high barriers to entry and a huge lack of transparency. Through the collection of transactional data, Feral Horses aims to create transparent pricing models and public databases of ownership. Furthermore, by paying out dividends to shareholders generated from the rental of artworks, Feral Horses wants to lower the risk on the art investment.
EVB: How do you differentiate from your competitors like Maecenas and Arthena? 
FB: First of all, I have to say that both Maecenas and Arthena are doing a brilliant job. The ArtTech industry is growing fast and is getting more and more attention. I do believe that the more companies there are on the scene, the merrier because it is vital that the crowds first get educated about the Art and Artech world.
Arthena, in contrast to us, is an art fund, where people can inject in capital. They managed to create more accessible funds (the minimum investment is $13,000 whereas traditional funds start around $150,000), lowering the barriers to entry in the art investment scene. Also, Arthena offers good in-depth analysis of the assets. Maecenas instead, is focusing more on the crypto-enthusiasts, since investors need first to buy crypto tokens before investing in the art itself.
The main factors that differentiate Feral Horses from the competition are the price point at which investors can invest and the average art value we sell on the platform. In fact, on Feral Horses, investors can invest as low as £5 on an artwork. Furthermore, we try to keep the average value per artwork below £100,000, so that it is possible to rent the artwork and, therefore, generate dividends for the shareholders.
EVB: What will be the impact?
FB: By allowing everyone to invest in art and by recording all the transaction data, the ultimate goal we have is to open the art to the masses and making transparency an industry standard, something that until now it is not.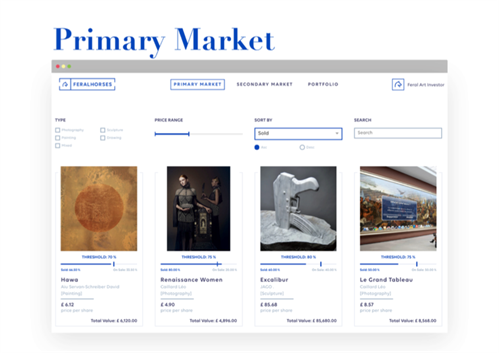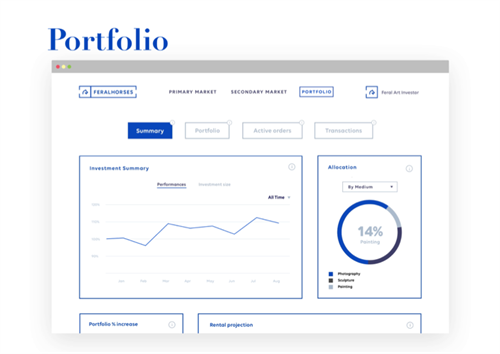 EVB: How will you cooperate with other players in the art economy (artist, fairs, collectors, insurance, etc.)?
FB: The cooperation between Feral Horses and Artists/Galleries happens mainly on our platform. By giving them the possibility to sell their artwork, we are effectively giving them a new outlet where to showcase their assets. Also, artists have the possibility to tell their story through our media and social media channels.
At the moment, we are in talks to start cooperation with an art fair in fall 2018. The main idea is that visitors will be able to buy shares of the art exhibited, creating a new interaction between attendants and the art fair itself.
EVB: How do you see the future?
FB: The future will be more datafied and transparent. Art will be considered a viable asset with financial models and pricing that will crack the market open.
EVB: How about the art market?
FB: As previously mentioned, the art market has always been very inefficient. Lack of
transparency, high-risk, illiquidity and no regulation made this market very chaotic and hard to understand. The art market has a yearly volume of about 62bn dollars and is slowly moving online. However, those ~60bn dollars in volume are ignoring most of the inventory, most of the possible investors and most of the secondary opportunities, leaving the door open to a huge increase in the volume for art investment. In fact, the global art asset value is estimated to be of around 3tn, again, "inefficiency" is the word.
The interest to buy art online has been growing steadily in the past years, making this segment worth around 3bn dollars (6% of the market). Industry experts, such as Hiscox, predict a bright future for the next three years - growth at 23% per year - which validates businesses and institutions efforts to push innovation and integration in the online art market.
Trends (Hiscox 2017; Tefaf 2017).
EVB: What is your dream project?
FB: Feral Horses is my dream project because if successful, the company could have a major impact on the industry by democratizing the whole art market. Another dream I have is to open a charitable foundation where the art that is not rented is open to the public.
EVB: What role does the artist have in society? 
FB: I do believe that Artists have a key role in society: they start and keep alive conversations on unusual and difficult topics. Being at the forefront of humanity is a needed job for real artists. As Malraux said, "In a world in which everything is subject to the passing of time, art alone is both subject to time and yet victorious over it". They are nothing less than agents of the legacy of mankind. Art as an asset has, therefore the use of getting the mass market in touch with those conversations on a different level.
On Feral Horses' first portfolio of artworks, the main recurrent subject of the artists' work was related to climate change. This shows that artists have the ability and the desire to tell things that are often uncomfortable because they want to change things through their way of expression: Art.
EVB: What memorable responses have you had to your platform?
FB: On our first market test, we managed to sell 17 artworks for a total value of £120,000 in only 40 days. Also, we had more than 50 artists who applied to sell on our platform in just 2 months. This shows us that there is demand both from the artists and from the investors for our service.  
EVB: What do you dislike about the art world?
FB: The growing disrespect toward the role of artists in society. There is an increasing tendency to create and push works and artists for quick financial profits. It also implies that a lot of artworks are hidden away. I am profoundly against the fact that incredible artworks are kept in dark storage for years where no one can enjoy them, just waiting to appreciate in value. That is the reason why we rent the artworks under our management. Art investment doesn't have to be cynical. It can respect and celebrate art and that is something that we always have in mind at Feral Horses.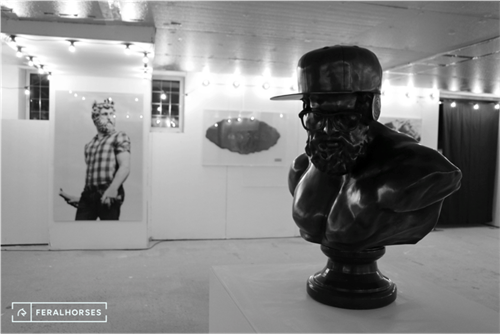 EVB: What role does art funding have?
FB: Public and private funding activities have a critical role in sustaining a strong, viable and creative art market. On the first hand, funding allows artists to have the means to realize their projects, to communicate and reach out to a number of people which requires a decent amount of capital. On the other hand, funding gives the possibility to support cultural initiatives that aim at promoting artists work in the public space and providing access to art education.
EVB: What research do you do?
FB: At the moment, we are conducting our research on three different main topics. The first one is the blockchain implementation on our platform. By giving to art a fixed crypto-key, the market would become more transparent and less fraudulent. Another important milestone we want to achieve is the price modelling of art. We are conducting research in this way because we want to come up with a clear and transparent method of valuing artworks. This is particularly challenging because we do not underestimate the intangible factors that impact art pricing such as cultural and emotional value. Lastly, artificial intelligence is something we are moving on in order to better determine the art market trends and give better, unbiased insights to our investors.
EVB: Related to the essential new technologies, which do you use and combine and why?  
FB: We use blockchain in order to have public records of transactions that can be audited and artificial intelligence on trends to give our investors more insights on the art market data.
EVB: Related to crowdsourcing, what is the role of people and the crowd in your project? 
FB: People are fundamental to us. The whole project started because of them and we will continue on this route. Common people are the segment we want to empower in the art market and they are the reason why we are doing this. Making the art market more democratized and accessible has everything to do with giving the possibility to people to access this market in a transparent way.
EVB: How can they participate in your project? 
FB: They can participate on a different number of levels from being curious about the art market to actively seizing the opportunity to invest on the platform. They can also decide to become part of the Feral Family by taking part in our crowdfunding round on Seedrs.
EVB: The crowd economy creates meaningful experiences and shared value. How do you see it for your work?
FB: We do not use the crowd but we are of use to the crowd, opening a whole new art market for them. Our platform is just a tool they can use to explore this new investment opportunity.
EVB: Co-creation and participation are emphasized in the crowd economy and communities take an active stake in crafting positive futures. How do you use the crowd?
FB: As said, we do not use the crowd directly. We connect the crowd with the artists and galleries through our platform. In this way, artists and galleries receive more visibility. Also, in the future crowdsourcing for art sourcing is something we are planning to implement. Our aim is to empower the crowd as much as we possibly can. However, on a business culture level, we value this idea of creating communities and have decided to raise funds through Seedrs crowdfunding platform.  
EVB: How do you handle feedback?
FB: We crave 3rd party feedback as it is the best way for us to get an honest opinion on the improvement and level of our offering. We are perfectionists and love constructive criticism that we can use to continuously improve our service.
EVB: How do you create the interaction? 
FB: We use three main channels to create interaction. Offline, we do that through sellers. Online instead we want to have strategies that are storytelling around the art. We are not pushy sellers who just want to make people invest in art, but we believe that we have an opportunity and a responsibility to democratize art education. Finally, we are constantly looking for investment partners such as money and investing applications. In fact, we currently are in talks with a London-based startup that offers these services.
EVB: What are the results?
FB: The results are very encouraging. The art market is a bit like an ecosystem and we really feel that because we bring something to the table that unites people and can be a useful tool for existing institutions, we have been given a great deal of attention. On our first market test, we sold £120,000 worth of art to more than 70 investors in just 40 days. In the past 3 months, we had 1695 total users and 7656 page-views from more than 10 different countries.
EVB: How do you measure results?
FB: It is all about data and feedback. Feedback gives us the perception of the human
sentiment towards our service, which is very important but very hard to quantify. Data instead, through different selected metrics, gives us quantifiable information about our performances. It is easier through data to spot and understand where and why we are underperforming.
EVB: Crowd economy fosters faster, cheaper, better and resource-efficient processes. How do you measure the effect?
FB: The effects we have vary a lot depending on the angle we look at. The most relevant one may be to see young art enthusiasts building their art investment portfolio. We have received feedback from them about the fact that our service empowers them to finally show their support and appreciation to the artists they admire without a relationship that is solely based on having substantial financial resources or not.
EVB: What Social Media do you use?
FB: We mainly use Medium, Facebook and Instagram to interact with our users.
EVB: On which segment is your activity or platform based on the segmentation of the crowd economy?
FB: We are mainly based on the equity-based crowdfunding segment and on the sharing economy segment. This is because the sale of artwork on the primary market is similar to a crowdfunding system for startups, just that in our case the money goes to an artist and not to a company.