Artexpo New York (April 19-22, New York) is considered the world's largest international fine art marketplace and the longest running fair in the USA. No other show hosts a larger selection of artists, museums, galleries and publishers, attending from a total of 51 countries around the world — representing the broadest spectrum of international art and global trends today.  
ArtDependence Magazine: Please clarify, who can participate at the fair and what is the number of participants?
Eric Smith: Our annual fine art destination will once again offer Three Shows Within One Venue at the heart of Midtown Manhattan, across 135,000 square feet of uninterrupted convention space within Pier 94. Artexpo New York XL will host more than 400 innovative exhibiting artists, galleries and publishers from over 51 countries, showcasing original artwork, prints, paintings, drawings, sculptures, photography, ceramics, giclée, lithographs and glass works among other contemporary and fine art.
To celebrate 40 years of excellence in art, Artexpo New York presents [MAGNIFY] as the curatorial theme for 2018 – examining four decades of artistic expression through a retrospective lens. Hosting more than 35,000 avid art enthusiasts, including 5,000+ trade representatives every year, Artexpo New York is the largest international gathering of qualified trade buyers—including gallery owners and managers, art dealers, interior designers, architects, corporate art buyers, and art and framing retailers. Attendees will have an opportunity to browse thousands of innovative new works of art and enjoy education seminars, cocktail parties, live entertainment and other special events. [SOLO] offers established and emerging independent artists the opportunity to showcase their work on an international stage and has become the ultimate venue for independent artists to be discovered—not only by gallery owners and art publishers, but also by collectors and enthusiasts. [FOTO SOLO] includes collections of fine art photography by some of the world's most acclaimed independent photographers.
As part of the interactive schedule of programming, this year's Artexpo New York will include an Art Lab by Jon Henry, an alumni photo artist from the New York Film Academy; Spotlight Program, providing collectors with a focused look at several prominent artists and galleries that will each be creating a site-specific exhibition, and our Topics & Trends Education Program, which includes four days of complimentary seminars and panel discussions, offering expert perspectives on subjects ranging from art and the economy, small business management and art marketing to design and decor trends and social media management for artists. An addition to this year's Artexpo New York will include a Sculpture Garden. This is a dedicated installation at the rear of Pier 94, with more than 10 of today's leading sculptors exhibiting their most impressive work.

Adele Venter, White Path
AD: How has the art market changed over the period of four decades?
ES: The art market has changed massively over the last four decades, particularly with the emergence of the contemporary art masters we celebrate today, together with the publishing business that was unheard of 40 years ago. The onset of technology has been the most significant change, allowing artists and galleries to do business anywhere in the world.
During the 1960s and the '70s, Sotheby's grew from a London-based firm of auctioneers into an international firm with branches in the Americas, East Asia, Australia, and continental Europe. Sotheby's was quick to capitalize on new technology, introducing ever more innovations, such as telephone bidding and the first satellite links at a charity auction in 1966. Christie's was slow to incorporate these innovations, although the firm's connections with the British aristocracy led to a number of milestone sales. Many of these were of Old Masters, as in the 1970 sale of Velázquez's Juan de Pareja, the first painting to fetch more than £1 million. This was significantly the result of competition between American museums—most notably the Getty Museum in Los Angeles, the National Gallery in Washington, D.C., and the Metropolitan Museum in New York.
Another significant feature of the changing auction market in the 1960s and '70s was the diversification of collectibles. Victorian paintings and furniture enjoyed such a significant revival prompting Sotheby's to open a secondary auction house in London. In New York, the demand rose for Art Nouveau, Art Deco and photography started to rise. Collecting was popularized by auctioneers' road shows, television programs and the Pop art movement, which made contemporary art seem more accessible. This is when Artexpo New York emerged and hosted the likes of Andy Warhol, Robert Rauschenberg, Keith Haring and Leroy Neiman.
During the 1980s and early '90s, there was an extraordinary boom in the art market, particularly in Impressionist and Post-Impressionist paintings. Changes to U.S. tax law removed incentives that had encouraged the wealthy to donate fine art to museums, instigating a spate of sales. The greatest escalation of prices occurred between 1987 and 1990, after the 1987 stock market crash. During this period Vincent van Gogh, who had sold only one painting in his own lifetime, became the most sought-after artist in the world. Three of his pieces became the most expensive paintings ever sold.
By the beginning of the nineties, prices were being forced up artificially by a huge influx of money from institutions and individual speculators. Another major trend of the 1990s was the ascendance of contemporary art, which became the art market's biggest growth area. This was particularly the case in England, where artists such as Damien Hirst and Tracey Emin enjoyed the patronage of British collector Charles Saatchi. These so-called Young British Artists also benefited from the popularity of Tate Modern, which opened in 2000.
As the century turned, art and antiques fairs became increasingly important, such as the Biennale des Antiquaires in Paris, the Frieze Art Fair and the Grosvenor House Art and Antiques Fair in London, the Armory Show in New York, and Europe's biggest art fair, the European Fine Art Fair in Maastricht (Netherlands). These venues offered dealers publicity and a high volume of visitors and offered buyers the reassurance that everything had been rigorously vetted.
Over the last 15 years we have seen an increasing popularity in the different mediums used for art, such as metallics, woods and precious stones – all of which are seemingly incorporated in to the modern-day art we experience today. Sculptures have also seen an increase in popularity, which is why we have decided to produce a sculpture garden at this year's Artexpo New York, to showcase some of the leaders in this field. Technology in art has also played an important role in the changing landscape with video art now commonplace within any art fair.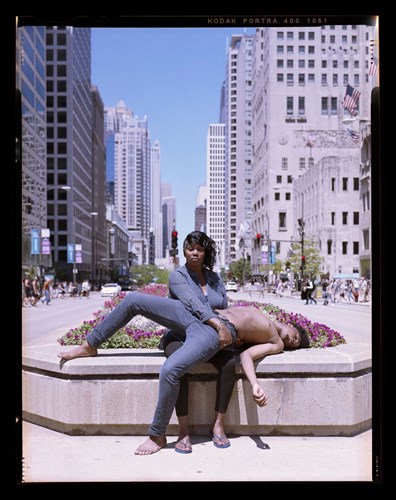 Jon Henry, Untitled #19, Magnificent Mile, IL, preview
AD: What are the selection criteria to be admitted at the fair?
ES: We take great pride in our selection process, not only for Artexpo New York but for all six of the fairs we produce around the country. We accept thousands of applications for each fair year-round and have a dedicated committee of experts who evaluate each gallery and their collections or the individual artist's work. With the standard and quality of art increasing each year, so too does our selection process, so our fairs always remain at the forefront of excellence within the industry. We look for originality, innovation and diversity in our exhibitors and artists. Artwork that always leaves something to the imagination and that is open to interpretation will encourage discussion and opinion, which is always appealing for an exhibition and its attendees. Art is subjective, but there are always a vast number of collections that are unquestionably superb, and we are sometimes dealt with a tough choice when having to pass on some excellent exhibitors that are very appealing. Although we have 135,000 square feet of exhibition space for Artexpo New York, we are somewhat limited, so we cannot accept everyone who applies. We always try to be fair and give everyone an equal chance of showing their work.
AD: What medium is the most popular at this year's edition? 
ES: It's difficult to single-out one particular medium as the most popular at any of our fairs. However, I have noticed a particular emergence in glass and metallic sculptures that are both oversized in nature and intricately miniature. The blown glass works of Alexis Silk are particularly impressive and another must see artist is the collection presented this year by Rabarama, which is quite extraordinary.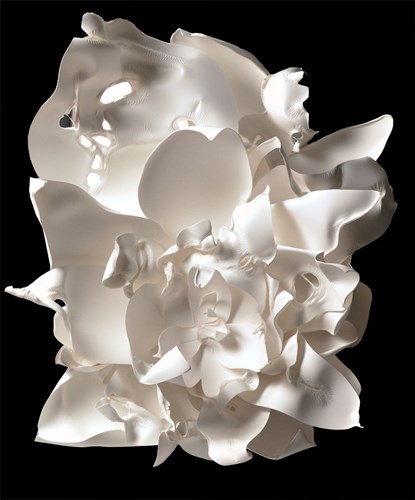 Julia Johnson, Underwater
AD: The art fair market is becoming very competitive lately. What is your recipe for maintaining your position as a fair?
ES: The attending audiences at art fairs have evolved over the years and the serious collector or dealer will always judge a show based upon the quality of the art being exhibited. However, the secondary audience, which is increasingly core nowadays, perceive a good fair as being both social and entertaining, which is why we like to combine serious art with light-hearted entertainment in some form. Range and depth has also allowed Artexpo New York to remain competitive. We exhibit every genre and type of art imaginable, so there will always be something for everyone – whether you're a serious collector or attending the fair for the first time. With the globalization of the art market, the number of art fairs has exploded and now every city wants to get in on the act. In just one decade, the number of international fairs has jumped from 10 to around 60, which means that the classic art market model – based on transactions in galleries – is increasingly governed by the economic model of art fairs. International fairs act as a crucial platform for galleries and artists to make their presence known, sell their works and forge links with the art industry's major players, which they may not have been able to engage with otherwise. They also offer a practical means for art critics, collectors, curators, museum directors and enthusiasts to come into direct contact and have access to a wide range of works from around the world. This new model pushes communities with similar interests to exchange ideas more freely and is instrumental in transforming the host city into a global destination for art. Sales by galleries at fairs have been increasing: in 2010, the percentage was around 30 percent, while in 2016, it was around 45 percent, according to The European Fine Art Foundation.
The huge number of new art fairs is definitely an asset for the market generally, but their success may come at the expense of business in galleries, which is why we aim to create a balance by dedicating a large part of our fairs to galleries from around the world. We also like to cater to the emerging artist who may be on the verge of becoming represented, so we can help tip the scale in their favor.
Some people favor going directly to visit a fair that will present a larger choice of art pieces. Fairs and the satellite artistic events that pop up around them have become vital to the art world's social scene. Fairs propose precious networking opportunities that a local gallery would not be able to provide within the context of the market's accelerated globalization. In the end, art fairs have also become prevalent as they benefit the local economies of their host cities. They not only attract tourists, but also work together with festivals and museum exhibitions, which are huge money-spinners themselves. Art Basel is a prime example.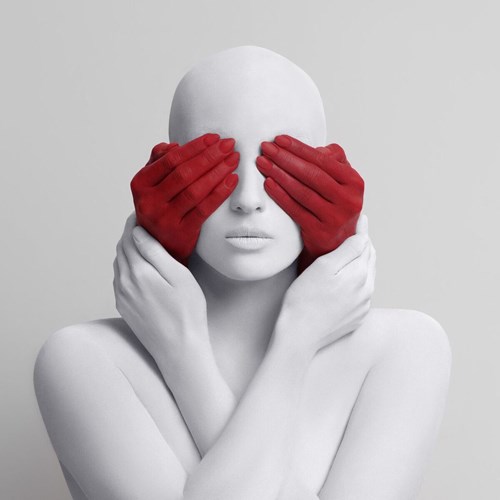 Tim Tadder, Nothing to see
One of our key areas of success is being able to make art accessible by way of the nature of exhibitors we present.   Our fairs cater to every budget. If you're a first-time buyer with a limited amount to spend for example, there will always be a wide range of art to choose from. The same applies to a serious collector who is looking for something specific and whose budget is unimportant. Artexpo New York is so easy to navigate that it can guide you to your personal taste in art and artist very quickly.
International art fairs are not only market platforms. They have also become places where the globalized art world and its followers meet, exchange ideas and discuss new trends. They have become highly social events as I mentioned before. Art Basel Miami, which started in 2002, completely transformed Miami and put it on the map as a destination for contemporary art. It seems as though every city in the world now wants to have its own contemporary art fair, which is why we produce fairs in emerging markets where no other fair exists. Our fair in Santa Fe for example is very popular and is helping to shine a spotlight on the city as a new destination for the art world. An engaging and interactive education program with some of today's industry' leaders also helps stay at the forefront of this progressive industry.
AD: What is good art for you?

ES: My mother worked for a painter as a manager, so I grew up with art in my family from a young age. Ever since beginning my career with Martin Lawrence Galleries, I have always had a passion for paintings. I enjoy seeing people collect art, and I think people have an inherent love and genuine feeling for collecting items that are manmade rather than things produced by a machine from a mould. Art is an expression of the human soul and can never be reproduced synthetically. I managed a large number of galleries in California, Colorado and Hawaii and soon adopted a growing passion for modern and contemporary art, after selling works by some of today's most iconic artists, such as Warhol and Keith Haring. These legends inspired me and they still do today. Good art for me is something original that is memorable – provoking passion and emotion from within. I will never forget seeing my favorite painting for the first time, "Gray and Gold" by John Rodgers Cox. I still remember how it made me feel at the time.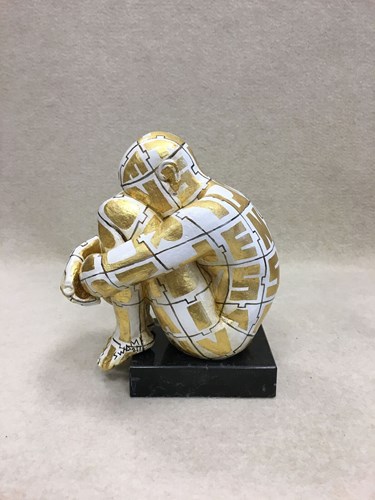 Swami II, Rabarama
AD: There are several approaches to collecting: collecting as an investment, as passion and for obtaining/maintaining a social status. What advice would you give to young collectors and what approach is best for you personally?
ES: Amidst the current political turmoil and economic uncertainty, the art market has become an island of stability. The global outlook for 2017 was positive as far as art buying is concerned, when compared to the previous year, and especially in the U.S, which is still the largest art market by value. There remains a deeply emotional aspect to buying art, which is mostly a discretionary purchase. The buyer needs to feel comfortable with their economic outlook when it comes to buying art. The current low-interest rate environment makes a non-interest-bearing asset like art more attractive to own.
There seems to be a greater optimism towards the more accessible segment of the art market, with pieces priced below $10,000 being increasingly popular for 2017. Many people are looking to fill the walls of a newly bought property or as part of a renovation project.   These "nesters" live in a world where they are aware of art and they want to own a meaningful collection, such as a print or work by an emerging artist. Few existing art buyers are buying to build an art collection. Many are purchasing work for their high-end homes or second homes. Art priced at seven figures is less in demand than at lower price points and collectors are moving back to pieces in the middle of the market by emerging artists.
Over the years, galleries have offered one style of art, but today, those who are offering a variety seem to be selling the best, and galleries that specialize in a variety of contemporary styles see sales increases. There's no one style that outranks others - people choose and develop their own personal taste while taking less notice or advice from the experts. The beauty seems to be in the eye of the purchaser, not the seller. Traditional artists have a better chance of selling when their work is shown along with contemporary work.
A sleeker look in frames is dominating the new market - even for realistic, traditional or impressionistic works. Some buyers still like wide gold frames. Younger buyers in their thirties and forties like thin dark frames or gallery wrap, especially on larger works, so that the frame doesn't dominate the image. Range and depth is key for collecting and allows for the art enthusiast to ensure their collection remains timeless and relevant.