Plataforma is an Ibero-american festival addressed to present performers from Spain, Portugal and North, Central and South America. Some of them already well known, some others less, they all find a platform where to show their work. The artist director and performer Martha Hincaphie Charry says: -Plataforma is meant to explore new territories and to take a risk giving space to performers whom work is in the process to become big-
With this prerogative the festival is composed by heterogeneous artists that are called to answer the theme Amazon(a)s & Shaman(e)s as an exploration of the present existential crisis of humanity. In different ways but always with the body as protagonist, they all present aspects of the given subject including myths, rituals, animality, traditions, cultural backgrounds, collective and personal memories, research and interpretations of anthropological and social dynamics.
Thiago Granato (BR/DE) presents Trança, second solo of his new trilogy titled Choreoversation. The idea runs around a conversation with choreographers from the past, present and not yet born, to overcome the dilemma of being a dancer and choreographer at the same time yet finding a new format of creation/collaboration. Entering in a dialogue with various choreographers he gave birth to three pieces. Trança was developed with the invited choreographers/interlocutors Cristian Duarte and João Saldanha.
He appears solemn while seated on the floor of the stage with closed eyes. Slowly starting to move his fingers followed by his hands, he begins a sort of body scan that could be internal, external or both. Non touching, his hands float all over his figure. His strong presence and sensual movements appear mystical as he introspectively goes on with the survey on every body part. The inspection looks like an energetic massage that releases a particular energy that can't be seen albeit felt. His movements mesmerise and magnetise towards his intimate exploration. When he opens his eyes as he would have waken up from a deep dream, he lies down while he keeps investigating his forms meticulously. Moving on the floor in spirals, twists, rounded movements, he then stands up enlarging the motions. All of a sudden, as dragged by an invisible force towards the onlookers, he starts sensing the head of some individuals. After going through some intimate connections as he would read their minds and souls, he walks back in the centre of the stage and positions himself as a spiritual warrior. After kneeling on one knee and keeping one hand on his mouth and one towards the public, he solemnly stares at it. This action recalls the idea of the professional secret indicating that those intimate, perceived thoughts of the approached ones, will stay unveiled and kept safe with him, shaman-spiritual being. The aura and delicacy of a metaphysical yet earthy ceremonial performance, radiates healing and enchanting vibrations.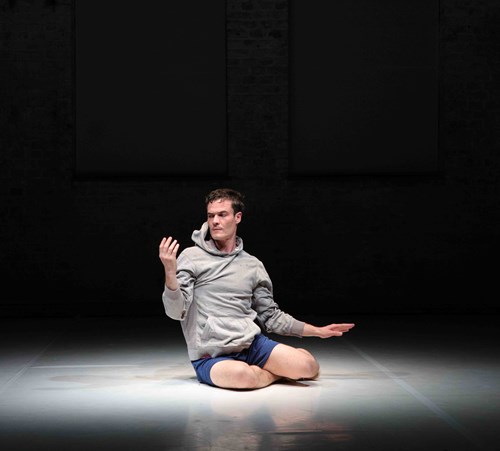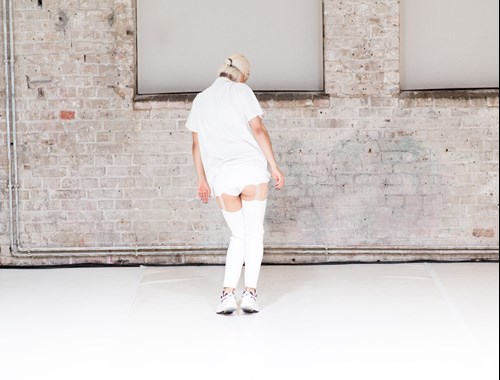 The piece by Maque Pereyra (BO/DE) titled Masaje Reflexivo is a work in progress about female empowerment and the complexity of women sexuality starting from their body awareness with a playful though significant approach. The performer, also dj and yoga teacher, is interested in allowing the discovery of the power of sexual chakra and the appreciation for having a female body and identity.
Hueco/Hollow by Poliana Lima (BR/SP) is a work based on an introspective research. Empowerment is also here the main theme that is fully and intimately performed gripped to vulnerabilities, weaknesses and insecurities. Diverse forms of insights, structured but also improvised come out in this piece accompanied by the guitar and synth of the music designer Vidal.
Splatter is created by the collective Broken Loop (BR/BE) composed by Lola Lustosa, performer, Jarkko Räsänen, sound designer and Ana Nastasia, visual designer is an exploration across a kaleidoscopic world. Lola Lustosa emerges from overlapped lights that projected towards the backstage hit her silhouette while she plays with different instruments producing sounds, running and appearing and disappearing from the colourful shadows. The movements are camouflaged by the various colours and forms projected on a wide surface making the stage changeable and abstract. The images are unclear as they change every two seconds clicking on an old video- projector that resounds between a sound and another. Heroin like, she looks engaged in a fantasy- parallel reality where the forms dissolve and the sounds envelope in a mellifluous setting.
The reversed Alchemist is with and by Ixchel Mendoza Hernandez (MX/BE). As she starts shifting her axis from left to right the music changes constantly in a mix of diverse noises and voices leading in a crescendo of repetitive arms and hips rounded movements that echo waves of a stormy ocean and of an unsettled soul. Transformation and transmutation swim in the contemporary mare magnum of possibilities drifting to consequent anxiety, detachment and distraction. The music is composed by Inon Peres aka Wizard Ashdod that creates an interesting sound landscape. The images that come out from the motion turbine are evocative and they become stronger as she looks at the audience and then back into her self in an introspective dimension.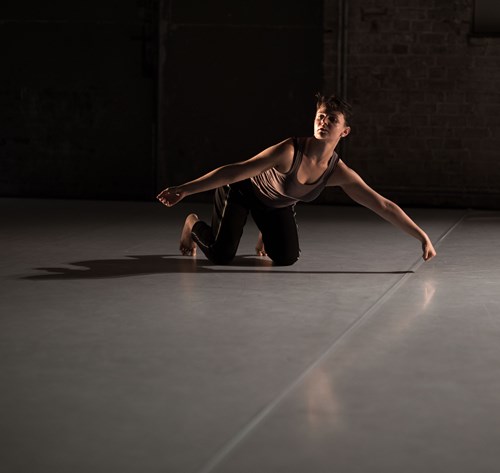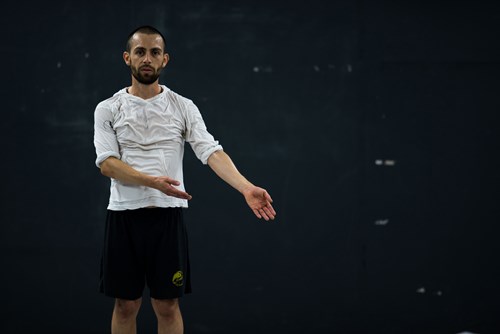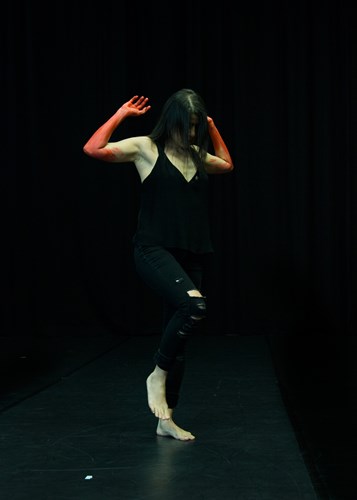 Martha Anthropomorpha, Solo. Diego Puerto, Klein
Open Air. A dance solo in the works narrates an intimate story. Starting from a vision of a crow eating a crow, Jorge De Hoyos (USA/BE) presents a story of cannibalism between two similar animals and therefore recalling the cruelty between alike beings; but could be also seen as the recognition of a sort of cannibalism between a son and his father with the strong condemnation that derives from an uneasy, distressed relationship. Being invaded by unpleasant judgemental questions from his father, he strongly frames them through movements as he strongly inhales out with his nose and delimits those uncomfortable enquiries with his arms channeling energies, sensations and action rays.
Irene Meraki with Horror Vacui (SP/BE) generates fast, accurate movements in clearly defined combinations in a power mode. The work in progress is composed by articulated steps creating fluid images that are sharp, challenging and pleasant to watch. Her gaze is steady and the led lights dividing the stage in two seem to be something to easily overcome. As an Amazonas, she acts as a female warrior ready to defend herself thank to the trained and flexible body but also facing her own motion limits while she prevails them.
Martha Hincapie Charry (COL/BE) is working on personal and social memories. She moves solemnly across the stage while makes some sounds with the bracelet she wears. Slowly arms rise up to suddenly fall down in graceful and slow dynamics. She shares her familiar heritage with the audience in a calm story-tale like, in particular mentioning the Quimbaya tribe that doesn't exist anymore but that has left many and important traditions. Construction and deconstruction of exotic images are lead by her guidance after sharing stories about the credences of the Quimbaya, specifically about the spiritual animals, that in their beliefs, everyone possesses as spiritual and protector figures. She goes on inviting the audience to close their eyes and visualise their spiritual animals and the interactive-participative game is such unexpected as pleasant. The internal, mental research brings everyone to see his/her own environment and spiritual animal. When she asks to share what we saw, the situation is original yet amusing. Moreover stories and beautiful strong performative images about and with gold as colour and material are peculiar and fascinating leading to a new knowledge and new perspectives. The work in progress that here is showed as a raw version, has intensity as well as potential.
All in all the festival is a door that opens rooms of possibilities celebrating and allowing Ibero- american performers to show their research therefore launching new prospects, paths and tangible explorations.