Image: Cosmoscow International Contemporary Art Fair, Gostiny Dvor, general view. 
In September this year, the sixth edition of Cosmoscow International Contemporary Art Fair, a unique contemporary arts fair that brings together works from over 70 galleries in Russia, Belgium (this year's Focus) and other countries, was held under the roof of Gostiny Dvor in Moscow, a former 18th century merchant court. Cosmoscow's 2018 main program was divided into seven sections. The "Galleries" section represented both well-established and upcoming Russian and international galleries. "Focus" welcomed contemporary art galleries from Belgium. "Frame" represented nomadic galleries operating without permanent exhibition locations. "Editions" featured work from galleries that deal with prints and multiples. The "Design" section curated by Kristina Krasnyanskaya, showcased galleries that handle in contemporary design. "Past Present" included works of recognised contemporary Russian art masters, whose names were relevant in the past and have not lost their artistic value in the current day. As part of the "Projects" section, Cosmoscow participants displayed one or several large-scale art objects and installations.
ArtDependence magazine managed to connect with several gallery representatives and capture their opinions about the development of the Cosmoscow International Contemporary Art Fair and the contemporary Russian art scene in general.
 
Cosmoscow International Contemporary Art Fair, Gostiny Dvor, general view
Valerie Delacave, assistant from the Artelli Gallery shared impressions of her debut participation at the fair: "We were triggered by the idea that we could form a Belgian focus with a couple of Belgian galleries, and by the fact that it was a completely new market for us. Without many expectations, except to "taste" the experience of our curiosity, we drove ourselves to Cosmoscow 2018. And we are happy that we followed that instinct."
One of the long-term contributors to the Russian art scene, Sergey Popov, founder and the senior director of pop/off/art gallery, whose gallery is 14 years old, said that participation in the fair is an first of all act of support for the art scene in Russia. "Cosmoscow is the only homeland fair for us, so we always support it as an important event on the Russian art market calendar. In terms of business it is still pretty big and actively developing market. Cosmoscow, in this terms, got an important position for the countries of post-Soviet space"
Paying tribute to the team of Margarita Pushkina, who founded and directed the fair, many noted the consistent growth of the Russian contemporary art market: "We really believe in the strong potential of the Russian contemporary market. Cosmoscow team also does a great job in shaping tastes and trends, and educating the audience."- Nadya Kotova-Maesen, NK gallery director.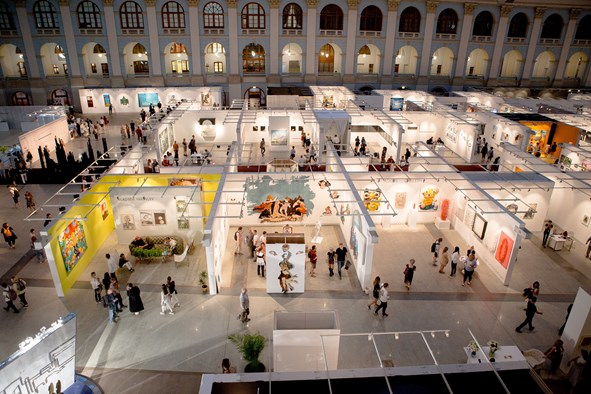 Cosmoscow International Contemporary Art Fair, Gostiny Dvor, general view. 
Alena Kurmasheva, co-founder of Osnova Gallery, one of the Russian galleries specialising in emerging and mid-career artists from countries worldwide, comments: "We are now working in very exiting times; on one hand Russia is isolated due to its sanctions, and we try to do our best to continue our projects in foreign countries and to stay afloat, but on the other hand our local art market is in a stage of development."
The Belgian gallery Artelli, with a peculiar attraction to the nation's positivism, describes the process of market formation: "there is curiosity and enthusiasm for contemporary art, and we feel as if we're catching a wave at exactly the right moment."
When asked about the ideal buyer / collector, many participants are guided by their regular "clients", mostly large collectors, whose names are public, and do not lend high hopes for casual sales. Mariana Guber-Gogova, founder of the Artwin Gallery, emphasises the importance of placing works in the right collections: "The ideal buyer / collector for us is one who contributes to the promotion of the artist. We pay a lot of attention to where the works are placed."
Conversely, the already mentioned Osnova Gallery focuses primarily on a clientele of new collectors: "As the young gallery, we are focused on a new generation of collectors who can now be considered millennials or generation Y, people with diverse interests, and great knowledge of and admiration for their own cultural landscape."
Valeria Rodnyansky, the founder of Shaltai Editions , the only gallery specialising in print runs, emphasises the importance of attracting fresh potential collectors, whilst not forgetting the larger buyers: "Our gallery works with limited edition art, which makes our artwork more affordable for beginner collectors. At the same time, this year our project was produced as a collective archive, combining six different projects and 22 works of famous contemporary artists, senior and young, which were considered potentially interesting for professional art institutions and museums that support and collect contemporary art."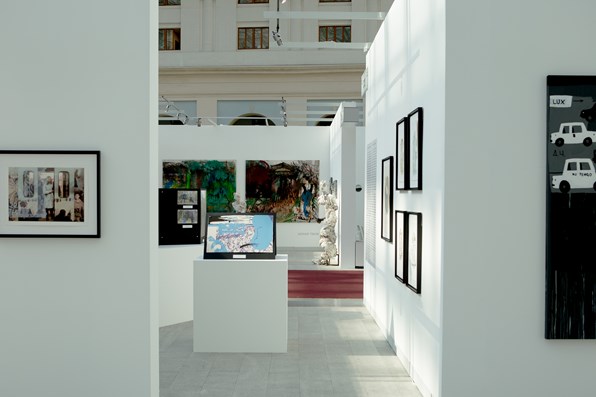 Shaltai Editions, Cosmoscow International Contemporary Art Fair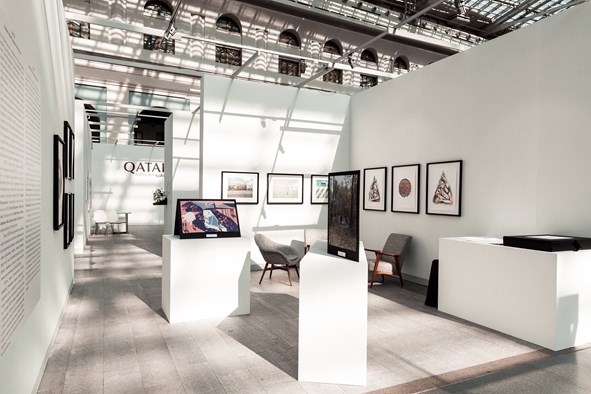 Shaltai Editions, Cosmoscow International Contemporary Art Fair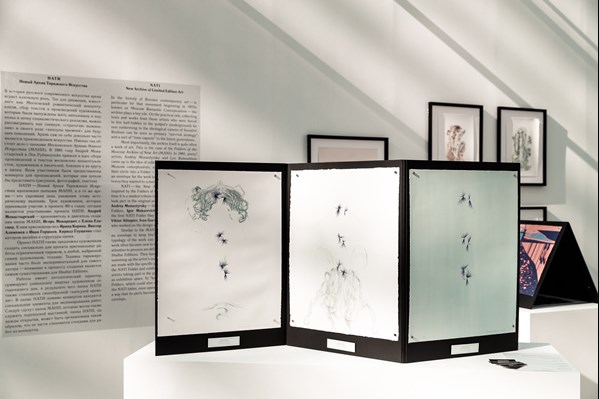 Shaltai Editions, Cosmoscow International Contemporary Art Fair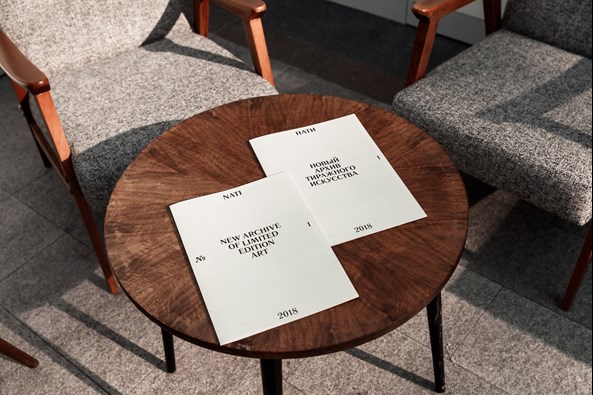 Shaltai Editions, Cosmoscow International Contemporary Art Fair
The most inspired answer about their ideal buyers was from the Artelli Gallery: "Our ideal collector is the one that buys emotion. It is a person who can identify with the power, colors and aesthetics of our artists. He is loyal and becomes and "World Ambassador" for those artists."
Which projects would ArtDependence magazine like to highlight this year? Here are some that undoubtedly attracted attention to deserving trends in the Russian art environment.
Sergey Popov:
pop/off/art gallery: "Both series of new works by Vladimir Potapov and Aleksander Plusnin were produced especially for the fair. They're as important for us as they could be. I even wrote the texts for both of them myself. These artists have great perspective, in my view. They find new ways to transform familiar media, like painting and drawing. And both react on realities' different perceptions, which resemble ongoing situations. We sold nearly everything in the collection, and the collectors' reactions were predictably enthusiastic. Both artists have true fans among them."
Osnova Gallery:
"This year on the gallery's stand we showed new projects involving the Russian and German artists, Ian Ginsburg and Henning Strassburger. They both display and interpret artistic devices of 20th century classics, exploring the influence of these methods on contemporary art. Their works analyse the potential scope of artistic practices and their place in the modern visual continuum. Appealing to art history in a broad context, Ian Ginsburg and Henning Strassburger raise the issue of the impact of globalisation on national art. Is there purely Russian, German or American art these days? How can we define boundaries between them? The answer can be found among the interconnections, and I should confirm that this strategy worked very well, we sold works by Ginsburg and Strassburger. "
Gallery HLAM:
"Ivan Gorshkov's painting series "Cave of Beautiful Eyebrows", a collection of photographs by Kirill Savelyev, and a fragment of Arseny Zhilyaev's latest installation "Laborer of the Sun", were equally important for the gallery to show at the fair. Collectors paid much attention to new paintings by Ivan Gorshkov. They have so far bought a total of five paintings and one of three sculptures. The collectors and the general public have also paid much attention to the works of Kirill Savelyev, who in our opinion is a contemporary art star to-be. Both well-established collectors and newcomers have purchased three of his photographs and expressed their eagerness to acquire three more. Arseny Zhilyaev's installation with solar batteries also drew much attention. The tradition to buy such works is yet to be formed in Russia."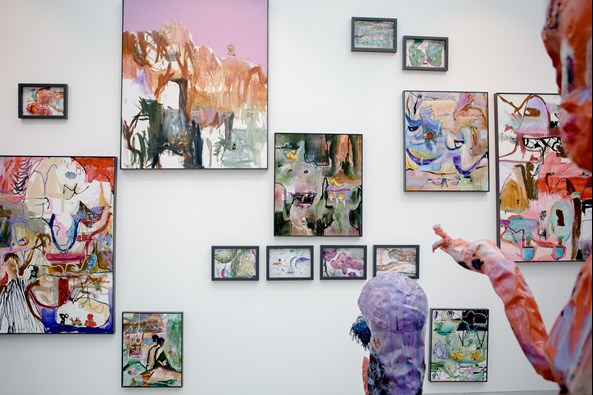 Gallery HLAM, Cosmoscow International Contemporary Art Fair
NK Gallery:
"We've brought two artists to Cosmoscow this year, Taisia Korotkova and Hans Vandekerckhove. Both are quite well known in Moscow. We also opened the solo exhibition of Hans Vandekerckhove in the Art4 museum during Cosmoscow. It runs in line completely with our mission and strategy. Shaltai Editions gallery was pleased to present a new project called NATI (New Archive of Limited Edition Art). A folder that contains personal projects by six contemporary Russian artists from different generations - Andrei Monastyrsky, Igor Makarevich, Elena Elagina, Viktor Alimpiev, Irina Korina and Ivan Gorshkov, and is inspired by the folders of the Moscow Archive of New Art (MANI), which were made in the 1980's for gathering works of the Moscow conceptualists."
Artelli Gallery:
"Our highlights were pieces made by the French artist Alexandre Nicolas, and the Belgian artist Albert Pepermans. The appreciation shown by the Russian public was beyond expectation."
Artwin Gallery:
"Artwin Gallery has the biggest proportion of female artists among Russian galleries. And this time we showed an exclusively female booth. We exhibited for the first time a selection of Anna Titova's works created between 2012 and 2018. They included collages from the series "Rituals of Resistance", the sculptures "Identikit", "Seeds of Unrest", "Gated Community" and "Last Colony", and four large works from Gulnur Mukazhanova's recent series "Postnomadic Reality". Even if they explore these subjects through different approaches, both artists share an interest in mythmaking, identity and a woman's place in contemporary society. They also share a critical approach to the ontology of the art object and social relations, by integrating traditionally-feminine domestic craft and labour, with the practice of conceptual art."
Art win Gallery, Cosmoscow International Contemporary Art Fair
How do galleries search for artists? This is the number one question gallerists hear from artists, and here is what they say: almost all galleries listen to the recommendations of their own or third-party curators and visit exhibitions of young artists. "The talent hits the eye immediately. The true artist should let himself be engrossed in art, find his signature style. And if this art touches a string in my mind, heart or soul, I will certainly watch out for the artist." - Alexey Gorbunov, Gallery HLAM owner.  
Sergey Popov:
Founder and senior director of pop/off/art gallery does not abolish the laws of competition in the art labor market: "It is important, but it should be creative and thoughtful. First and foremost artists must be intellectuals themselves, and produce truly innovative artworks. They should be in competition with one another, otherwise it doesn't make any sense to be an artist."
"Do what you love, and you'll never work another day in your life", could be defined as a universal slogan for the galleries participating in the Cosmoscow fair, simply because they love their work and believe in what they do.
Cosmoscow International Contemporary Art Fair