Image: Afribuku, 2017, Abdoul-Ganiou Dermani
Abdoul-Ganiou Dermani was born in Togo and currently lives in Stuttgart (Germany). Graduated from the College of Art and Crafts in Kpalime, his artistic practice encompasses painting, drawing, mixed media, photography and video. His work deals with African identities, as well as social and global issues.
His exhibitions have travelled internationally, including  Venice Biennale, Los Angeles Center for Digital Art, CICA Museum in Gimpo (South Korea), ZKM Museum in Karlsruhe (Germany), Pera Museum in Istanbul (Turkey), Hazard Galley in Johannesburg (South Africa) among others.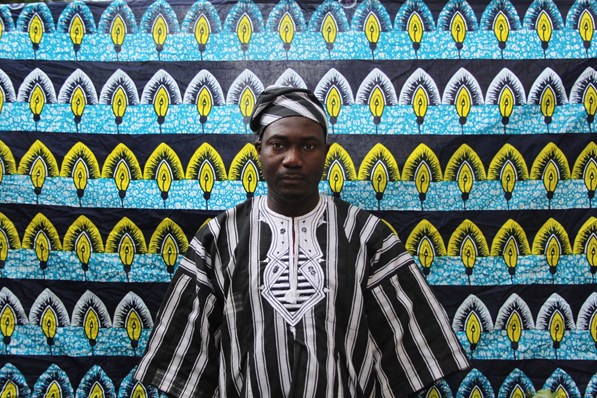 Afribuku, 2017, Abdoul-Ganiou Dermani 
ArtDependence (AD): Do you have any thoughts on whether that's a responsibility of artists, reflecting our time is important within the political context?
 Abdoul-Ganiou Dermani (AGD): As an artist, I have a responsibility to reflect on some issues related to society.
The artist in my opinion is a mirror of society. I am convinced that the artist can play an important role in providing solutions to our problems.
AD: What is your main interest as artist? What form of self-consciousness is applicable to the art-making?
AGD: My main interest as an artist is working on various social issues.
I work on African cultural identities, search for peace between humans, and also human physical communication in the era of new technologies.
In short, I work for a better world.
I create simple works that facilitate the audience to understand the subjects.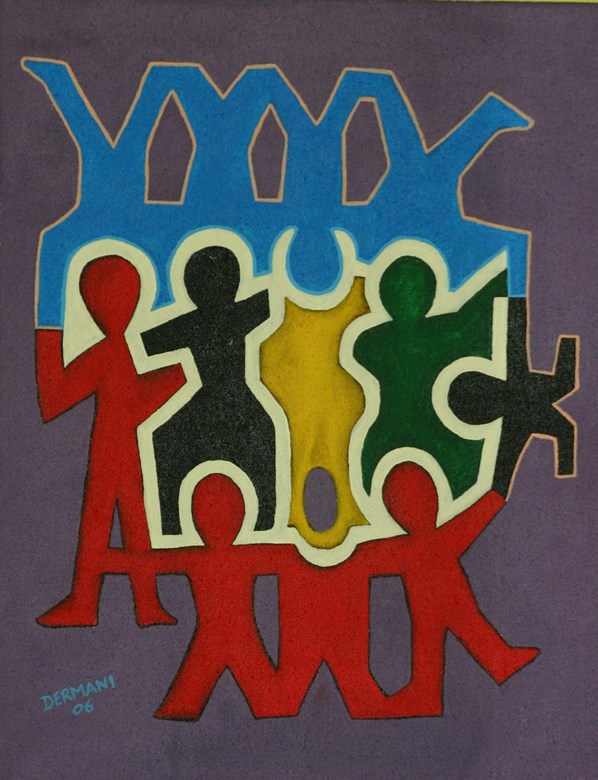 Friendship between the people, 2006
AD: Do you feel that it's important to convey your own beliefs and opinions within your art? Is there a philosophical element in your work?
AGD: Yes, it is important for me to convey my beliefs and opinions within art.
I believe that my art can bring something positive to humanity.
My philosophy is optimism. Through my art I want to give people optimism. One should be optimistic and always maintain a positive attitude, because despite problems life goes on.
AD: What are you currently working on? Is there anything in particular that you'd like to get across through your work?
AGD: I recently visited Marseille in France to present my video "Goods Transport" at the 31st Festival Instants Vidéo 2018. During my stay, I had the idea to create two video works that I'm currently working on, one is on equality and the other on the migratory crisis linked to the Mediterranean Sea.
AD: What place does creativity have in education ? Do you view yourself as a creator?
AGD: I think that creativity has an important place in education. Creativity can help you flourish and open your mind. In my opinion creativity awakens interest and attracts curiosity.
"Creator" in monotheistic religions designates God Almighty, Creator of the world. I do not see myself as a creator, I did not create sand, but I use sand to create my art.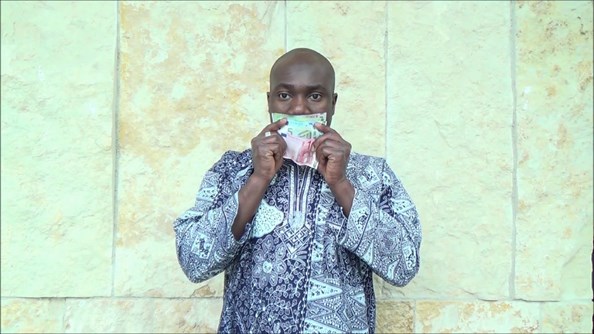 Ega-Money, 2014
AD: Do you think that by challenging conventional views, art can truly make a change in the public's perception?
AGD: Yes, I think so. let me tell you a story: I created a painting in 2006 in Germany, the work is titled "Friendship between the people".
I exhibited it at the 6 th Florence Biennale in Italy (2007), at the Kunstmuseum Stuttgart in Germany (2008-2009), and at the 2 nd Mediterranean Biennale in Split in Croatia (2010).
I noticed that the public was not interested in the work or was not aware of the message. During the massive arrival of Syrian refugees in 2015 in Germany, this created a debate about living together. It was at this moment that everyone wants to have the image of the work. A company in Berlin contacted me to use this image and the African festival Stuttgart used it for their poster. So the public understood the message after 9 years of creating the painting. The original work is currently in the Kula Gallery´s collection in Split, Croatia.
AD: How has your work developed since you began and how do you see it evolving in the future?
AGD: Originally from Togo and now living in Germany, I have seen my work grow over time. My artistic practice includes painting, drawing, mixed media, photography and video.
I have exhibited my work in over 50 countries, I wish in the future to participate in exhibitions in other countries where I have never exhibited.
AD: Is sophistication, aesthetic accomplishment in the eye of the beholder?
AGD: For me aesthetic depends on the look of each person according to his/her culture.
AD: What do you think is the social role of art? How would you like to be remembered?
AGD: I think that the social role of art is to reflect, connect, educate, question and provoke a debate.
It would be great to be remembered, but I don´t know how.
AD: How does art school form ideas about art? Does it shape people into being certain types of artists?
AGD: The art school is necessary for the training of artists. It helps artists to develop their artistic career. The art school shows the paths, but it is up to the artist to choose his own path. A professor from the Stuttgart Academy of Art told me that he accompanies students to follow their own path.
AD: What do you think about the art world and art market? Do you accept that art is inherently an elitist activity?
AGD: I think that art world is opening up more and more, artists have more and more opportunities.
For the art market, it's a complex and unknown world, so I can not say much about that. Yes, I accept that art is an elitist activity. I wish that art could be more reachable to everyone.
AD: What's the last great book you read? Any other thoughts/projects to share?
AGD: The last great book I read is "Qu´est-ce que l´art moderne ?" (What is modern art ?), a book by Denys Riout. It is an interesting book.
I am selected as a finalist in the Global Art Awards Dubai 2018.
I will show my work at the award ceremony at Five Hotel Palm Jumeirah in Dubai, on 21 st November 2018.
I am currently taking part in the 6 th International Biennial of Performance in Bogotá (Colombia), until 2019.
I will participate in the Global Videos 2018 with my video "Ega" (Money).
It is a video art project on human rights, curated by Jeroen van Paassen.
The videos will be shown at different locations in the Netherlands, Germany, Italy, Nepal, Pakistan, Hong Kong.