February 21st-25th, Madrid will become the focus of attention for collectors, galleries, art professional and art lovers from all over the world as it opens its doors to the 37th edition of ARCOmadrid. A total of 208 galleries from 29 countries are going to take part in this year's fair. The central goal of ARCOmadrid is to promote the collection of art by opening doors to potential new collectors. With this aim in mind, several important initiatives will be undertaken, like marking works that are under €5,000 or providing free buyer advice services. In line with its values of research and innovation, for the fair's 37th edition it will it will not hinge on a guest country (as it has done in previous years), but will explore a concept: "welcome to the Future". Chus Martínez, curator of ARCOmadrid describes the future as the thing 'that everyone is talking about, yet one that's hard to elaborate on'.
The fair's website includes a quote from Argentine writer Jorge Luis Borges: 'what is going to happen is not "the future", but what we are going to do'. "It's not a reference to what is yet to happen, but rather our ability to intervene in it," says Martínez.
ArtDependence had a chance to talk to the fair's director, Carlos Urroz, about the upcoming edition of ARCOmadrid.
ArtDependence Magazine: The concept for this edition of ARCOmadrid is "the future". How do you see the near future for contemporary art in general and the Spanish art scene in particular?
Carlos Urroz: The future section and its unique programme is curated by Chus Martínez (director of the Art Institute at FHNW Academy of Art and Design in Basel), along with co-curators Rosa Lleó and Elise Lammer. Rather than act as a reference to what is yet to happen, the participants of this section will explore how to intervene in it, which in itself is a relevant prospect when looking at the Spanish art scene.
The concept brings together a refreshing mix of artist's work which reflects the diversity in both generational perspectives and artistic language, revealing the mindset of artists, as well as their issues and challenges.
For me, the future for the Spanish art scene is illustrated by award-winning, Madrid-and-New York-based architect Andrés Jaque, who has innovated the sections exhibition space. Jacque's work illustrates a more fluid model to ARCO, in which galleries are not divided by booths and have a more open and collaborative setting. With the new concept and layout, we're not only bringing 211 galleries from all across the globe but also expanding outside of the IFEMA venue to initiatives in institutions all over the city of Madrid.
This year these will include exhibitions by artists such as Doris Salcedo, William Kentridge and John Akomfrah as well as exhibitions dedicated to the collections of Luis Paulo Montenegro, the Colombian Bank of the Republic, Thibault Poutrel and Helga de Alvear.
AD: The publicity for the fair includes a quote from the renowned Argentinian writer Jorge Luis Borges "What is going to happen is not "the future", but what we are going to do". How much can we actually influence the future and what has been done in this respect by ARCOmadrid? 
CU: With an increasing number of worldwide art exchanges and globalisation, we're seeing a transformation in the international art scene. With artists, galleries and collectors working more closely with art communities from all over the world, the role of gallerists and curators is becoming increasingly important, which is exactly what we hope to support and nurture at ARCO.
With each year, more satellite events and complementary exhibitions launch at the same time as the fair, creating a special atmosphere during the week of the fair. Madrid is a small lively city, which works well with ARCO. This makes it possible to see and experience new things, visit the latest galleries, make new connections. In this way I think that ARCO is increasingly becoming a kind of counterpoint to globalisation.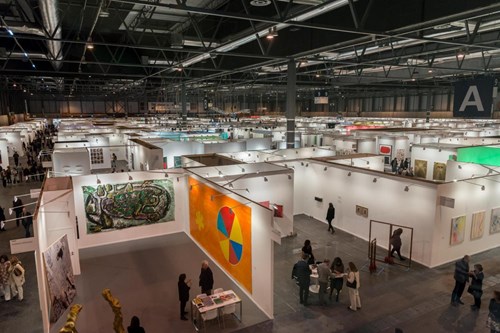 Impressions of ARCOmadrid 2017. Courtesy ARCOmadrid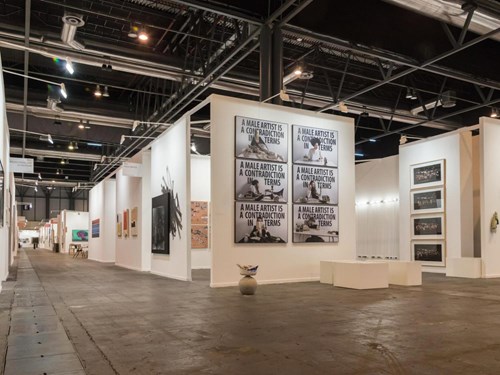 Impressions of ARCOmadrid 2017. Courtesy ARCOmadrid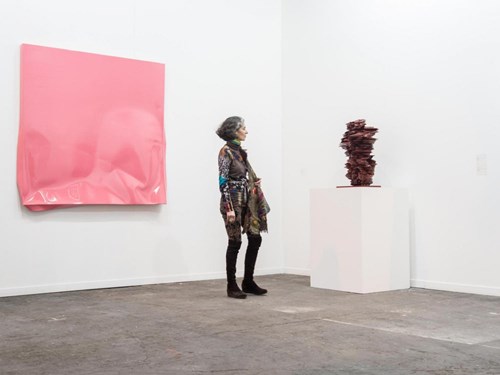 Impressions of ARCOmadrid 2017. Courtesy ARCOmadrid
AD: Being the director of ARCOmadrid for the past seven years, how much has the fair changed during these years? How has the content changed? 
CU: ARCOmadrid has a long history of innovation and experimentation showcasing quality in its booths, galleries, artists and artworks – a history that spans almost four decades. 
Over the past seven years as Fair Director, I've worked with the team to develop the fair as an important meeting point where European enthusiasts can discover art from Latin America. ARCOmadrid works with and brings together significant collectors, curators, artists and indeed professionals, who in turn bring their international understanding of contemporary trends and wide reaching knowledge to the fair as we move forward to transform the international art scene.
We have also celebrated several guest countries including The Netherlands, Colombia and Argentina, bringing the talents from these locations to the attention of top collectors and art professionals around the world.
AD: How do you manage to keep galleries interested in taking part in ARCOmadrid? Do your preferences lie in stability and predictability or is there constant search for renewal and innovation?
CU: ARCOmadrid enjoys the reputation of being the first fair to incorporate the voices of contemporary art professionals, setting itself as the perfect scenario for galleries to connect with curators, critics, museums directors and other institution managers. The conversations that take place, together with the attendance of collectors from the very first day of the fair are what make galleries want to come to ARCO every year. 
Its role as a meeting point remains one of ARCO's most valuable assets, with an extensive programme of forums and encounters that allow for a unique platform for exchange and reflection. For galleries, it is also the fact that ARCO keeps favouring the quality of the artistic proposals, granting them at the same time the possibility to present projects of discovery and dialogues between their artists. 
AD: What do you think the highlights of ARCOmadrid 2018 will be?
CU: Alongside the The Future concept and the section's related events that will occur both at the fair and in venues around the city, the 2018 program will also present a selection of acclaimed events that offer a wide range of art world figures an opportunity to discuss projects and debate ideas, so that ARCOmadrid functions as a platform where art discourse and the art market converge fruitfully and dynamically. An example of this will be the Collecting Forum, directed by Estrella de Diego and with the participation of João Carlos Figueiredo Ferraz, Luis Paulo Montenegro, Claudia Hakim, Han Nefkens and Courtney Schaefer among others.
The other curated sections of the fair will also highlight the possibilities of ARCO as a place for discovery and exchange. Dialogues presents foreign galleries that are committed to a solid programme that reflects constant work with their artists. The other curated programme, Opening, has garnered a reputation for being a space of discovery for emerging artists and young galleries. The galleries in this section have been selected due to the rigor and pioneering approach of their programs.
AD: What are your personal preferences in contemporary art?
CU: I enjoy everything contemporary art has to offer. Every technique, every format, every subject has its place and moment. From photography to painting to video, what matters is the quality and the emotions that an artwork can provoke in us, regardless of the method. I believe it's important to look beyond and discover the message, sometimes hidden, that the artist wants to transmit. In art, quality is achieved by hard-working artists and galleries; their ideas and their commitment are my predilection. 
AD: What is your attitude towards new media in art, such as digital art, virtual reality, internet art?
CU: Art moves forward, which is a good thing because, as everything else, it needs to progress and be alive. I see this as a natural evolution. New techniques, new formats and mediums are there to be used and experienced. But again, to use newer or older techniques is a decision the artists make, and my attitude towards that is to support their choices, value the formats and look beyond them, in search of the quality of their ideas and their messages.