Image: Keith Haring, Radiant Baby
Haring was born in Pensylvania, USA in 1958. From an early age, he loved to draw and create images, copying cartoon images that he saw around him. After leaving school, Haring attended the Ivy School of Professional Art, but he dropped out after two semesters, decided that life as a commercial artist held little interest for him.
Still dedicated to art, Haring continued to create his own works, holding an exhibition in Pittsburgh in 1978. Spurred on by the success of his exhibition, he decided to move to New York where he enrolled at the School of Visual Arts. Whilst in the city, he made friends with a network of artists who were taking their works out of the mainstream galleries and turning to graffiti spaces and underground music clubs instead. Amongst his friends were Kenny Scharf and Jean-Michel Basquiat. Haring quickly became a well known member of the New York alternative arts scene, organizing regular events at Club 57.
During this time, Haring began to develop his own unique style. As a student, he experimented with different mediums including video, installation and collage. But drawing always seemed to have a hold over him and he returned repeatedly to the medium, working increasingly with the form of the line. He was driven by a desire to make art that was public.
Inspired by his friends and fellow artists in New York, Haring soon found a medium for his distinctive work. The subway system was filled with disused advertising boards that were painted a simple matt black colour. Using thick white chalk, Haring made them his canvases. He was prolific, producing up to 40 works of art in one day. His drawings became routine part of the New York commute. Using the subway as his canvas, Haring ensured that his work was visible to a wide and diverse audience and was not constrained to the walls of elite galleries.
By 1981, Haring was given his first New York solo exhibition. In 1982 he staged a one-man exhibition at the Tony Shafrazi Gallery in the popular Soho district. Haring was firmly on the map. He was designing sets for theatres and clubs, developing designs for Swatch watches and participating in an advertising campaign for Absolut Vodka. He also created record covers for RUN DMC and David Bowie and created fashion lines with Malcolm McLaren and Vivienne Westwood.
Haring's work looked simple, but he played with clear themes and messages from his generation. His art responded to Apartheid, drug abuse, homophobia, racism capitalism, AIDS awareness and political control.
In 1986 Haring was invited to paint a section of the Berlin Wall. He painted a bright figurative mural using the colours of the German flag. His work spoke of the potential for unity between East and West Germany.
Haring was committed to making his work as accessible as possible, an ambition that as celebrated by some and criticized by others. When Haring opened a shop selling t-shirts and posters of his drawings, several critics labeled him a sell out. Haring continued to create work prolifically, often creating public art work for charities and social causes. As part of his commitment to accessible art, Haring collaborated with several other artists including Andy Warhol and Jean-Michel Basquiat.
In 1988, Haring was diagnosed with AIDS. Just two years later he dieds of AIDS related complications at the age of 31.
Perhaps one of the most recognizable image from Haring's work, the radiant baby is a simple outline of a baby or person crawling on the floor on their hands and knees with lines emanating from them. Haring himself has commented that for him this baby represents youthful innocence, purity and goodness.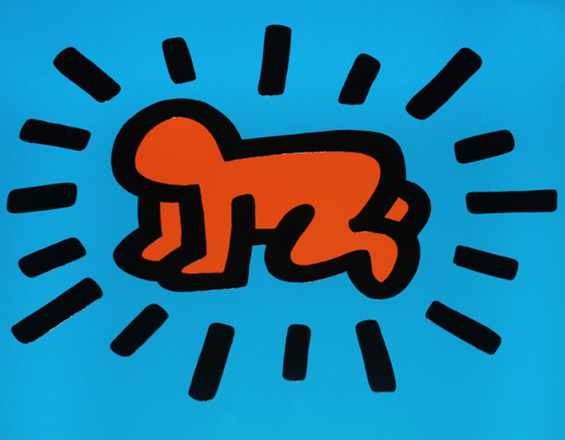 Keith Haring, Radiant Baby
The person in the image is said to be a baby, an innocent, one who is only just learning to move about in the world. Babies are traditionally used in art as symbols of purity – humanity before the forces of the world work upon them. In dreams, babies are often portents of something new, of new beginnings and the turning of a new page. Babies are seen as gentle, loving, vulnerable and worthy. They symbolize the potential of the future – new ideas and the potential for the future.
For Haring, the radiant baby is emanating with life and energy. The baby is in motion, taking its first moves in the world and surrounded by a warm, comforting glow. He does not seem to posses the vulnerability of babies that we see depicted in other art forms. He does not appear small, or helpless. Instead he is alone but not lonely, independent and moving through the world with determination. Haring's radiant baby is not hovered over by a concerned parent. He possesses the promise, the new life, the innocence, but he defies the weakness, the need for support. Instead, he is a vision of potential. He takes the best qualities of youth and glows with their power.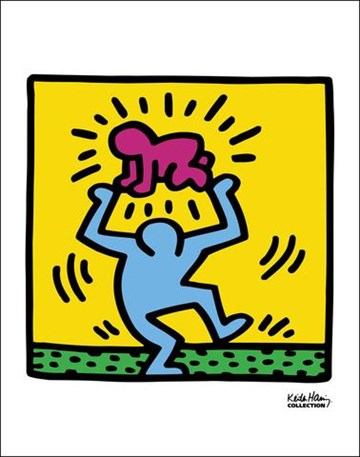 Keith Haring, Figure Holding Radiant Baby, poster
For Haring, who passed away at the young age of 31, and who spent his entire career attempting to reach out to diverse audiences with accessible, inclusive art, the radiant baby remains as one his strongest legacies. A youthful, energetic, vibrant young person, filled with positivity, with a drive and forward motion, surrounded by admiration and alive with a sense of power and potential. Little wonder that the man and the image remain inextricably linked.