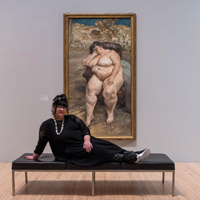 Article date: Tuesday, September 18, 2018
Freud's Muse Susan Tilley Tells About Her Years With The Artist
"He could be kind, be horrible, be generous, be mean, be funny, be grumpy, be childish, be old. But mainly he just loved to work. He really was a fascinating man. He enjoyed thinking he could manipulate me, but I could see through him and just laughed at his shenanigans".
---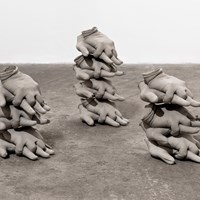 Article date: Wednesday, June 27, 2018
10 Questions: Ewa Axelrad
Ewa Axelrad's works have rather a distinct quality; simultaneously managing to attract and discomfort the viewer. Whilst realising that one is confronted with ideas that will likely cause unease, there is something in the material and formality of the works that compels the viewer to keep staring.
---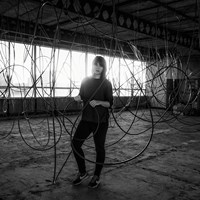 Article date: Wednesday, February 14, 2018
10 Questions: Rosana Antolí
Rosana Antolí (Alcoi, 1981) defines her practice as the "attempt to reveal the choreographies that structure our daily lives". A prolific artist with an extremely motivated (and motivating) personality, Antolí has developed her career in Spain, Germany and the United Kingdom, including artist residencies in Argentina, Colombia and Switzerland.
---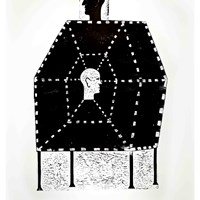 Article date: Sunday, August 13, 2017
10 Questions: Declan Jenkins
This autumn British contemporary artist Declan Jenkins is going to show his first solo exhibition, I sing of armoires…, taking place from 6 – 29 September 2017 at Sims Reed Gallery, London. Jenkins, known primarily for his woodcut prints and performative poems, will showcase an exciting new series of a dozen monumental hand-coloured woodcuts.
---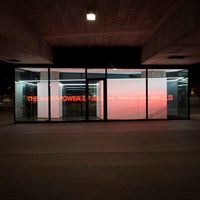 Article date: Sunday, March 26, 2017
"I work a lot with text in many different forms" - An Interview with Tim Etchells
What is your favourite medium? Tim Etchells: "Language - spoken/written, as drawing and as sculpture. Or performance. Or the combination of the two."
---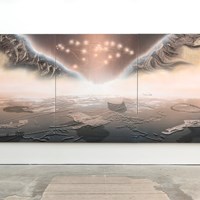 Article date: Tuesday, March 14, 2017
10 Questions: Gordon Cheung
Gordon Cheung is of Hong Kong origin and born in London 1975 where he lives and works. Cheung's multi-media art capture the hallucinations between the virtual and actual realities of a globalised world oscillating between Utopia and Dystopia. Spray paint, oil, acrylic, pastels, stock listings and ink collide in his works to form epic techno-sublime vistas.
---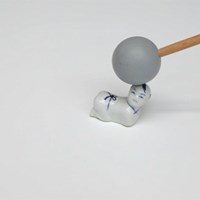 Article date: Monday, February 27, 2017
10 Questions: Eli Cortiñas
It's hard to find artists who talk as passionately about montage and film editing as Eli Cortiñas (Las Palmas, Canary Islands, 1979). You can see her dreamy expression running through all the potential stories she has in her hands, but with a theoretical and rational goal that emanates from years of seeing and working with films. She uses a similar modus operandi when creating her sculptures and collages, often independent from her video pieces, but at times establishing parallelisms with them.
---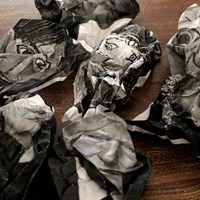 Article date: Sunday, November 6, 2016
"Gathering of the Famous" by Anita Yan Wong
There have always been strong undeniable connections between politics and art, especially in those moments in history when politics becomes the center of public interests. By being extremely sensitive to all kinds of changes, artists transform the anxiety and tension in society into poignant and meditative art works. Prof. Anita Yan Wong (international artist, educator and thinker), answers our 10 question interview with reflections on her artistic drive, and an artistic life well-lived.
---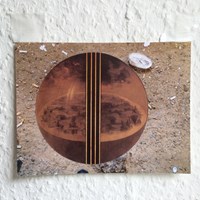 Article date: Thursday, August 11, 2016
"Varied, Understated, Serious and Humorous" - 10 Questions to Jeff Grant
The work of Jeff Grant (b. 1975) is forthright in its perplexity. Every piece he creates centers on concealment, the ambiguous presence, forcing the viewer to engage in a search. In a way, some of his works appear distressing. They are not abstract, although shapes and objects seem blurred and disturbed. His chosen palette, black and white or colors dimmed and subtle, only emphasizes the mental haze. Portrait outlines are fuzzy and the objects from Grant's "Creation" series appear as fantastical artefacts with tortured surfaces, holding turbulent air underneath.
---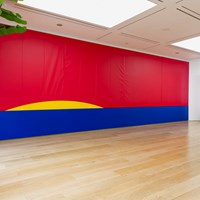 Article date: Friday, July 22, 2016
"Driving Off into the Sunset" - 10 Questions to Grear Patterson
NYC-based artist Grear Patterson (b. 1988, USA) uses mixed media to create ideal locations, inspired by the 1993 film "True Romance". For his running solo show in London's Marlborough Contemporary, Patterson presents large-scale sunsets, recreating the film though visual and audio means. For an entire month, the gallery space was transformed into a dream with extreme colours in simplified forms. Patterson is playing with viewer's nostalgia, reflecting on the themes of childhood memories and imaginary worlds, inviting us to consider how far away a parallel reality may be.