Article date: Tuesday, April 30, 2019
Zhou Li, Original State of Mind, at White Cube Bermondsey, London
White Cube Bermondsey is hosting a solo exhibition of the Chinese abstract artist Zhou Li, running until 30th June. Nine paintings are on display from three of her 2018 series: The Peach Garden, Wind and Thunder, and Blue. ArtDependence spoke to Professor Zhou at the gallery.
Article date: Tuesday, April 16, 2019
Edvard Munch: Love and Angst, British Museum
The British Museum is currently showing the largest collection of the prints of Edvard Munch (1863-1944) to have been exhibited in the UK for 45 years. These include a black-and-white lithograph of The Scream made in 1895, on loan from a private collection in Norway, and a total of 83 prints, sketches and paintings, which together provide a thought-provoking introduction to Munch's character and Bohemian lifestyle. The exhibition has been organised by Giulia Bartrum, Curator of German and Swiss prints and drawings at the BM, in collaboration with the Munch Museum, Oslo.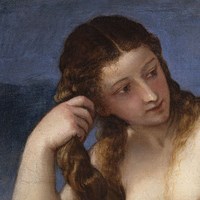 Article date: Thursday, March 21, 2019
'The Renaissance Nude' in the Royal Academy of Arts, London
London's Royal Academy of Arts has just opened a splendid new exhibition on 'The Renaissance Nude', charting depictions of the naked body in Europe from 1400-1530 in a range of different media media, from painting to sculpture, from engravings to illuminated manuscripts. Highlights include Titian's Venus Anadyomene, from the National Galleries of Scotland, Edinburgh, and Bronzino's St Sebastian, from the Museo Nacional Thyssen-Bornemisza, Madrid.