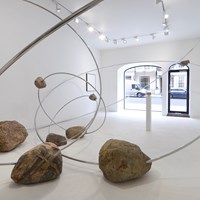 Article date: Monday, December 11, 2017
"I am probably dealing with the same questions as philosophers, but we express ourselves in a different language." An Interview with Alicja Kwade
Born in Poland and now working in Berlin, Alicja Kwade creates thought-provoking works that seem to question the very barriers of our material world and our relationship to space and the unknown entities of the universe. Working primarily in sculpture but also willing to foray into installation, video or photography if it helps to explore her themes, she has gained a reputation as an artist who is on a quest explore the very fabric and materials of our universe. Artdependence caught up with her to find out more about her philosophy and her inspirations.
---
Article date: Friday, December 8, 2017
Reimagining Perception: An Interview with Leandro Erlich
Global conceptual artist Leandro Erlich wants his audience to do a double take - make that a triple take. An acclaimed master of illusory, large-scale installations, Erlich is currently presenting his largest solo exhibition to date, Seeing and Believing, featuring 40-plus works at the Mori Art Museum in Tokyo through April 1, 2018. In this showcase, Erlich fervently questions our sense of reality and the familiar through structured chimera and altered detail. His pieces broadly employ fluid and unpredictable boundaries.
---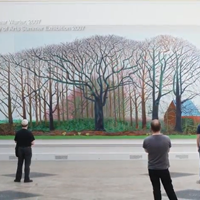 Article date: Wednesday, December 6, 2017
"Each film is so full of fresh, revealing, gorgeous material that I never for a second get bored." Phil Grabsky, EXHIBITION ON SCREEN: David Hockney at the Royal Academy of Arts
EXHIBITION ON SCREEN bring the work of David Hockney to life with their latest film David Hockney At the Royal Academy of Arts: A Bigger Picture 2012 and 82 Portraits And One Still Life 2016. Directed by Phil Grabsky, the film offers a wealth of interview material with the artist, shedding light on his lifestyle, method and inspirations. The film arrives in cinemas worldwide from November 21st, 2017. Artdependence caught up with Phil Grabsky to find out more about what prompted him to put this exhibition together, and what it was like to film with one of the UK's most renowned living artists.
---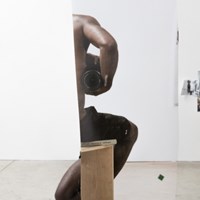 Article date: Thursday, November 9, 2017
"What is of interest to me is the legacy created..." - Paul Mpagi Sepuya
Taking place at the Grand Palais, Paris Photo is the largest international art fair dedicated to photographic art. This year, the event takes place from 9-12 November and brings together a diverse range of artists and galleries from around the world. Amongst the 180 galleries displaying work at Paris Photo is Yancey Richardson Gallery. Based in New York and founded in 1995, the gallery deals with fine art photography from the 20th century and contemporary artists. Amongst the artists they are displaying at this year's Paris Photo is Paul Mpagi Sepuya, an American artist who explores the nature of relationship between artist and subject. Artdependence caught up with Paul Mpagi Sepuya to find out more about his work.
---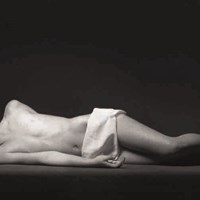 Article date: Wednesday, November 8, 2017
Ecce Homo in Antwerp: Empowering Women Through the Work of Male Artists?
Internationally, the art world is well aware that it has a problem with under-representation of female artists, but it seems the jury is still very much out when it comes to addressing that problem. A study by the Hertie School of Governance in Berlin recently looked at this problem in the German context, finding that women comprised 48% of the cultural workforce in Germany, but held only 21% of the top management positions. Most alarmingly, two thirds of those studying arts and humanities subjects at Universities were female. Clearly there is no lack of desire amongst the female population to engage with the art world. So where is it all going wrong?
---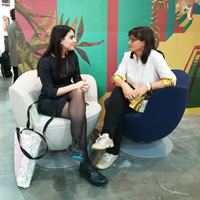 Article date: Tuesday, November 7, 2017
The Director of Artissima, Ilaria Bonacossa, speaks to Sofia Evangelou for Artdependence
Artissima 2017 was a spectacle, a happening, a unique experience for all stakeholders – the artists, the gallerists, the visitors – everyone. It was in this most special context that I had the great pleasure and unique privilege to interview the mastermind behind all this, none other than the new director of the leading Italian art fair, Ilaria Bonacossa.
---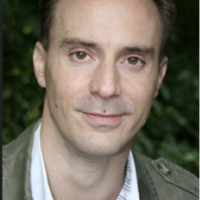 Article date: Tuesday, October 31, 2017
Collecting Digital Art in the Age of Abundance. The Legal Aspects
Interview with Rory Blain - Director Sedition Art: Sedition brings you an art experience for your digital life. Collect and enjoy limited edition artworks, exclusively created in digital media by the world's greatest contemporary artists. Sedition securely stores your collection so you can access it anytime, anywhere, on any screen, across your devices.
---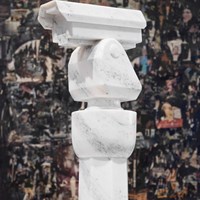 Article date: Monday, October 30, 2017
The Imperial War Museum Stages Age of Terror: Art Since 9/11
In times of conflict and war, art can play a valuable and important role. Since the terrorist attacks of September 11th 2001, the world has been undergoing a series of global wars and tensions that are still very much playing out today. Now, the Imperial War Museum in London is staging a major exhibition of artist's responses to modern warfare. The exhibition features more than 40 artists from around the world including Grayson Perry, Ai Weiwei, Gerhard Richter, Jenny Holzer and Coco Fusco.
---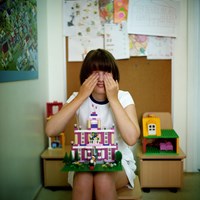 Article date: Friday, October 27, 2017
Winners of Photo Kyiv 2017 Contest: an interview with Yana Shcherbakova and Oleksandr Navrotskyi
The first edition of Photo Kyiv, International Art Fair, dedicated exclusively to photography, will take place 2-5 November 2017 in Kyiv, Ukraine. Among its activities was a Contest for Young Photographers in two nominations: art and documentary photography. Two winners were selected – Yana Shcherbakova in documentary photography and Oleksandr Navrotskyi in art photography. Artdependence Magazine cought up with the winners to find out more about what drives them.
---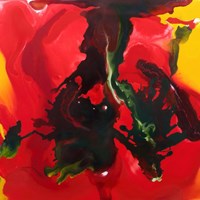 Article date: Thursday, October 26, 2017
Jeannie Motherwell: Her Art Stands by Itself
Born and raised in New York city, Jeannie Motherwell was surrounded by creativity from her earliest years. Both her father, Robert Motherwell, and her stepmother, Helen Frankenthaler, were hugely respected abstract expressionist painters whose work is still displayed around the world today. They have both taken their place in the history books for post-war art. As the daughter of two artistic icons, how do you find your own path and message in the art world? Jeannie Motherwell has managed to do both.