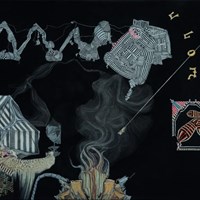 Article date: Saturday, February 1, 2020
C|E Contemporary, Milan Presents Kate Tedman's Exhibition 'The Surface'
Self-taught both in the art of drawing and embroidery, two techniques that she mastered perfectly and naturally, K.T. creates dreamlike environments inhabited by fish, plant elements and eccentric and mysterious characters from distant eras. Her work often recalls past events, myths and external influences to create fantastic worlds full of intricate details and decorations.
---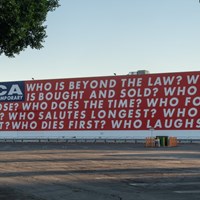 Article date: Thursday, January 30, 2020
MOCA has Reinstalled the Monumental Wall Work by Los Angeles–Based Artist Barbara Kruger, Untitled (Questions)
MOCA has reinstalled the monumental wall work by Los Angeles–based artist Barbara Kruger (b. New York 1945), Untitled (Questions) (1990/2018). The emblematic red, white, and blue artwork was originally commissioned by MOCA in 1989 for the exhibition A Forest of Signs: Art in the Crisis of Representation, and was last installed in 1990 on the south wall of MOCA's building (now The Geffen Contemporary at MOCA). The work holds an iconic place in the collective memory of Los Angeles's art community and is considered one of the museum's curatorial highlights over its forty-year history.
---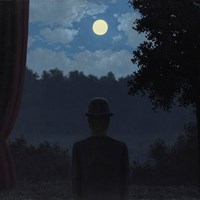 Article date: Thursday, January 30, 2020
René Magritte Leads Surreal Sale at Christie's
René Magritte (1898-1967) A la rencontre du plaisir Estimate GBP 8,000,000 - GBP 12,000,000 (USD 10,448,000 - USD 15,672,000)
---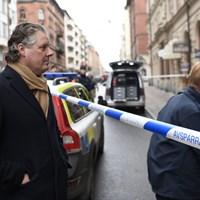 Article date: Thursday, January 30, 2020
Salvador Dali Sculptures Worth Nearly £500,000 Stolen from Stockholm Gallery
Sculptures by Salvador Dali worth nearly £500,000 were stolen early this morning in a smash-and-grab raid on a Stockholm gallery. The alarm was raised at around 4am on Thursday after at least two thieves broke through the front entrance of the Couleur Art Gallery in the Östermalm neighborhood.
---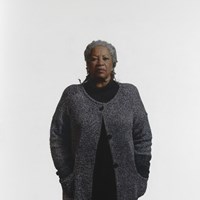 Article date: Wednesday, January 29, 2020
National Portrait Gallery Presents Exhibition of Major Gifts "Visionary: The Cumming Family Collection"
The Smithsonian's National Portrait Gallery presents "Visionary: The Cumming Family Collection," revealing the results of over 25 years of inspired collecting by Ian and Annette Cumming. The exhibition will feature commissioned portraits of internationally recognized subjects by prominent American artists such as Chuck Close, Robert McCurdy and Nelson Shanks. "Visionary: The Cumming Family Collection" is curated by Brandon Brame Fortune, the National Portrait Gallery's chief curator. The exhibition will be on view April 24–Jan. 18, 2021.
---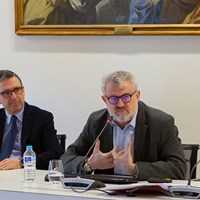 Article date: Wednesday, January 29, 2020
"New Publics, New Narratives", the Key Concept for the Museo del Prado's Activities in 2020
The role of women in painting and Colonial Art are the major exhibitions projects at the Museum in 2020. Mythological Passions, Carracci. The Herrera chapel, William Blake. Illustrations for the Divine Comedy, Marinus and The Cases for the Dauphin's Treasure complete the programme of temporary exhibitions.
---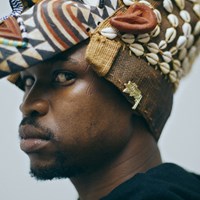 Article date: Tuesday, January 28, 2020
FOAM Shows 'Adorned – The Fashionable Show'
The exhibition Adorned – The Fashionable Show presents intriguing and challenging fashion related photography projects created by a new generation of visual artists. They all work with fashion, but most of them are not straightforward fashion photographers. For them, fashion and style are primarily tools to construct or question identities, to empower people and to play with cultures, gender, race and ages.
---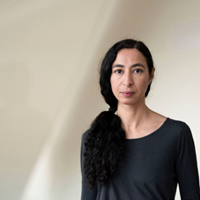 Article date: Tuesday, January 28, 2020
Latifa Echakhch Selected for Swiss Pavilion at Biennale Arte 2021
On jury recommendation, the Swiss Arts Council Pro Helvetia has chosen to entrust the Swiss Pavilion at the 59th International Art Exhibition – La Biennal di Venezia to the artist Latifa Echakhch. Living in Fully (Switzerland) with a French-Moroccan background, she has gained considerable international renown over many years in the contemporary art world.
---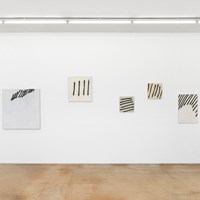 Article date: Monday, January 27, 2020
MAMCO Genève Presents the Exhibition of Martin Barré
Martin Barré was born in Nantes in 1924. He studied architecture and painting at the city's Ecole des Beaux-Arts and settled in Paris at the beginning of the 1950s. He made his début on the Paris art scene with solo and group exhibitions in 1954 and 1955. Abandoning the vocabulary of his student years, he applied himself to the development of a distinctive, abstract oeuvre—an undertaking he pursued with exceptional rigor and originality over the following four decades, until his death in 1993.
---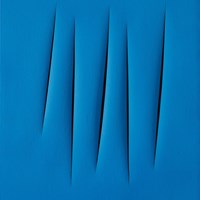 Article date: Monday, January 27, 2020
Fontana's Concetto Spaziale at Sotheby's Contemporary
Lucio Fontana 1899 - 1968 CONCETTO SPAZIALE, ATTESE signed, titled and inscribed Domani domenica dobbiamo andare a votare on the reverse waterpaint on canvas 80 by 60 cm. 31 1/2 by 23 7/8 in. Executed in 1965.