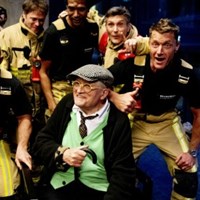 Article date: Friday, March 1, 2019
British Artist Hockney Freed from Amsterdam Elevator by Firemen
British artist David Hockney had to be freed by Dutch firefighters from an elevator in Amsterdam as he was about to open a new exhibition of his works. The 81-year-old, who holds the record for the most expensive painting by a living artist, had been heading down for a cigarette at his hotel late Wednesday when it suddenly stopped.
---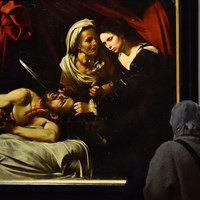 Article date: Friday, March 1, 2019
'Lost Caravaggio' Set for Big London Unveiling
The naked warrior looks plaintively up into the averted eyes of a graceful woman methodically slicing off his head with a sword. It is a burst of violence painted in haunting tones by a Renaissance master worth at least $100 million -- or yet another fake distressing the art world.
---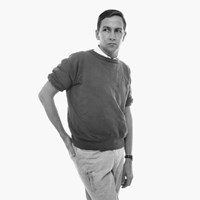 Article date: Wednesday, February 27, 2019
Robert Rauschenberg Foundation Appoints Three New Board Members
The Robert Rauschenberg Foundation announced the appointment of three distinguished experts in modern and contemporary art to its Board of Directors. The newest board members include: Dr. Kellie Jones, Professor in Art History and Archaeology and the Institute for Research in African American Studies (IRAAS) at Columbia University; Dr. Glenn D. Lowry, Director of The Museum of Modern Art; and A.C. Hudgins, a well-known collector of African-American art with experience in the field of finance.
---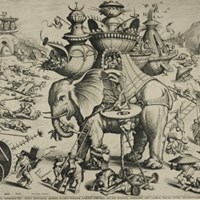 Article date: Wednesday, February 27, 2019
Prints in the Age of Bruegel
The exhibition Prints in the Age of Bruegel, presented jointly by BOZAR and the Royal Library of Belgium, paints a picture of print production in the Southern Netherlands in the age of Bruegel.
---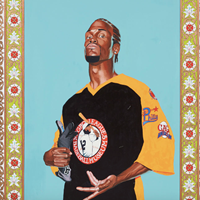 Article date: Wednesday, February 27, 2019
Wiley's Passing/Posing at Phillips Auction
A striking and colourful canvas, Passing/Posing (Jean de Carondelet), 2004, belongs to Kehinde Wiley's ebullient series of large-scale portraits which featured in the artist's breakthrough exhibition at the Brooklyn Museum, 2004.
---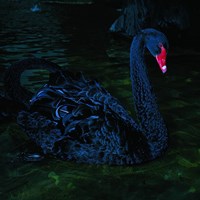 Article date: Tuesday, February 26, 2019
Manfred Willmann's Solo Exhibition at Albertina
The Albertina Museum is devoting a comprehensive solo presentation to the works of photographer Manfred Willmann (*1952). In his series, Willmann captures scenes from his personal surroundings in Graz and southern Styria, scenes that break with clichés of idyllic rural life.
---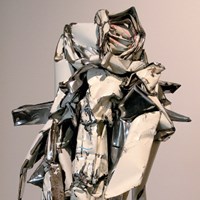 Article date: Tuesday, February 26, 2019
A Tribute to Steve Chase at Palm Springs Art Museum
In honor of the 25th Anniversary of the Steve Chase Humanitarian Awards and in collaboration with the Desert AIDS Project and the Living Desert Zoo & Gardens, the museum will highlight a selection of artworks gifted by Steve Chase in our Milano and DeGiorgio Galleries.
---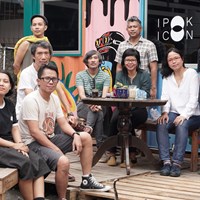 Article date: Monday, February 25, 2019
Ruangrupa Selected as Artistic Direction of Documenta 15 
For the First Time an Artist Collective Curates the International Art Exhibition
Nominated unanimously by the International Finding Committee the Supervisory Board appointed ruangrupa, a collective of artists and creatives from Jakarta, Indonesia, with a ten-member core as the artistic direction of documenta 15. This was announced by the general director of documenta und Museum Fridericianum gGmbH, Dr. Sabine Schormann.
---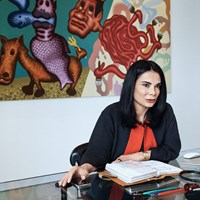 Article date: Monday, February 25, 2019
After Prison Sentencing, Art Dealer Mary Boone Will Close Her Gallery
Veteran New York art dealer Mary Boone, 67, will shutter her eponymous gallery. She was sentenced on Feb. 14 to thirty months in prison for filing false tax returns, with prosecutors alleging that she defrauded the IRS of over $3 million.
---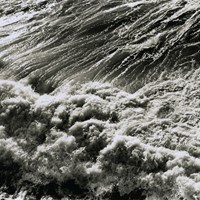 Article date: Monday, February 25, 2019
Jay DeFeo at Sotheby's 'By Women, for Tomorrow's Women'
Refusing to identify with a specific artistic movement, DeFeo is most commonly associated with the Abstract Expressionist and the Beat Generation artists; however, she often combined representation with abstraction, organic rhythms with geometric form, and refinement with expressionism. DeFeo, along with her husband and fellow artist, were the epicenter of a dynamic community of Beat artists, poets, and musicians in San Francisco.