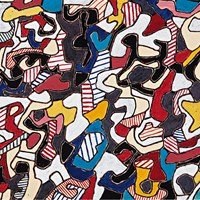 Article date: Monday, April 29, 2019
Visual Complexity of Dubuffet's 'Conjectures' at Sotheby's Contemporary Sale
"The mystical jubilations of the physical world are over and done with: I have become nauseated by it and no longer wish to work except against it. What enchants me now is the unreal." Jean Dubuffet
---
Article date: Saturday, April 27, 2019
Kehinde Wiley to be Honored with The Gordon Parks Foundation Award
Roberts Projects announced Kehinde Wiley will be honored with The Gordon Parks Foundation Award on June 4, 2019 in New York City. The award celebrates Gordon Parks' legacy and honors those who continue Park's vision for social change through their work in the arts and humanitarianism.
---
Article date: Saturday, April 27, 2019
UK Arts Minister Michael Ellis Steps in to Save the Bacon
Arts Minister Michael Ellis has placed temporary export bars on four works by Francis Bacon worth a combined total of more than £3 million in a bid to keep them in the country. Francis Bacon (1909 - 1992) was one of the most important British artists of the 20th century.
---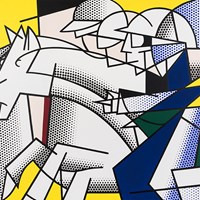 Article date: Friday, April 26, 2019
Phillips to Offer Property from the Miles & Shirley Fireman Collection - Expected to Realize in Excess of $60 Million
Phillips is pleased to offer for sale Property from the Miles & Shirley Fiterman Collection across the auction house's salerooms in New York, London, and Hong Kong. The Evening and Day Sales of 20th Century & Contemporary Art in New York on 15-16 May will be the first auctions to feature these works, with sales taking place throughout 2019 and concluding with the Hong Kong auctions in November.
---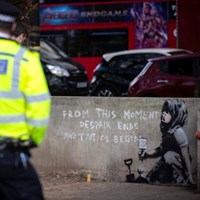 Article date: Friday, April 26, 2019
'New Banksy' as Extinction Rebellion Protests at Marble Arch
The mural popped up yesterday night when protestors gathered at Marble Arch to celebrate the end of the ten day long demonstrations. The image showed a child clutching an XR sign while crouching near a plant, with accompanying words: 'From this moment despair ends and tactics begin'.
---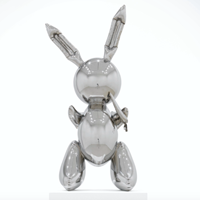 Article date: Friday, April 26, 2019
Moon's Rabbit at Post-War and Contemporary Art Evening Sale
---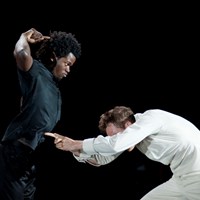 Article date: Thursday, April 25, 2019
Continu by Sasha Waltz
Continu is a piece that was developed in 2010 as a continuation of two site specific works created at the Neuen Museum in Berlin by David Chipperfield and at MAXXI in Rome by Zaha Hahid. From the dialogue between the two architectonically influenced works, was generated Continu, also strongly inspired by architectonic forms and lines.
---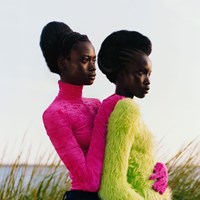 Article date: Wednesday, April 24, 2019
Foam Presents 'I Can Make You Feel Good', Photographer and Filmmaker Tyler Mitchell's First Solo Exhibition
This spring, Foam proudly presents I Can Make You Feel Good, photographer and filmmaker Tyler Mitchell's (1995, US) first solo exhibition. Alongside a selection of images from the artist's personal and commissioned work, Foam is also premiering two of Mitchell's video works: Idyllic Space and Chasing Pink, Found Red. With these audiovisual installations, the artist explores a sense of play and childlike freedom for black youths.
---
Article date: Wednesday, April 24, 2019
Berlin's Lotte Laserstein with her Sensitive Portrait Exhibition 'Face to Face'
Berlin's public museum of modern art, photography and architecture will show 58 works – 48 paintings and 9 drawings – by Lotte Laserstein along with documents reflecting Lotte's professional heyday in Berlin and her exile in Sweden. Lotte was one of the most sensitive portrait painters of the early Modernist period when tradition vied with innovation.
---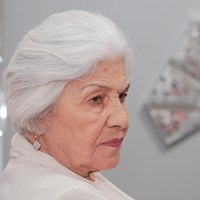 Article date: Tuesday, April 23, 2019
Acclaimed Artist Monir Shahroudy Farmanfarmaian has Died Aged 96
In the sixteenth century, so the story goes, Iran imported glass from Europe, but it would arrive fractured and broken after its long journey. Artisans began using the shards to decorate mosques, creating the intricate mosaics known as aineh-kari, in which mosques' domed ceilings and fretted walls are transformed into sparkling arrays. Years later, the Iranian artist Monir Shahroudy Farmanfarmaian, who died on Saturday in Tehran, used this technique as the inspiration for her distinctive sculptures and wall-hung works.