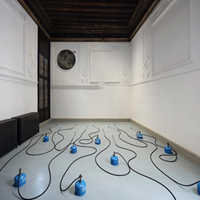 Article date: Tuesday, May 21, 2019
Jannis Kounellis's Retrospective at Fondazione Prada, Milan
"Jannis Kounellis", curated by Germano Celant, is the major retrospective dedicated to the artist following his death in 2017. Developed in collaboration with Archivio Kounellis, the project brings together more 60 works from 1959 to 2015, from both Italian and international museums , as well as from important private collections both in Italy and abroad. The show explores the artistic and exhibition history of Jannis Kounellis (Piraeus 1936 – Rome 2017), establishing a dialogue between his works and the eighteenth-century spaces of Ca' Corner della Regina.
---
Article date: Monday, May 20, 2019
Birth of the World by Joan Miró at MoMA
"You and all my writer friends have given me much help and improved my understanding of many things," Joan Miró told the French poet Michel Leiris in the summer of 1924, writing from his family's farm in Montroig, a small village nestled between the mountains and the sea in his native Catalonia. The next year, Miró's intense engagement with poetry, the creative process, and material experimentation inspired him to paint The Birth of the World.
---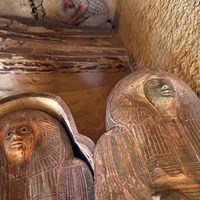 Article date: Monday, May 20, 2019
4,500-Year-Old Ancient Tomb Discovered in Egypt
Archaeologists have discovered an ancient cemetery near Egypt's famous pyramids in the Giza plateau near Cairo, said the country's ministry of antiquities. Wooden tombs painted in various colours and limestone statues were among the treasures found in the 4,500-year-old burial ground.
---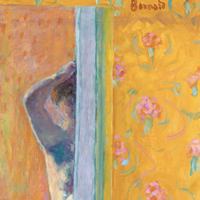 Article date: Sunday, May 19, 2019
Glyptotek Opens its Exhibition 'Pierre Bonnard. The Colour of Memory'
This is the first time in more than 25 years that it has been possible to experience a solo exhibition of the French artist Pierre Bonnard (1867-1947) in Denmark: an exhibition which will follow Bonnard as a modern artist into the 20th century.
---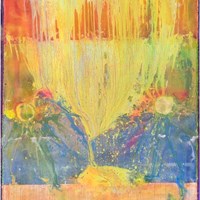 Article date: Saturday, May 18, 2019
Frank Bowling's First Major Retrospective at Tate Britain
This exhibition offers a chance to experience the entirety of Bowling's 60-year career. It showcases his sensual use of colour and bold experimentation. The exhibition brings together a lifetime of large-scale artworks. It includes key series such as the iconic 'map paintings', the visually arresting 'poured paintings' made by pouring paint down an inclined surface, and the sculptural paintings of the 1980s evoking riverbeds, all the way to mature work selected from a recent period of explosive productivity.​
---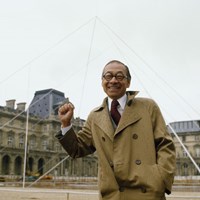 Article date: Friday, May 17, 2019
I M Pei, Louvre Pyramid Architect, Passed Away Aged 102
I M Pei, the architect behind buildings including the glass pyramid outside the Louvre in Paris, has died aged 102. Tributes have been pouring in, remembering him for a lifetime of designing iconic structures worldwide. Pei's designs are renowned for their emphasis on precision geometry, plain surfaces and natural light. He carried on working well into old age, creating one of his most famous masterpieces - the Museum of Islamic Art in Doha, Qatar - in his 80s.
---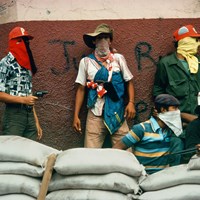 Article date: Friday, May 17, 2019
Susan Meiselas Wins the Deutsche Börse Photography Foundation Prize 2019
Magnum photographer Susan Meiselas was announced as the 2019 winner of the prestigious £30,000 prize at a special award ceremony at The Photographers' Gallery, London for her first European retrospective Mediations at Jeu de Paume, Paris 2018.
---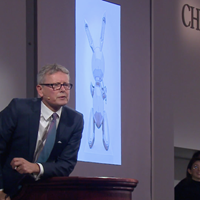 Article date: Thursday, May 16, 2019
Jeff Koons's Iconic 'Rabbit' Sets a New World Auction Record for a Work by Living Artist
Iconic sculpture sells for $91,075,000 making Koons the most expensive living artist. Rabbit was one of 11 works offered during 20th Century Week from The Collection of S.I. Newhouse. 'On behalf of the family and myself I want to express our gratitude for the great work Christie's has done,' said Tobias Meyer, adviser to the Newhouse family, after the total for the grouping reached $216,287,500. 'We are delighted with the results.'
---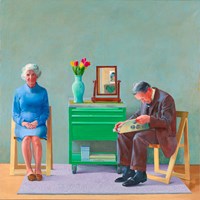 Article date: Thursday, May 16, 2019
The First Major David Hockney Exhibition to Travel to Asia is Open in South Korea
Seoul Museum of Art (SeMA), in collaboration with Tate, holds the exhibition David Hockney, which spans 60 years of Hockney's life - from his time as an art student in London to his iconic depictions of southern California.
---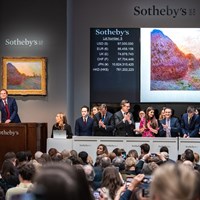 Article date: Wednesday, May 15, 2019
World Auction Record for Monet
Record-Breaking 'Haystacks' Painting by Claude Monet Leads Sotheby's $350 Million Evening Sale of Impressionist & Modern Art on Tuesday, 14 May. Regarded as the finest example from this celebrated series, the radiant canvas was one of only four Haystacks pictures to come to auction this century, and one of only eight remaining in private hands.